By Gina Capellazzi, Team FSO website administrator
Photos courtesy Jason Brown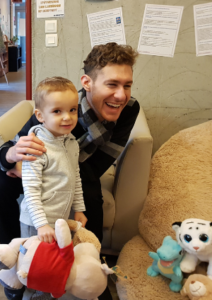 It's been a custom for fans to toss stuffed animals onto the ice as figure skater Jason Brown finishes his performances. Then upon the conclusion of the competition, the 2014 Olympic bronze medalist takes those items to the local Ronald McDonald House in town. But with the COVID-19 pandemic cancelling skating events and other events being held behind closed doors with no audience in attendance, there haven't been stuffed animals to collect or visits to make.
Yet that hasn't stopped Brown from continuing his involvement with the Ronald McDonald House Charities, which helps families with ill or injured children stay together and near leading hospitals and health care services worldwide. "Families are still in need, they are still struggling," Brown said, who has been involved with organization since 2014.
Currently, the 27-year-old has shifted his focus to fundraising and trying to get people involved by spreading awareness of the organization's mission. With the ability to travel more this figure skating season, Brown has set up fundraising pages for the specific Ronald McDonald House agencies in the cities he's competed in. While competing at Skate Canada International in October, he raised money for the Ronald McDonald House in British Columbus and Yukon in Vancouver, and for the Ronald McDonald House in Grenoble, France, when he competed at the Internationaux de France in November.  Unfortunately, the Ronald McDonald House in Nashville is not allowing visitors at this time, so Brown will not be able to visit the house following the U.S. Championships in January, but he says he's been in contact with the management there about their "wish-list" and what sorts of items they are in need of. Since fans are being asked not to throw items onto the ice in Nashville, Brown will be posting on his social media accounts in the coming days way that fans can donate and contribute to the organization instead. (Editor's Note: Figure Skaters Online will post that link when it becomes available)
"It would mean so much to me (for people to contribute) and I know what it would mean so much to the house as well," Brown said. "I guess it is just a way of kind of paying it forward to the community that we get to compete in."
Over the past seven years through his involvement with the Ronald McDonald House Charities, Brown has visited up to a dozen of the organization's homes across the country and world — from Chicago, Illinois; Winston Salem, North Carolina to homes in France, Finland, Korea, Taiwan and Japan. "It's really been neat to visit all these different houses and they're all so different and so unique," Brown described. "That one of the coolest things about the Ronald McDonald House Charities is that each house is its own entity and they're all very specific to the community they serve."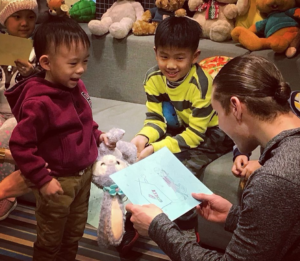 When visiting the Ronald McDonald Houses, Brown's favorite part is his interactions with the families and the kids. One special interaction that Brown encountered was during a visit to the Ronald McDonald House in Sapporo, Japan a few years ago. There, Brown said he met a child, who was about six-years-old, who was in a wheelchair. A year later, Brown said he received a video of that child walking, and then a couple months after that, Brown got a video of him ice skating.
"It was just really sweet and with a note saying how he has been watching me on TV and following my journey when I go to Japan, and that I inspired him," Brown explained. "You know, obviously, he's inspired me so much. I think that was really a cool full circle moment, just to see him go from when I saw him in a wheelchair to skating. It was really special."
To learn more about the Ronald McDonald House Charities, visit https://www.rmhc.org/