By Gina Capellazzi, Team FSO website administrator
Photos by Robin Ritoss, Leah Adams and Jason Brown
Jason Brown is counting down the days until he gets to skate in front of a home crowd again.
"I am so looking forward to it, it's something that I really missed," Brown exclaimed. "There's nothing like the U.S. Championships. Obviously, we haven't gotten that opportunity (to compete in front of a crowd) in two years, so to have the chance to get out there and to show my programs, I have goosebumps talking about it."
The 2022 U.S. Championships, Jan. 3-9 in Nashville, Tennessee, will mark the 2014 Olympic bronze medalist's first competition in front of U.S. fans since the 2020 U.S. Championships in Greensboro, North Carolina. More importantly, the competition will also mark the 27-year-old from Highland Park, Illinois's third Nationals in an Olympic season, and where he is hoping to be named to his second Olympic team.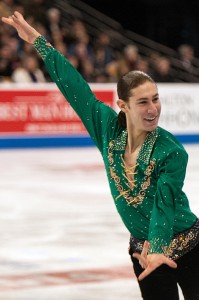 Essentially a newcomer to the senior circuit in the 2013-2014 season – Brown jumped his way onto the 2014 Olympic team after a second place finish at the 2014 U.S. Championships in Boston, Massachusetts. He left the Olympics in Sochi with a team bronze medal and a top-10 finish in the men's individual event.
"I just looked at every single step along the way as just like this exciting new adventure. I was just constantly walking into doors that I was opening and I was just doing it in a really curious way, excited way that I wound up on the Olympic team. It was incredible and so exciting. At that point, I was just in that anything is possible frame of mind," Brown recalled of his experience in 2014.
But 2018 was different — after returning home from Sochi, Brown said his focus become solely on making it back onto the Olympic team. "I got really, really focused on that goal. Everything came wrapped into whether or not I was going to make that team, and I fed that, I wanted it so badly. I stopped kind of looking at the day-to-day small victories and kept just plowing through."
Brown saw early victories that season, which included qualifying for his first Grand Prix Final. However, he struggled at the 2018 U.S. Championships in San Jose, California, finishing in sixth place overall. Brown failed to make the Olympic team and instead, was named as a first alternate.
"I lost a lot of myself worth and my identity on that mission (to make the Olympic team), " Brown confessed.  "And when I didn't make it, for me, it was almost like I was breaking free from the chain of that and I went back to just the day-to-day grind and enjoying each moment and enjoying each opportunity that I had."
After the conclusion of the 2017-2018 season, Brown made some monumental changes to his training. He left his long-time coach Kori Ade and moved from Colorado Springs to Toronto to train with Brian Orser, Tracy Wilson and Karen Preston. In his first two seasons with his new coaching team, Brown won two ISU Grand Prix medals, won a silver and bronze medal at the U.S. Championships and won silver at the ISU Four Continents Championships, but then the COVID-19 pandemic cut his 2019-2020 season short with the cancellation of the 2020 World Championships. Last season, Brown only competed three times – finishing third at the U.S. Championships, 7th at the World Championships and winning a silver medal with Team USA at World Team Trophy.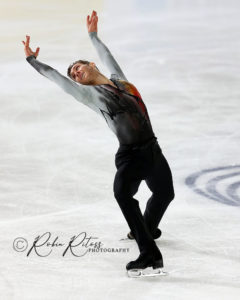 Opening his Olympic season — Brown returned to the Grand Prix Series, and took home the silver medal at Skate Canada International in Vancouver. Three weeks later at Internationaux de France, Brown was credited with his first fully-rotated quadruple jump in competition. Brown said he dreamed up what it would be like to land his first quadruple jump in competition, but that once it actually happened in Grenoble, he didn't have time to dwell on it. "I was surprised how it (the moment) came and went so fast," he mentioned.
Brown also earned the bronze medal in Grenoble, thus medaling at both his Grand Prix assignments for the first time in his career. Looking back on his Grand Prix season, Brown said it went how he hoped his fall season would go.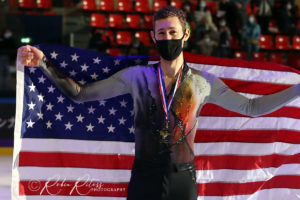 "I think it (the Grand Prix series) was a lot of learning, growing and kind of figuring things out," Brown added. "But that's the entire point of the Grand Prix circuit, especially in the fall season and in the Olympic year, is to get out there, test the waters, see what works, see what doesn't, listen to the judges' feedback and keep kind of evolving the programs as you go on. To pick up two medals along the way was just the cherry on top."
Following the conclusion of Rostelecom Cup on Nov. 28, which was the final event of the series, Brown qualified for the Grand Prix Final, set to take place in Osaka, Japan Dec. 9-12. A few days later, the event was cancelled due to travel restrictions imposed in Japan in response to the Omicron COVID-19 variant. 
The cancellation of the Grand Prix Final was hard, Brown said. "You are kind of on a roll and that you felt like things were kind of becoming more doable and, and people knew how to structure events in a safe way."
However, Brown completely stood by the decision to cancel the event. "Nothing is more important than health and safety, not only for the athletes, but for the fans, the country and the officials," he added.
Before qualifying for the Grand Prix Final, Brown had intentions of competing at the final ISU Challenger Series event of the season at Golden Spin of Zagreb in Croatia. Even after qualifying for the Final, Brown was still listed on the roster for Golden Spin and could have competed at the event which was held Dec.8-11, the same time as when the Grand Prix Final was to occur. However, after discussions with his coach Tracy Wilson, Brown chose not to compete in Croatia and selected to spend the extra time in Toronto, preparing for Nationals.
"It was a tough decision," Brown explained, noting that after the Final was cancelled, he did consider going to Croatia. "The more we thought about it – we were like, 'We are four weeks out from the U.S. Championships. We made it this far safely.' So we kind of made the decision that I was going to stay back."
With the additional training time, Brown said that he's not rebuilding – but is building off the foundation that he created over the Grand Prix season. "In the Grand Prix Series, you are constantly in competition mode, where you are maintaining, but you're making little tweaks," Brown clarified. "This was the first big break where we were able to take everything we learned and really apply it and have these four weeks to really build upon."
During his trip home to Chicago at Thanksgiving, Brown had the opportunity to work with Rohene Ward, who choreographed his beloved "Sinnerman" short program. Earlier this month, Brown worked with David Wilson, the choreographer of his "Schindler's List" free skate. Brown said there were slight changes made to both programs. "Structurally, you are not going to see monumental shifts in the programs, but there's definitely a few pattern changes and choreography that has been altered," he said, noting that on the technical side, he is planning the same content for both programs.
As he heads into Nationals in a few weeks, Brown said his experience of missing out on the Olympics in 2018 taught him a lot. "I lived through my worst nightmare in that (experience)," he admitted.
"I remember in 2018, I was counting down the days (to Nationals), like I was almost dreading it. Now I'm counting down the days like I can't wait to be in front of audience and getting to do what I love and I hope by doing what I love and doing me, I wind up on my second Olympic team," Brown added.
If Brown is named to the Olympic team, his parents, Marla and Steven Brown, will not be in the stands to cheer him on. In September, the International Olympic Committee announced that overseas fans would not be allowed to attend the Games in Beijing. Up until the COVID-19 pandemic, the Browns have never missed one of Jason's competitions — having traveled all over the world to see him skate. Brown admits he never thought there would be a possibility that his family wouldn't get to see him skate in-person – especially at the biggest competition of his career.
"It wasn't my reality. They have been at every single event that I've competed at," said Brown of his family. "However, in the last few years, I, unfortunately got used to not having them at competitions. So while it's disappointing to not have the opportunity for my family to travel to Beijing, if I compete there, I'm much more comfortable with what it is like (not having my family there)."
Whether he makes the Olympic team or not, Brown will head out on the 24-city Stars on Ice U.S. tour, following the 2021-2022 season. When asked what the future holds for him beyond that, Brown said he said has no idea if he will continue competing or not.
"I'm just going to really take advantage of whatever opportunity comes at this time," Brown told Figure Skaters Online. "With the nature of the last two years and with just the schedule being different and not really competing, it definitely makes me more unsure about what I want to do next."
Read our interview with Jason Brown about his partnership with the Ronald McDonald House here.