By Gina Capellazzi
Photos by Leah Adams and Alex Johnson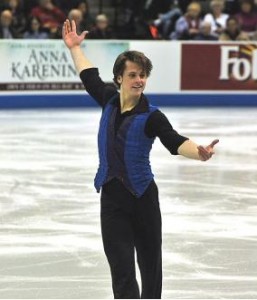 In Omaha, Nebraska, in 2013, Alexander Johnson saw his highest placement at a senior Nationals, placing 7th with a passionate and spellbinding free skate. Hoping to build on that success heading into an Olympic season, Johnson, instead, suffered a major setback. He sustained three torn ligaments in his right ankle in June 2013 and would end up missing the entire 2013-2014 season and the chance to qualify for the Olympic Winter Games in Sochi. In April of last year, Johnson returned to the rink and resumed his training. Now, finally, Johnson is returning to the U.S. Championships. Figure Skaters Online got to speak with Alexander about his injury, his return to the ice, and his goals for Nationals.
Figure Skaters Online (FSO):  Talk about your injury. How difficult was it to sit out last season, especially an Olympic season?
Alexander Johnson (AJ):  Back in 2010, right before the the 2011 U.S. Championships in Greensboro, I sprained my ankle terribly. Over the past four years, I continued to sprain it until finally in June of 2013, I completely tore three ligaments in my ankle. I had surgery in July to repair the ligaments and the structural part of my ankle was fixed. However, I had complications from the nerve block they performed and I had what is called a drop foot and chronic regional pain syndrome. I could not feel parts of my foot and could not dorsiflex my foot either. I still have trouble with it to this day, but it has come a long way. Sitting out last season after having the season of my life was tremendously challenging, but the most difficult part was not knowing if I would ever return to competition again. I'm lucky to have such a supportive group of people in my life that helped me overcome the everyday struggles I encountered. My emotions were quite a mess last season, to say the least.
FSO: How long were you off the ice last season? When did you get back on the ice after your injury?
AJ: I was in a cast for six weeks, a walking boot for another four weeks, and then slowly started easing my way back to the ice. However, it took much much longer before I could finally start jumping. I didn't do a triple Axel until March of 2014 (9 months post surgery) nor triple loop until July of 2014 (one year post surgery). It was the most humbling process of my life. Relearning everything took so much time and there were many days when I thought I would never get back to doing the things I was doing beforehand.
FSO: How is your ankle now?  How did you feel after your first competition back from your injury?
AJ: I still have pain in my ankle pretty much everyday, but I have learned to cope with it and realize that it isn't a bad pain. I'm also still dealing with a burning sensation in my foot when I sleep from the nerve damage. I am doing much better than before though. The first competition back from my surgery actually went quite well, but it was definitely a bit stressful. I was extremely nervous yet, at the same time, so glad to be back on the ice performing.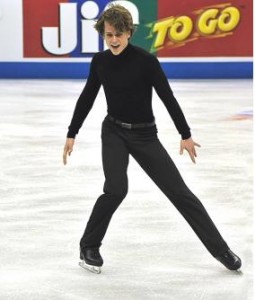 FSO: You chose to skate to two different programs this year despite not competing last season. Why did you decide to do that?
AJ: I felt like I wanted to start fresh and forget about the past season. It was difficult sitting out an Olympic year and to have to train everyday with the music that I was supposed to use would have been difficult, in my eyes.
FSO: What are you skating to this season? How did you choose those programs? What do you like about each program and what has been the most challenging part about them?
AJ: My short program is to Rachmaninov's "Trio Elegiaque No. 2" and my long program is to Sweeney Todd. I picked the short program music as it has always been a favorite of mine and Tom Dickson picked out the long program music. I think the thing I like the most about my short program is that the movement is very fluid and feels good to perform it. The thing I like most about the long program is also the most challenging part about the program, and that is portraying the dark character of Sweeney Todd. I love both programs.
FSO: What are your thoughts about being able to skate to lyrics this season?
AJ: I LOVE IT! I think it is great and will take our sport to the next level in terms of choreography and showmanship. I'm excited to see where it will go in the next few years.
FSO: Nebelhorn Trophy and Autumn Classic were your first international competitions since your injury. What was it like to return to the international scene and once again representing the U.S. internationally?
AJ: Returning to the international scene was incredible. I didn't skate the best that I could have, but it was so much fun to see all the other skaters from different countries that I've known for a long time. I think representing Team USA is always an honor, and every time I get an assignment I am extremely grateful for it. I have so many incredible memories from internationals and I hope to continue to add to that collection.
FSO: What did you think of your skate at Midwestern Sectionals and finishing in second? What did you think you did well on and what was one thing you knew you need to work on when you got back to Colorado?
AJ: I was extremely proud of my skates at Sectionals. It was the first time I had ever landed triple Axel, triple toe combination in competition and also the first time I did triple loop in competition since my surgery. I think the biggest thing I needed to work on when I got back to Colorado was believing in myself. The mistakes I made at Sectionals were all silly and it was merely because I didn't trust that I could do it.
FSO: How do you feel your training is going for Nationals?
AJ: My preparations for Nationals have been going extremely well. I cannot wait to get back out on national ice and just soak up the experience. I have always loved skating at Nationals and feel lucky to get to experience it again.
FSO: What has been your main goal for the 2015 season so far? What are you looking to accomplish in Greensboro?
AJ: I think getting back on Team USA was one of the biggest goals for me this season and I was proud to accomplish that. I'm really looking to skate two solid performances in Greensboro and have no regrets.
FSO: Is Pyeongchang, South Korea in 2018 your goal?
AJ: I would be lying if I said that it wasn't in the back of my head. However, after my major injury last season,  I've decided that nothing is guaranteed and you really have to take it one year at a time. I take that back, one DAY at a time!
FSO: What is your ultimate goal for your skating career?
AJ: Ultimately, I would love to take the competitive side as far as possible. After that, I want to perform in shows and coach/choreograph. I will definitely stay involved with skating when my competitive career is finished.
FSO: What are your proudest memories or achievements from your skating career thus far?
AJ: I think the thing I am most proud of in my skating career is how I overcame the injury that I thought was going to end my career. It was an obstacle in my life that has taught me many, many things.
Fun Facts About Alex!
Alex's breakfast: Coffee, two eggs (scrambled), an apple, and a cinnamon raisin English muffin.
If Alex could change one rule in skating what would it be: I would go back to the days of school figures.  I absolutely love them and think that it is a major part of our sport that should not be left behind.
Alex's most embarrassing moment:  Look at my Instagram. There is a video of me going to my starting position at a competition and completely wiping out. It will definitely entertain you!
The last thing that impressed Alex:  I watched a video of a 15 or 16 year old guy doing ballet and it was absolutely incredible. His pirouettes and jumps were out of this world. The strength and flexibility it takes to be a ballet dancer is truly unreal. I take ballet twice a week and I have the utmost respect for dancers.
What is the craziest athletic challenge Alex has participated in?: Doesn't figure skating count?!
How many cups of coffee does Alex drink a day? I try to only have one in the morning, but if I have stuff to do in the evening, it usually is two or three.
If Alex wasn't a skater, what other sport would he pursue? I would love to be a dancer.
Any superstitions? I usually always tie my left skate before my right skate.
What is one thing Alex can't leave home without when traveling to competitions? *Ice skates do not count!* A camera. I love taking photos when traveling and looking back at them years later.