By Johanna Bear
Photos by Leah Adams and Grant Hochstein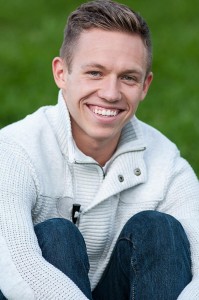 Grant Hochstein has been a consistent presence in the world of figure skating since he made his senior international debut in 2010. He qualified for the 2015 U.S. Figure Skating Championships this year by placing first at Eastern Sectionals and will be competing at Nationals for the sixth consecutive time at the senior level. His highest placement to date was seventh in 2010. When he is not training, Hochstein works as a coach in Artesia, California, where he moved in the summer of 2012 to work with Karen Kwan-Oppegard and Peter Oppegard. Figure Skaters Online got to speak with Grant about his goals for Nationals and what it takes to stay at the highest level of the sport.
Figure Skaters Online (FSO): How did you decide on your program music for this season and what makes it different from other programs you've done in seasons past?
Grant Hochstein: Actually, for my short program, Karen chose my music. We were originally going to do something a bit more funky and jazzy, but it just wasn't working. Karen thought that "Carmina Burana" was really powerful and a bit out of my comfort zone, so we decided to push in that direction. The idea for the long was my idea. I've always liked "Don Quixote" and I feel like ballets are more comfortable for me to skate to…at least that's what I thought. It was the first program that Peter has ever choreographed by himself for me and he really challenged me a lot as an artist this year. He's a perfectionist in every sense of the word and that is good for me. It makes me bring it to the next level and really just go for it.
FSO: What is your opinion on the option skaters now have of adding lyrics to their program music?
GH: I think adding lyrics definitely changes things up in skating. There are fewer limitations as to what we can now do and it lets us have a greater variety of music and themes to choose from. I technically have lyrics in my short program, except, well, they are in Latin, so unless you went to Catholic school or are a priest, you probably won't understand them. Also, they are used as more of a background enhancer, as opposed to the main part of my song. I think of myself as more of a traditional skater and a purist, so lyrics aren't necessarily my thing, but I'm not opposed to them being a part of competitive skating.
FSO: What was it like having to go through the qualification process for Nationals this year and what did you learn from it?
GH: "The only thing that was really a challenge for me for the qualifying structure this year was having Golden Spin right after Sectionals. I had to try and skate well at Sectionals and hopefully win them so that I would make it to Nationals, but not so well as to peak there and not in Croatia. Obviously, the men's event at Easterns is always challenging and competitive, so I wanted to skate well.
FSO: What are your goals for Nationals this year in terms of specific elements (jumps, spins, choreography, performance, etc.) and overall placement?
GH: It's really hard to have placement goals at Nationals. You never know who is going to bring it and who isn't. I've had Nationals where we've all skated poorly and I've placed high and also years when we've all skated really well and I've placed poorly, so it's hard to go ahead and say,'Hey, I want to be in the top four'. We are all capable of finishing in the top four, which is why we have gotten this far, but I don't want to give myself placement goals. This season, I've really worked hard on breaking patterns and keeping a high level of skating all year, so I think that's the goal I've set for myself. I want to put out two good programs and prove myself relevant in men's figure skating in the U.S.
FSO: What has been your favorite competition you've ever participated in?
GH: This is actually a really tough question. I've been very blessed to have been able to travel so much and seen so many wonderful places throughout the world. I really enjoyed my 2009-2010 season. It was such a whirlwind year, competing at two Junior Grand Prix and the Final, Senior Nationals and Junior Worlds. When you're in it, it doesn't really seem that crazy, but then you take a look back on it and are flabbergasted and what you've done and been able to accomplish in such a short period of time. I've also really had a blast this season, getting to do two Senior B events (Golden Spin and Lombardia Trophy). It was nice being able to travel to one competition with each of my coaches.
FSO: What is it like working with your coaches in California and how have they impacted your skating?
GH: Working with Peter and Karen has been so great for me. Moving to California has been one of the best career moves that I've made. I know that my results over the past two Nationals haven't been mind-blowing, but sometimes it takes a bit of time to get completely settled into a groove where you know things are where they are supposed to be. I know that sounds a bit redundant, but I really feel like this year we have found what works for my skating. I've always been comfortable with them as coaches and they challenge me every day to do more and be better and I really needed that. They also provide me a great balance in their teaching styles. It's really been a wonderful thing for me to train here in LA.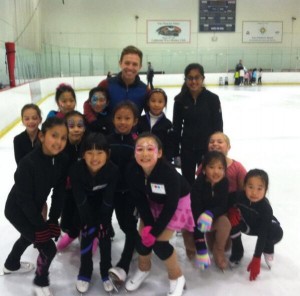 FSO: How has coaching changed your outlook on the sport?
GH: Coaching has also been a really good thing for me. It has made me more aware of my technique. You have to find different ways to explain things that seem simple and seem like they would make sense, but sometimes people don't understand things the same way. Trying to find new ways to say things and show things makes the technique make more sense, even to me. I understand my technique better because I teach. It also makes me feel like I'm giving back to skating. I'm sharing what I've learned over the years to the next generation of skaters and passing on what makes skating so wonderful to me.
FSO: What are your competitive plans after this season?
GH: I honestly don't know. My plan for this quadrennial is simply to take it one year at a time. I know it sounds silly, but I'm 24 and some days I feel so old and I'm not sure what the next few years hold for me. Then again, there are days when I feel like, 'Wow, I'm 24, I'm so young, I can definitely hold out for a few more years!' I'm also at a point where I'm mentally ready to start settling down and having a family. I don't really want to be doing that when I'm still skating, so I guess you can say I have no clue at all what I want out of these next few years! So many options! It's great though to have those options.
FSO: What keeps you motivated day after day when the going gets rough?
GH: I've gained a new perspective on my skating this year. I'm trying to take each day as if it were my last day in skating. You never know when that day will come and I want to appreciate each day and each opportunity that I have. So many people haven't been able to have the same opportunities that I've had and it is important to cherish them and enjoy it all. I've been enjoying everything this season from the training to the competing. It's really about the process and the work it takes to get you to where you want to be. Even if you don't make it to where you want, you should be able to look back knowing you gave it your all and have enjoyed the work.
FSO: What would your advice be to a young skater?
GH: My advice would be to work hard and enjoy yourself. Skating is supposed to be fun. Yes, it's hard work and yes, there will be days that you probably don't feel like going to the rink, but keep pushing through and enjoy yourself. If you don't love what you're doing, you probably shouldn't be doing it.
FSO: How would you like to be remembered within the sport?
GH: This is a good question. I actually don't know. I don't think I want to be remembered as somebody who  won a bunch of competitions or landed the most quads. I want to be somebody that people remember who was nice and really put his heart into his skating. Sometimes the skating world can be so cutthroat and it really doesn't need to be.
Fun Facts about Grant!
Grant's breakfast: "Okay, so this is where it starts to get funny and I will probably get in trouble with Peter Zapalo for my answer. In the morning, as I'm driving to the rink, I usually eat a children's power bar. However, this morning, I ate Quaker's dinosaur egg oatmeal. Again, these are the times where I feel like maybe I'm 5 and not actually an adult. It's this really fun oatmeal that has candied eggs in it and when the hot water touches it, the eggs melt and there are little dinosaurs inside the eggs. Yep, I'm cool."
Grant's most embarrassing moment: "Gosh, there are so many. Well, at Sectionals this year, I tried to do a dramatic stop and ended up falling really hard in what can be best described as a froggie position. I was so shocked and startled that I almost fell again when I was trying to stand up. To make it even better, when I sent the video to Peter, he sent me a picture of himself crying because he was laughing so hard. It's also great when I see him demonstrating my fall to other people on freestyles. One of my not so finer moments!"
The last thing that impressed Grant: "Probably when I went to Paris. After Golden Spin [of Zagreb in Dec. 2014], I went on vacation for a day and a half by myself. I walked everywhere and saw everything. There is so much history and, being a history major, I was totally in my element. I even woke up really early in the morning and went to mass at Notre Dame Cathedral. That might have been the highlight of my trip. The city is breathtaking."
Craziest athletic challenge Grant has participated in: "I don't really do many athletic things outside of skating! I used to do Tae Kwon Do when I was little and even did Junior Olympics. Last year, Caroline Zhang did some random Limbo competition in Japan. I thought that was pretty cool!"
How many cups of coffee does Grant drink a day:  "I actually don't drink coffee. My Starbucks order is a Venti Very Berry Hibiscus with EZ ice."
If Grant wasn't a skater, what other sport would you pursue: "I think if I didn't skate I would probably like to be a gymnast. I have the perfect body for it: super short with a strong upper body that is shaped like a V. I also build muscle really easily so I think if I had wanted to be, I could have been a decent gymnast. I might put my kids into gymnastics (in addition to skating, of course!)."
Any superstitions?: "As a Catholic, I am not supposed to have any superstitions. However, if I did, they would be that I have a specific cologne for competitions days, have specific underwear that I wear for short and long program days, listen to the song, "Poor Unfortunate Souls" from the Little Mermaid on repeat the entire time I am at the venue before I compete, and that I have to have my coaches or Caroline hold the watch that she gave me for my Confirmation. But no, I don't have any superstitions."
What is one thing, other than his skates, that Grant can't leave home without when traveling to competitions: "I always bring the Rosary that I got from my trip to the Vatican in 2011 with me whenever I go to competitions. It's a must!"