By Gina Capellazzi
Photos By Leah Adams and Chase Belmontes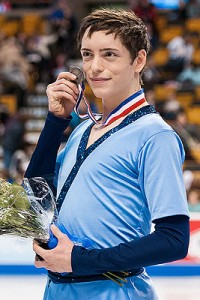 The U.S. Championships will return to Greensboro, North Carolina on January 17. The city held the championships back in 2011, the year following the 2010 Vancouver Olympics Games. And just like 2011, these championships follow another exciting Olympic season. The event will allow fans to see some of their favorites from the 2014 Sochi Olympic Games, but it will also feature a lot of up and coming skaters who are just starting their journey to earn a spot on the 2018 Olympic team. One of those skaters is Chase Belmontes.
The 2014 U.S. junior pewter medalist has a dynamic personality, both on and off the ice and will definitely be one to watch during the junior competition, which gets underway on January 21.
Unlike most competitive skaters, who start at an early age, the 19-year-old started skating only nine years ago when his friends took him skating for fun one day.
Belmontes said, "I had hockey skates and they had figure skates. I was jealous that they could kick holes in the ice with their heels, so I switched to figure skates. Ever since then, I've been hooked."
After that first venture on the ice, Belmontes began taking lessons through U.S. Figure Skating's Learn to Skate Program. He knew that he wanted to pursue a skating career after his first competition in the Freestyle 2 level.
"I have made big dreams involving skating since then," Belmontes enthused. "I honestly love everything about skating. I could fall on my face and still enjoy it."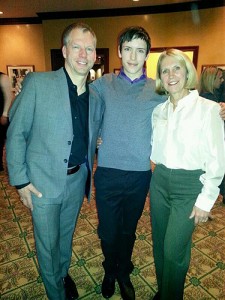 Belmontes lives and trains in Colorado Springs, which is home for top-level athlete development due to its increased altitude. While many skaters have to move across country to train in this type of environment, Belmontes did not have to leave home to pursue his dreams on the ice. However, he did grow up in a military family and lived in South Korea, Hawaii and California before his family settled in Colorado Springs permanently.
"I understand what it is like to relocate," said Belmontes. "Taking up a sport that didn't involve me moving was lovely. Having a world-class facility just minutes away from my house is luxurious."
For the past four years, Belmontes has been coached by Tom Zakrajsek, who is also the coach to 2013 U.S. Champion Max Aaron and four-time U.S. national medalist Mirai Nagasu.
"Working with Tom is incredible. He's so smart and does everything in his power to help me reach my goals," said Belmontes.
Belmontes has faced adversity in his skating. After qualifying for the national championships as a novice in 2012, he failed to qualify for the 2013 U.S. Championships at the junior level. After that, Belmontes resolved to return to the national stage. He put everything into his training and his determination paid off when he finished third at the Midwestern Sectionals and qualified for the 2014 U.S. Championships in Boston. In Boston, in his first nationals on the junior level, Belmontes finished in fourth place and returned home to Colorado Springs with the pewter medal.
"It was absolutely magical to come back and win a medal," Belmontes exclaimed. "My favorite part was seeing my score and my placement after the long program. I found out that my dreams for that season came true. I was so proud of myself for showing everyone what I am capable of.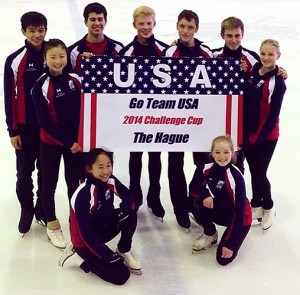 That following March, Belmontes made his international debut at Challenge Cup, which was held in the Netherlands. He would win the short program, but after some mistakes in his free skate, he would end up finishing in fourth.
After returning home from the Netherlands and taking some needed time off, Belmontes returned to the rink to start training for the 2014-2015 season. While many of his competitors on the junior level decided to make the jump to the senior level, Belmontes made the decision to stay at the junior level for one more season.
"Since I've only been skating for less than nine years, I've been cannon balling through each level," Belmontes told us. "I decided that I needed an extra year in juniors to improve even more before I let myself move up to seniors. Of course, the idea of placing even higher at this Nationals was another reason to stay junior."
This season, Belmontes is keeping his short program, "Through the Storm" by Nigel Kennedy from last season. His free skate program is music from the popular HBO series, "Game of Thrones" by Ramin Djawadi.
Belmontes said, " I love how beautiful and strong my short program music is, I love having the music move through me, especially in the footwork. I love that each piece of my music in my long program has a story, they are from some of my favorite scenes throughout the series. I love portraying them, and I deeply connect to every part!"
In September, Belmontes represented the U.S. in his first Junior Grand Prix event in France and finished in eighth. Despite it being his Junior Grand Prix debut, he admits that he wasn't happy with his performances there and did not show his full potential as a skater at the event.
Belmontes said, "I can do so much more than what I did there. I'm proud of myself for keeping my head held high and for learning what went wrong and how to make sure it never happens again. It was fun and gratifying though to represent my country. I felt proud and I had a blast."
In November, Belmontes qualified for his second nationals after finishing second at the Midwestern Sectionals.
"I was really happy with how I skated," said Belmontes. "I was happy that I got every jump done and I showed my consistency."
Since sectionals, Belmontes has worked on polishing both his programs. He has been working on getting positive Grade of Executions on each element. He is also working to make sure he receives level fours for all his spins and footwork. In addition to the technical aspects of his programs, Belmontes is also focusing on his artistry, stamina and strength. In Greensboro, he is hoping to deliver personal bests, not leave any points out on the table and represent the U.S. at the Junior Worlds in Estonia in March.
Belmontes is also working on his triple Axel, something he will need to have in order to compete with the top skaters on the senior level next season. Belmontes has not decided if he will try it in Greensboro.
"My triple axel has improved so much. I am so close to landing it, "Belmontes explained. "I've been training it in my long program, but I haven't decided if I will try it at Nationals yet. I've also tried my quadruple salchow, toe loop and loop before, but I won't start focusing on them until after I get my triple axel."
With regards to his long-term future in the sport, Belmontes is taking one season at a time and working hard to achieve his personal goals each year. Though, the Pyeongchang Olympics in 2018 and the games in 2022 are never far from his mind.
"The 2018 or even the 2022 Olympics are a dream of mine, but I am staying in the present and focusing on this year," Belmontes told us.
When Chase isn't on the ice, you could probably find him eating somewhere. When Figure Skaters Online asked him what was one thing people didn't know about him, he told us that one time he ate 13 Krispy Kreme donuts in one sitting. We also asked him if he wasn't a figure skater, what would he be? His answer was a competitive eater.
"I love to eat! My favorite foods are cupcakes, donuts, ice cream, and pizza! I am terrible at cooking, I love eating out!" Belmontes exclaims.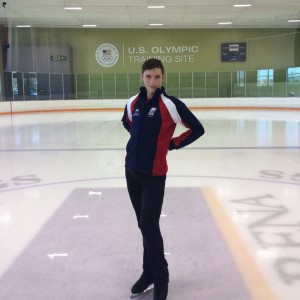 If you can't tell already, Belmontes has quite the personality. At the end of each skate, Belmontes strikes a unique pose. It is his way of paying tribute to his role model, singer superstar Beyonce. Beyonce struck that same pose at the beginning of her halftime performance at the 2013 Super Bowl.
"I decided to give it even more flair," Belmontes tells us. "I get so excited after my performances that I hit that pose! Beyoncé is everything. She is so fierce and so talented. She wins at life and I love that about her."
And in Greensboro, Belmontes is hoping to be as just as fierce as Beyonce as he continues to chase his dreams. He is proven with a hard work, a can do attitude and a little fun on the side, anything is possible.
Fun Facts about Chase!
Chase's breakfast: "I usually eat six eggs!"
Chase's most embarrassing moment: "I was at a local competition. I was in the stands, still in my skates and I just found out that I won the competition. I was so excited, I stood up and fell down the stairs. The entire audience and judging panel stared at me. The new champion who can't even stay upright on the ground!"
The last thing that impressed Chase: "I was at a buffet at the Broadmoor Hotel for brunch. All the different breakfast and dessert options amazed me."
Craziest athletic challenge Chase has participated in: "I definitely attempted to skate in an egg costume on Halloween."
How many cups of coffee does Chase drink a day: "I usually have 3 or 4 cups of coffee a day."
If you weren't a skater, what other sport would you pursue: "Competitive eating."
If Chase could change one rule in skating, what would it be: "I would change the rule about limiting repeated jumps as I would totally have several triple/triple/triple combinations in my programs!"
What is one thing, other than his skates, that Chase can't leave home without when traveling to competitions: "This is cliché, but I can't leave to go to competitions without my phone. It's basically my child. I have Taylor Swift on it, and pictures of food and my cats. These are things I need to have with me 24/7."