By Gina Capellazzi and Maura Sullivan Hill
Photos by Robin Ritoss
It wasn't just the medalists who shined in the Sin City during the 2021 U.S. Championships. The U.S. Championships in Las Vegas marked the senior nationals debut for a number of skaters. There were some other special stories that came out of the event, from new partnerships, debuting new programs to seeking inspiration from Olympians for costumes.
Figure Skaters Online's Gina Capellazzi and Maura Sullivan Hill spoke with these skaters that had other accomplishments and victories that went beyond the podium.  They are highlighting them in what they have coined — "Sin City Statements."
Nationals debuts, new disciplines and new partnerships
The 2021 U.S. Championships in Las Vegas marked the senior nationals debut for several athletes. Many skaters dream about their first senior nationals and performing in front of a big crowd in a large arena. Never did the thought of cardboard cutout fans enter their minds.  In the senior men's competition, five skaters were competing at nationals for the first time.
Despite the unusual circumstances, 2020 U.S. junior silver medalist Eric Sjoberg, who trains with Rafael Arutunian in Irvine, Calif. told Figure Skaters Online he was just grateful for the opportunity to compete, given that so many competitions and events have been canceled due to the pandemic.
"The experience has been amazing; I'm so thankful that there is a competition," Sjoberg said, who finished in 9th place.
The last time Mitchell Friess competed at the U.S. Championships, he was 15-years-old at the intermediate level. That was in 2013. Now eight years later, Friess has qualified for the nationals at the senior level, marking his only second nationals ever.
"This is not exactly what I imagined my first time as a senior at nationals would be like, but in a way, I'm really enjoying it because (the experience) is much closer to what a practice session would be like than being in a big arena that could somewhat be intimidating at times.  So having a lower environment, especially for my first time, I find much easier to break-in," Friess said after his short program Jan. 16. Friess finished the event in 17th place.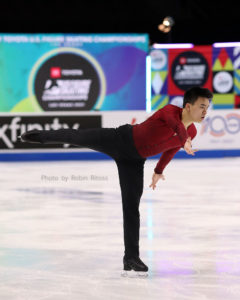 Though it was his first senior nationals, Joseph Kang knew a bit of what to expect as the 2017 U.S. novice silver medalist competed in the bubble situation at the same arena for Skate America in October.
"It is a different situation than what we are used to," Kang said, who finished in 12th place. "For the most part, the preparation is the same, except there is a little less of 'Oh my God, I'm in front of so many people.' That can kind of hype you up. So the bubble really helped me see the differences in terms of the cardboard cutouts and the isolated aspect of it instead of socializing where you would in most competitions. So (Skate America) was a great experience and it helped me to go out there and perform like I usually do."
—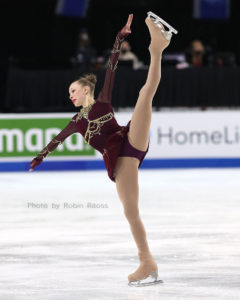 In the ladies event, Lindsay Thorngren was one of four skaters to make their senior debut in Las Vegas. The 2020 U.S. Junior Champion said her goal coming into these U.S. Championships was to be on the podium, and while that didn't quite happen, she still finished in 6th place in her senior debut, behind five household names who have been competing at the senior level for years. Thorngren talked to FSO in the mixed zone about warming up alongside Olympians and the pressure of competing in the final group in the free skate:
"I was nervous. I'm really amazed just to be skating with these other skaters that I've been looking up to for so long and watching on the big screen," she said. "And now I'm here and I'm just like, 'Wow. It's surreal.'"
Thorngren looked tentative at the start of her long program, doubling a triple flip in combination with a double toe. But then she was able to fight back for the rest of the program, despite some negative GOEs on some elements. FSO's Maura Sullivan Hill asked Thorngren about how she mentally approaches coming back from a mistake:
"I just said you know, 'This is my senior debut, I want to show everyone what I can do and what I've been working on.' Although I made mistakes in my program, I wanted to show everyone that I've been working hard on the other jumps and that I wasn't going to get distracted from that mistake that I made, that one big mistake."
—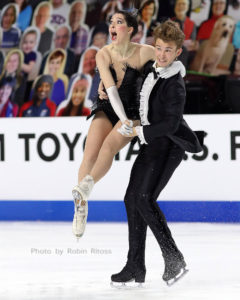 Though the 2021 U.S. Championships wasn't the nationals debut for Lorraine McNamara, who had won the pewter medal in 2019 with former partner Quinn Carpenter, it was the nationals debut for McNamara and new partner Anton Spiridinov. The two teamed up in the spring of 2020. The 2021 nationals also marked the first U.S. nationals for Spiridinov, who had previously represented the United Kingdom and Russia.
"It was a lot of fun," McNamara exclaimed. "It is very different from what we are used to in terms of there not being a crowd. It is a lot quieter than usual, but I think that sort of helped us look inwards and draw the excitement from ourselves. There is so much for us to be excited about. We have had a lot of success in just a few short months that we have been together and we can see this sort of as a celebration of that and show off and do what we came here for."
"I have always been watching U.S. Nationals on YouTube on TV. My brother (Maxim Zavozin) skated for the U.S., " Spiridinov said. "It is one of those competitions – I always wanted to skate for the U.S. and now I'm finally given that opportunity and I'm just thrilled to be here and to skate with my wonderful partner," Anton said.
McNamara and Spiridinov finished the event in sixth place, which matched their result at their first competition together, Skate America, in October.
—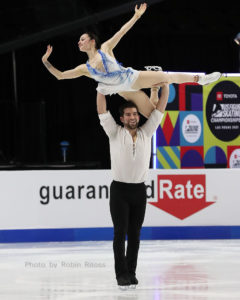 Katie McBeath, a former senior ladies competitor, made her debut as a pairs skater in Las Vegas and shared the differences between competing in those two events:
"One of the things that I learned is to really stay calm, " McBeath said. "One thing I noticed about the pair elements is even if I'm super nervous, they are so unique and such high-intensity elements that you really gotta go for it. Like the twist, you can't hold back. And lifts, you can't hold back no matter what, because I have someone else relying on me. In a way, that really helped because I was nervous, so I really had to focus on what I wanted my body to do, so I could do it full out for Nate (Bartholomay). So he could put me up where he needed and catch me how he needed, and stuff like that. So that was a big learning experience from today, because I was definitely very nervous going in, so really committing to everything was big for me."
The 2021 U.S. Championships marked the return to competitive skating for Maximiliano Fernandez, the newly crowned U.S. junior bronze medalist. The last time the 2016 U.S. junior pairs champion competed, even skated, was at the 2017 U.S. Championships, where he placed ninth with former partner Joy Weinberg on the senior level. Then one day, Fernandez said he was working with his uncle as a videographer for a Basic Skills competition in south Florida when the skating director of the rink approached him, offering him a tryout. Fernandez said at the time he was working at a flight school managing a fleet of aircrafts, but was ready for a change.
"I didn't really want to do that anymore," Fernandez said of his flight school job. "Since I'm young, I don't want to sit behind a desk. So I took the opportunity to do a tryout."
That tryout was with Valentina Plazas. Plazas had competed previously in singles, but never in pairs. Fernandez noted Plazas actually turned him down at the beginning, but that he didn't give up.
"I was persistent. She was the right size for me and I'm not that tall of a guy. So I started coaching at the rink. I didn't give up. I wanted to see if I could go out there and try pairs again. It was my passion," Fernandez explained.
Fernandez said Plazas returned to the rink the day after she competed in the junior ladies event at the 2020 South Atlantic Regional Singles Challenge in Oct. 2019 and at that moment, Fernandez knew that "she was the one." Fernandez said the two kept skating together and he kept egging her on, telling her all about the opportunities in pair skating in the U.S.
"She eventually said 'Yes'!", he stated.
The two had another tryout in December 2019 in front of Fernandez' coaches, Jim Peterson and Amanda Evora.  While they officially teamed up in January of 2020, they didn't start training together until May due to the rinks being shut down because of COVID. The two train in Canton, Michigan with Peterson and Evora.
Making moves in the middle of a pandemic
The COVID-19 pandemic had some skaters making some significant changes to their skating careers, whether it was switching coaches or training in a new facility.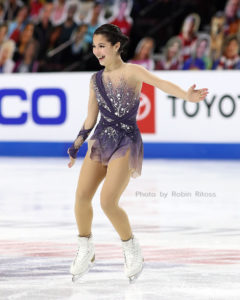 Massimo Scali, the Italian ice dancer and 2010 World Bronze Medalist, started working with two-time U.S. Champion Alysa Liu seven months ago, during a year that included a three-inch growth spurt and a hip injury for her, plus the challenges of trying to train safely during a pandemic. After the ladies long program at Nationals, he spoke to the media about his plans for training now that Liu's season is over, including focusing on skating skills and expression, and bringing back the triple axel and quads that were her signature the past two seasons.
"It was a really struggling year for her, for many reasons and I'm just so proud. She's a fighter, and I told her from the beginning, you are already the champion of this season to me. The resilience that she had, to just keep going and keep fighting was so admirable," Scali said.
He continued: "We are going back [to Oakland] proud of what she did. We are going back excited to start the project of next season. We have so many things that we want to work on, so many things that we want to improve, and, of course, we want to bring back the big jumps even better than before, even stronger, so we are just very excited. We are just excited for what is coming next.
"This Nationals was definitely the proof that she is not just a jumper, but she can be an incredible skater and she can be an incredible artist. And it takes time, and it's an aspect of her skating that she never explored before. And she never even thought she was able to arrive there, and now she is so excited to work on every single aspect, the full package in her everyday skating. She's excited to learn new skating skills, she's excited to try new movements and talk about feelings and what you should express on the ice. It's a gigantic step forward and it's just the beginning of her path."
—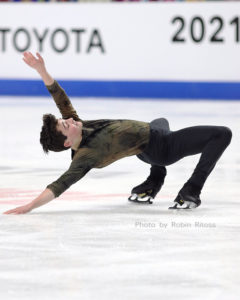 In October of 2020, newly crowned U.S. junior silver medalist Joseph Klein decided to take his training to a higher level and moved from his hometown of Northbrook, Illinois to train in Colorado Springs with Damon Allen. Klein said it was a pretty easy transition because since school was already online because of the pandemic.
"It has been really enjoyable, " he told the media after his free skate at the U.S. Championships. "I definitely think it is a lot more intense than what I'm used to. I came from a small town in Illinois and now I'm at one of the biggest training centers of the world. It is a lot more intense with the coaches and intense with the community there. I'm really glad to have the opportunity to be training with the amazing coaching staff as well as the amazing competitors that train at the World Arena. So I think it was definitely a really good move for me and I'm excited to start the rest of my career there."
—
In the summer of 2020, the top senior- and junior-level ice dance teams at the Wheaton Ice Skating Academy in Maryland began training at Ion International Training Center in Leesburg, Virginia. While the new center is only 40 miles from their one in Maryland, the ION International Training Center, which opened in June 2019, features two NHL-sized rinks, one which includes stadium seating that allows the skaters to simulate performing in an arena.
"I think it has really been a great addition to the already great training that we have had in Rockville and Wheaton. Training in an arena sort of environment almost prepares us better for when we go out to a competition and we are in a bigger arena," Caroline Green said.
"It is nice to train in a bigger arena," Michael Parsons added. "What I like most about it is that it feels like the ownership and the whole group of us that is at ION is becoming a family, even though we are still relatively new to each other. It is really nice to have a training center that is invested in us."
"They are just so incredibly supportive," Green finished.
For Molly Cesanek and Yehor Yehorov, the move to ION International Training Center made their commute to practices a bit shorter.
"We live in Virginia and we have always commuted to Maryland, so now it is actually a little bit closer because it is in Virginia," Cesanek said. "But as far as the rink itself, it is an inspiring place. It's brand new, which of course, means they have been putting all their energy into making a great facility that meets all of the athletes' needs."
"It feels like a family," Yehorov added. "They are very welcoming and we are very thankful for the ION International Training Center."
It wasn't just the ice dance teams that move training facilities, earlier this year, several skaters, including Alex Krasnozhon, Jimmy Ma, Hanna Harrell, Audrey Lu and Misha Mitrofanov and Emily Chan and Spencer Howe moved with their coaches Aleksey Letov and Olga Ganicheva from Texas to train at the new Skating Club of Boston, which opened in the fall of 2020.
"It (The new Skating Club of Boston) is absolutely beautiful. I'm extremely happy with the people that I'm with. We all moved as a group. We train together, we live together. I couldn't be with a better group," Jimmy Ma told Figure Skaters Online at Skate America in October.
Finding the right program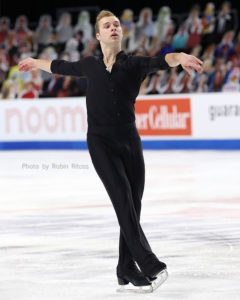 Finding the right program can be a challenge. For Alex Krasnozhon, he switched his short program after Skate America in October and debuted a new short program at the 2021 U.S. Championships, skating to Je Dors Sur Les Roses" performed by Mikelangelo Loconte (from the French musical Mozart, l'opéra rock).
"I liked the program ("Heart Upon My Sleeve" by Avicii and Imagine Dragons) that (choreographer) Alex Johnson did for me but I love this French music from the musical Mozart, l'opéra rock," Krasnozhon shared. "I just love this piece of music so much that I really wanted to skate to it and I asked my coaches and they said 'This is the season to do it since a lot of competitions were cancelled. I just really wanted to enjoy myself at Nationals."
Krasnozhon went to choreographer Adam Blake to create his new program.
"We just worked and it turned into a masterpiece," Krasnozhon explained. "I think it is one of my best programs and I enjoy skating to this music."
Krasnozhon did not have the debut of his short program that he hoped for as he fell three times in the program and was in 16th place heading into the free skate. However, he told Figure Skaters Online he is planning to keep the program for next season.
– – –
Liam Kapeikis doesn't remember the 80's, in fact, the 16-year-old wasn't even born during that decade. Yet, 2020 U.S. junior bronze medalist skated to the 1985 song "Kyrie" by the 80's rock band, Mr. Mister, for his short program in the junior men's event at the 2021 U.S. Championships.
"My coach, Keegan (Murphy) was the one who picked out the music," Kapeikis explained. "He thought I could do a really good job of performing it. No one else has really done this, or at least well. So he was hoping that I be able to show it off at least with just my skating style and the way that I jump because I do have an older fashion jump style."
"I really just enjoy it," he added. "It brings me back to when I was younger because this was the type of stuff I would skate to so I think that really helped with my energy and just having fun overall."
—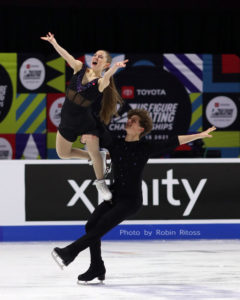 Brother and sister teams can find it hard to find the appropriate music to skate to. For 2021 U.S. junior silver medalists Oona Brown and Gage Brown, their "Nothing Else Matters" free dance by Metallica program has garnered quite a response, especially after a video of them skating in Bryant Park in New York City with On Ice Perspectives' videographer Jordan Cowan went viral with more than 11 million views on YouTube.
So how did they choose that music? At the start of the pandemic, the team was contemplating what their new programs would be. Gage said they were looking at what options of music they had and what music they enjoyed skating to, when they came across the song, "Nothing Else Matters" by Metallica.
"We have both known this song for a long time and never thought about putting it on the ice, but we feel like it was a good idea. We really love skating to it," said Gage.
The program was a team effort in terms of choreography, according to Gage. The Browns' coach Joel Dear did the majority of the choreography, with assistance from their other coach, Inese Bucevica. Gage said he and Oona also contributed to development of the program.
"We put our two cents in," Gage laughed. "We really enjoyed creating this free dance."
Unique Approach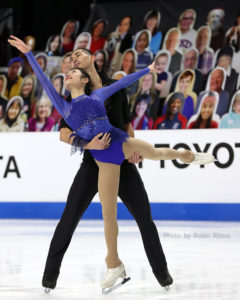 In any given pairs competition around the world, it is pretty typical to see the triple twist as the first element of every program. It's a high-risk requirement that calls for a ton of energy from both partners, and it makes sense that many teams choose to check it off as their first element. But Emily Chan and Spencer Howe, who finished in 5th places in Las Vegas, take a different approach, putting the triple twist as the third element in their long program. FSO's Maura Sullivan Hill asked them about the strategy behind that decision after their long program:
"It was something that we tried in the past season. We did it in the short," Howe said. "As we moved into this season, we decided to go ahead and get those jumps out of the way [by doing them first in their programs]. It's just something that feels comfortable for us. Will it always stay that way? Maybe. Are we open to change? Absolutely. Anything that can help us grow. In terms of those two jumps in the beginning for the long and the jump in the short, it's just something that we're comfortable with."
His partner Chan added: "It feels comfortable. We can change. We try both ways, so we just wanted to try something new and see what works."
Howe: "Actually, it's a funny story because between the qualifier to Nationals and Nationals, we actually, in the short tried with the triple twist in the beginning. And we actually made a decision to move forward with that, but then, lo and behold, it slowly just made its way back to the way it was at this competition."
Missing family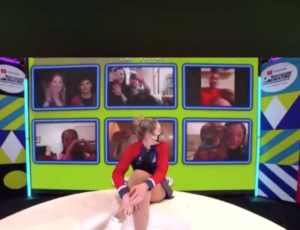 The only fans in the building at Orleans Arena were made of cardboard: the cutouts that featured fans, famous faces, and furry friends alike in the stands opposite the judges. But a video board behind the skaters in the Kiss and Cry showed live footage of their friends, families, and supporters cheering them on from home. Two-time Olympic silver medalist Brian Orser made multiple appearances on the board, for both Jason Brown and Milly Murdock, who train with him at the Cricket Club in Toronto. Two-time Olympic Mirai Nagasu was onscreen while fellow former Olympian Gracie Gold waited for her marks, and former national medalist Ross Miner cheered on his girlfriend, Heidi Munger, in the ladies event.
Pairs skater and 2014 Olympian Nate Bartholomay talked to FSO about what it meant to him and his partner, Katie McBeath, to see the familiar faces on video in the kiss and cry. He said that their parents, siblings, and some friends logged on to cheer for them, as well as McBeath's former coach from when she was a singles competitor.
"It's really nice that they were able to do that, because for the athletes, we want to perform as best we can for [the audience]. The cutouts help, but it's so hard without that energy [of fans] in the building. So it's really awesome that U.S. Figure Skating was able to put that on for us and tie in our loved ones."
—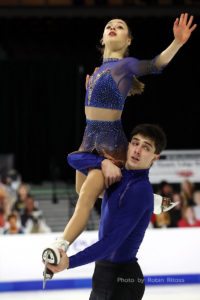 While there wasn't the video wall for the junior competition, missing family was still on the minds of all of the junior competitors, especially for the 2021 U.S. Junior Champions Anastasiia Smirnova and Danil Siitanysia. Now that their season is over, Smirnova and Siitanysia are hoping to visit family in Ukraine, where the two are from, before getting to work on next season.
"Nastyia is going home to visit her family a week after we get back from (Las Vegas)," Siitanysia told Figure Skaters Online. "I will get my paperwork done with my VISAs and stuff and hopefully I will get to go home, but I don't know how long it is going to take to get the paperwork done and finished."
The two haven't seen their family in Ukraine since the 2020 World Junior Championships in Estonia in March, when they both went home for a brief three day visit after the competition. Their trip was cut short by the pandemic.
"When America shut down the country and wasn't going to let anybody in, Trudy Oltmanns (our coach) flew us back three days after we got home (to Ukraine) so we really didn't get to see our family that much," Siitanysia explained.
"It is just sad three days is not enough," Smirnova said.
"It was really quick," Siianysia added. "We did not expect that to happen so it was kind of shocking."
Inspiration for the perfect costumes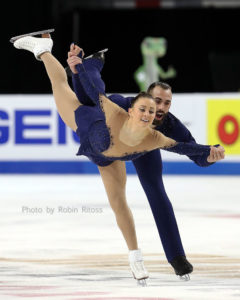 At their last competition, Skate America, Ashley Cain-Gribble and partner Timothy LeDuc skated their long program in navy blue outfits that they both agreed made them feel self-conscious and uncomfortable. Not the kind of feeling any skater wants when having to go tackle a long program. Cain-Gribble told FSO about the decision to get the new black and gray outfits they wore in the long program here at the U.S. Championships: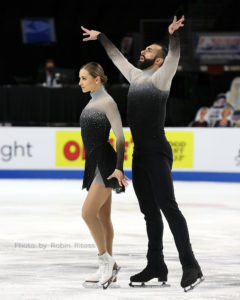 "After Skate America, we both went to each other with the same thought, that we just felt really self-conscious in our outfits. They weren't what we felt the program was and we didn't feel comfortable in them, necessarily. So, we got with our costume designer right after and came up with something completely new, which is what we wore tonight. And it's just two outfits that we feel really strong in. Mine is modeled after Sasha Cohen's gray dress, that was my main key thing that I wanted, was the top to be mesh and a high neck, because that's what I feel really strong and confident in."
LeDuc added: "I think the best way to describe our costumes after Skate America is like when you see something online versus when you get it in person (both laugh). The idea we had in our heads and what we came up with, with our costumer was awesome, and then when we actually looked at what we came up with on our bodies, we were like, huh, that's not quite right. So we just scrapped them and started over and we're very happy with the result now."
—
Like Cain-Gribble and LeDuc, 2021 U.S. junior silver medalist Kanon Smith sought inspiration for her costume from an Olympic silver medalist and three-time World champion.  The 12-year-old from San Diego's Mary Poppins short program was influenced by Mao Asada's 2012-2013 Mary Poppins exhibition program.
(I admire) everything about (Mao Asada)," Smith exclaimed. "She has great jumps, her components and interpretation with the music is incredible and I love it."
—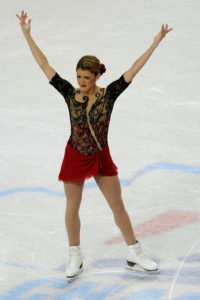 And while some were inspired by past champions in the sport, some even wore their predecessors costumes. Rena Ikenishi, who finished in 9th place in the senior ladies event, wore former U.S. skater Samantha Cesario's "Carmen" free skate for her "Jealously" by Jacob Gade short program. Cesario was one of Ikenishi's coaches.
"My coach (Marylynn Gelderman) suggested that I try on Sam's dress and when I tried it on, they loved it on me," Ikenishi shared. "Honestly, I was super nervous wearing her dress at Nationals last year, but not as much this year. I know that the last time this dress was worn (by Sam), she put out a killer performance and I wanted to carry on the same momentum. I'm also not as artistic as Sam and I knew that fans would recognize her iconic dress and I was afraid of being compared to her in that way."
A Passion Project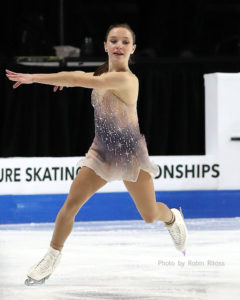 Milly Murdock was supposed to make her senior debut last year at Nationals in Greensboro, but had to withdraw when she fractured her back during a practice session. Since her recovery, she moved to Toronto to train at the famed Cricket Club with Tracy Wilson, Karen Preston, and Brian Orser. When she isn't skating, Murdock writes on her nutrition blog, Bon.Athlete. FSO talked to Milly in the mixed zone after her short program to hear more about the blog:
"It really started as a passion for nutrition, I would say three or four years ago when I saw a lot of the older skaters that I looked up to go through eating disorders, [body] dysmorphia, anorexia. And it was sad to see so many great skaters feel so badly about themselves, and so I started to look into it more with other sports. And as I started to progress, I wanted to make an account where the younger generations could look at as an example of a healthy balance between athletes and your body and your body image. Not looking at food as a way of punishment, but as a way of fuel. So it really stemmed from that and now it's getting a bigger response as more people start to look at it, which is incredible."
Read more about how Murdock stayed busy during quarantine last spring in this Q&A that FSO web administrator Gina Capellazzi did with her in May 2020.
—
For our gallery of Nationals photos, visit our 2021 U.S. Championships Photo Gallery
For more Nationals coverage, with the links to all our recaps, visit our 2021 U.S. Championships Hub.