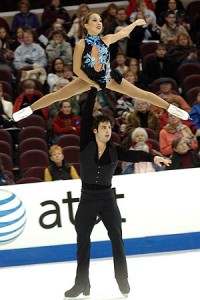 "Have a great first showing at the U.S. Championships" was the goal Caydee Denney and Jeremy Barrett had coming into Cleveland. And what a great showing it was Thursday afternoon for the Florida pair, who rejoined in June after a brief partnership in 2006.
"As soon as we started to skate together again, things just clicked," said Barrett, who sits atop the standings with his partner. "Caydee is the best partner anyone could ask for. She makes it pretty easy."
Denney and Barrett won the championship pairs short program with an effortless performance that scored 61.51 points. Their program was so spectacular that not even a revolution of their side-by-side spins was out of sync.
Denney is only competing in her first U.S. Championships but could be four minutes from making the World Championship team. The pair maintains a small lead over reigning champions Keauna McLaughlin and Rockne Brubaker and two-time U.S. Champions Rena Inoue and John Baldwin.
"The short program has been our biggest challenge this year," said Brubaker, who turned out on the landing of his triple Salchow. "This program is difficult. We're trying to pull our skating in a different direction."
McLaughlin and Brubaker came into the competitions as the clear favorites after two medal-winning performances on the fall Grand Prix circuit. But the problems started early in the "Malaguena" program with Brubaker's side-by-side jump and her two-footed landing on the throw triple loop.
"It could have been better," said a coughing McLaughlin, who had a 102-degree fever until Tuesday but did not use that illness as an excuse. "I didn't like our big tricks that much. I thought we had good presentation and I had fun out there. The crowd was awesome."
They have 61.12, giving them the narrowest of leads over the third-place finishers. Inoue and Baldwin have 61.11 after a spot-on performance that showed four-time Olympian Inoue and her fiance, Baldwin-who is making his 23rd appearance at the national event-can still compete with younger skaters.
"You don't shoot the horse if it can still run," Baldwin said. "We're like the horse and we can still run."
Inoue and Baldwin's program was highlighted by side-by-side double axels and a throw triple loop.
"How do we feel about the performance? We couldn't be happier," he said. "Anytime we can go out and make the audience happy, that's great and that's our goal. We think of ourselves as entertainers and we hope the audience comes back with a feeling of 'wow'. It was a good day."
Caitlin Yankowskas and John Coughlin hold the fourth spot after the short program with 56.09. Earlier this season, Yankowskas and Coughlin made their Grand Prix debut with a sixth place finish at Skate America.
"Skate America was such a blessing for us," Coughlin said. "To have our first [Grand Prix competition] be at home in the United States with a hometown crowd, it felt more like…national championships with everybody being American fans and wanting to see great American skating. It gave us that first step toward nationals."
Making their first appearance this season because of her ankle injuries, U.S. Champions Brooke Castile and Ben Okolski  are fifth with 54.46. She fell on the the side-by-side triple Salchows, the opening element in their program set to the Memoirs of a Geisha soundtrack by John Williams.
"I'm really unhappy with that skate… I can't really explain," said Castile, who also had trouble on the landing of the throw triple Salchow. "We worked really hard this year and this is just a huge disappointment. I can't even put it into words."
Other results include Chloe Katz and Joseph Lynch,  seventh with 52.06; Tiffany Vise and Derek Trent, eighth with 51.16; Chelsi Guillen and Danny Curzon, 13th with 44.63; and Bianca Butler and Joe Jacobsen, 15th with 42.73.
The pairs competition concludes Saturday with the free skate. Pending selection from U.S. Figure Skating, the top two teams likely will represent the country at March's World Championship in Los Angeles.
Meryl Davis and Charlie White increased their lead in ice dancing with a spectacular original dance to "Happy Feet".  The team received all positive grades of execution for all of their elements, which were valued at Level 3 and Level 4.
They lead the competition with 101.86 points after first-place performances in both the compulsory dance and the original. Emily Samuelson and Evan Bates were second in both parts of the competition for a total score of 93.25.
"Overall, it felt like a strong performance," Samuelson said about the original dance. "We wanted to present the program the best that we could, and we wanted to portray the characters of the '20s, '30s, and '40s the best we could, and I think we did that."
Four Continents bronze medalists Kim Navarro and Brent Bommentre were crowd pleasing in their origina dancel, but they were not technically sound. They remain in third place with 89.52 despite only finishing sixth in the original.
"I think we were really happy with how we skated tonight," Navarro said. "We lost a lot of points technically but that was not our focus tonight. We were focused on the performance."
Heading into Saturday's free dance, 2006 Junior Grand Prix Final Champions Madison Hubbell and Keiffer Hubbell are fourth with 87.03. Jane Summersett and Todd Gilles are fifth with 86.91.
__________
Figure Skaters Online strives to be an accurate source of information related to the sport of figure skating. To report an error, please e-mail the news editor. Include the article date and title in your e-mail.