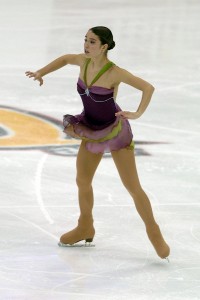 Reigning Grand Prix Final Champion Alissa Czisny won the short program at Skate America in Ontario, Calif., with a personal best 64.20 points. With a program that included a triple Lutz-double toe combination and three Level 4 spins, Czisny bested Italy's Carolina Kostner (60.23) and American Caroline Zhang (55.05).
"I guess that was okay out there tonight," said Czisny (Bowling Green, Ohio), who was the only skater to break the 30 point mark in program components. "I was really nervous going out there tonight this being the first competition of the season. I was happy to get my feet under me."
Kostner, reigning World Championship bronze medalist was the only competitor to perform a triple-triple combination in the short program. She landed a triple toe-triple toe combination worth 9.30 points.
"Last year, I struggled with pain in my knee," Kostner said. "I never really got into perfect shape. After Worlds, I took a lot of time to recover and get pain free. I started training in the middle of July. I started slowly because the season is long. I'm going to go with the flow and improve step by step with every competition."
Zhang (Brea, Calif.), who failed to crack the Top 10 at the two previous U.S. Championships, made a noteworthy season debut, landing an opening triple flip-double toe combination, triple loop and double Axel. Her layback spin earned Level 4 while two other spins and the step sequence were Level 3.
"It's been hard," Zhang said of the past few seasons. "There have been a lot of choices and I realized that I loved skating enough to try to stick with it and do the best I can because it's just something I love to do and want to do well in."
Despite bobbling her opening triple Lutz, American Joelle Forte (Merrick, N.Y.) placed sixth in her Grand Prix debut with 48.86 points.
"I felt really good. I wasn't nervous, I was really calm," Forte said. "The Lutz was so much higher [than I thought it would be] that I didn't know when the ice was going to get there, but I was able to complete the combination on the Salchow so I was happy that I was able to do everything else to the best of my ability."
__________
Figure Skaters Online strives to be an accurate source of information related to the sport of figure skating. To report an error, please e-mail the news editor. Include the article date and title in your e-mail.