After the short program at the Grand Prix Italy, reigning World Champion Anna Shcherbakova found herself in third place, behind Belgium's Loena Hendrickx and her fellow training mate, Maiia Khromykh, of Russia.
"I am not satisfied," she told the media after her short program Nov. 5. "I made a big mistake in the jump (combination). "I didn't do such mistakes in my practices, all was fine, I think it was not technical, it was a problem with my head. I am nervous every time, but this time I was thinking too much and when you do a combo with a triple loop you don't have time to think."
But in the free skate, the 17-year-old rallied back to take her third ISU Grand Prix gold medal.  Shcherbakova opened her "Ruska", "The Master and Margarita" and "Lacrimosa" program with a quadruple flip and then followed it up with seven triple jumps, including the triple Lutz-triple toe combination, which gave her trouble in the short program. Shcherbakova earned a new ISU personal best score in the free skate with a score of 165.05 and earned a total score of 236.78.
"My main goal for this competition was to show that my quad is back and I reached that goal," Shcherbakova told the media after the free skate. "I made some mistakes in the short program and I will work on it. The short program has to be clean every time, but am happy and satisfied with my performance today."
Shcherbakova will next compete at Internationaux de France, Nov. 19-21.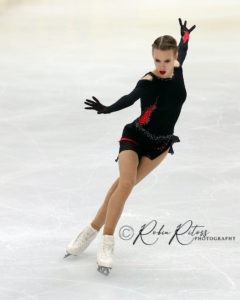 In her senior Grand Prix debut, Maiia Khromykh earned the silver medal, behind her training mate Shcherbakova. In her "Moulin Rouge" free skate, the 15-year-old executed two quadruple jumps — a quadruple toe-double toe and quadruple toe, along with five triple jumps. Her only mistake came on the triple loop, which was marked under-rotated. Khromykh earned a free skate score of 154.31 and a total score of 226.35.
"I am satisfied, and at the same time I am not," Khromykh said. "I made an error on the loop and the footwork was not so good. But I am very happy with my second place in my very first (senior) Grand Prix."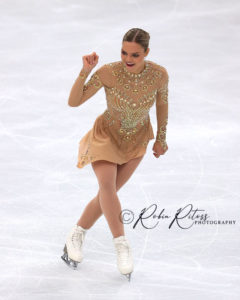 Belgium's Loena Hendrickx, who won the short program with a personal best score of 73.52, followed it up with another strong performance in the free skate, which included six triple jumps. She achieved a personal best free skate score of 145.53 and a personal best total score of 219.05 to win the bronze medal. The medal marked her first Grand Prix medal and the first ever for a Belgian woman.
"I can't believe I'm third and to have my first ISU medal is just a dream come true," Hendrickx said, who celebrated her 22nd birthday on Friday.
Both Khromykh and Hendrickx will compete at Rostelecom Cup, Nov. 26-28.
After finishing just off the podium at Skate Canada the week before, Japan's Mai Mihara repeated the result, moving up from fifth place in the short program to finish fourth place overall with a score of 214.95. With the two fourth place finishes in her Grand Prix assignments, the 22-year-old has positioned herself to be among the Japanese women competing for one of the three Olympic spots.
"There are still lots to improve both GOE and program components," Mihara told the media following her free skating. "After skating today, I realized I need more speed and that's what my coach told me at the K&C. I want to bring back the learnings from here to my next performance."
Two-time world medalist Satoko Miyahara finished in fifth place with an overall score of 209.57. It was an improvement from her seventh place finish at Skate America two weeks prior.
"There were small mistakes but I put out the minimum level of what I had been doing in practice so I did feel I did well," said Miyahara.
Korea's Yelim Kim rounded out the top six with an overall score of 193.50.
Quick recaps of the other disciplines:
Men:

In the men's event, Yuma Kagiyama, who was in seventh place after the short program, rallied to win the gold medal. The 2021 World silver medalist executed three quadruple jumps, including a quad salchow, quad toe-triple toe and quad toe, as well as five triple jumps to earn a personal best free skate score of 197.49 points and a total score of 278.02. Kagiyama will compete next at Internationaux de France. 
Russia's Mikhail Kolyada won the silver medal, moving up from fourth place in the short program. Competing in his home country, Italy's Daniel Grassl claimed the bronze, his first ISU Grand Prix medal at the senior level.
Dance: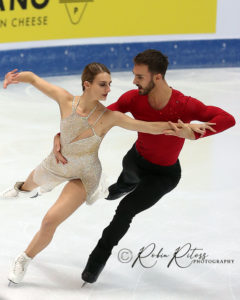 In their first Grand Prix event since the 2019-2020 season, four-time World champions Gabriella Papadakis and Guillaume Cizeron won the dance event, over their training mates, 2021 World silver medalist Madison Hubbell and Zachary Donohue of the United States. Papadakis and Cizeron will compete their second Grand Prix in their home country of France. With their gold medal win at Skate America and silver medal in Italy, Hubbell/Donohue will advance to the Grand Prix Final in Osaka, Japan in December.
In their first competition since the 2021 World Championships, Russia's Alexandra Stepanova and Ivan Bukin won the bronze medal. They will join Papadakis and Cizeron at Internationaux de France, Nov. 19-21.
Team USA's Caroline Green and Michael Parsons, who were in fourth place following the rhythm dance, suffered a fall in the exit of their curve lift, to finish in fifth place overall. China's Shiyue Wang and Xinyu Liu finished ahead of Green and Parsons in fourth place.
Pairs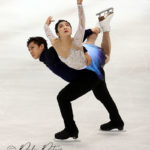 After winning gold at Skate Canada, China's Weijing Sui and Cong Han followed it up with another gold medal in Italy, to qualify for the Grand Prix Final in December. The two-time World champions and 2018 Olympic silver medalists finished ahead of their country mates, Cheng Peng and Yang Jin, who took home the silver medal in Italy.  
In their senior Grand Prix debut, Iuliia Artemeva/Mikhail Nazarychev of Russia earned the bronze medal. Italy's Nicole Della Monica and Matteo Guarise missed taking home a medal in front of their home country, dropping from third place in the short program to fourth overall after several errors in their free skate.