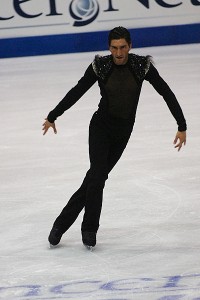 Evan Lysacek is the Grand Prix Final Champion.
In Tokyo, Japan, on Saturday, Lysacek earned a personal best 249.45 points to finish ahead of Nobunari Oda of Japan, who was second with 243.36. Three-time U.S. Champion Johnny Weir was third with 237.35, winning the bronze medal for the second consecutive year.
Jeremy Abbott was the first American man to ever claim the top spot at the Grand Prix Final, doing so last season with an incredible performance that set the then highest score ever for a U.S. man. He finished fourth in Tokyo despite a second place free skate.
Skating to Scheherazade in a new costume designed by Vera Wang, Lysacek set a personal best 159.60 points, with eight triple jumps, including two triple-triple combinations, lutz-toe and flip-toe. His only error came when he popped his second triple Axel, which was supposed to be in combination.
"I'm glad that the improvements I made since Skate America were reflected in today's result," said Lysacek, who was second at 2009 Cup of China but later won Skate America. "I had one glaring mistake today but was satisfied with my overall performance."
Two of Lysacek's spins received a Level 4 while two others were Level 3.
Weir delivered a clean performance of his free skate titled "Falling Angel," landing eight triples, including two triple Axels, a jump that has provided him with problems at both Rostelecom Cup and the NHK Trophy. He achieved a new personal best score with 152.75 points in the free skate to set a new personal best overall as well.
"It's the best long program that I've done so far," said Weir, who was fourth in the free. "I rotated all my jumps, so I'm happy with that. And a new career best score is excellent. I hope this competition gives me some legitimacy, because a lot of people always write me off after I make mistakes and then I have to climb my way back up."
Many wrote Weir off following his fourth place showing at Rostelecom Cup. But the 2008 World Championship bronze medalist rebounded from the disappointment in Moscow, Russia, to claim a silver at NHK Trophy in Nagano, Japan, where he beat Abbott.
Abbott was near perfect in his second place free program to Saint-Saens' "Symphony No. 3" but he botched the opening quadruple toe. Even with the fall, he outscored Lysacek in the technical mark by 6.53 points, with elements including a triple Axel-triple toe and a triple Lutz-triple toe-double loop.
With Saturday's win, Lysacek improved his chances of making the United States team for the 2010 Olympic Winter Games in Vancouver, Canada. Three athletes will be selected following the 2010 U.S. Championships in Spokane, Wash., based on their performance at nationals as well as other events.
"In the last Olympics, I was young and really excited," said Lysacek, who was fourth at the 2006 Olympic Winter Games in Torino, Italy. "I've learned a lot in the past four years and want to take the experience I have gained and put it all into effect in Vancouver."
Lysacek is one of five American men who have medaled on the Grand Prix circuit. While Abbott won Skate Canada and Weir took silver at the NHK Trophy, Adam Rippon claimed bronze at Trophee Eric Bompard and Ryan Bradley took bronze at Skate America.
The Grand Prix Final is the culmination of the 2009 International Skating Union (ISU) Grand Prix of Figure Skating circuit. The series, now in its 15th season, consists of six international events in a cumulative, point-scoring format. The top six scoring athletes in each discipline moved onto the Final.
The six Grand Prix events are Trophee Eric Bompard, Oct. 15-18, in Paris, France; Rostelecom Cup, Oct. 22-25, in Moscow Russia; Cup of China, Oct. 29-Nov. 1, in Beijing, China; NHK Trophy, Nov. 5-8, in Nagano, Japan; Skate America, Nov. 12-15, in Lake Placid, N.Y.; and Skate Canada, Nov. 19-22, in Kitchener, Canada.
The points toward the Grand Prix Final that are awarded for each place are 15 points for first; 13 points for second; 11 points for third; nine points for fourth; seven points for fifth; five points for sixth place; four points for seventh place; and three points for eighth. In pair skating, only the top six receive points.
__________
Figure Skaters Online strives to be an accurate source of information related to the sport of figure skating. To report an error, please e-mail the news editor. Include the article date and title in your e-mail.