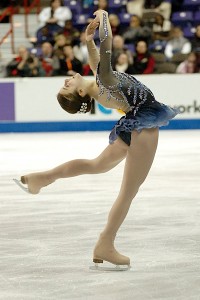 Competing on the Grand Prix circuit for the first time as a U.S. Champion, Rachael Flatt finished third in the short program Friday at the NHK Trophy in Nagoya, Japan, with 53.69 points. She trails  Italy's two-time World Championship medalist Carolina Kostner (57.27) and Japan's Kanako Murakami (56.10). U.S. bronze medalist Ashley Wagner is fourth with 52.93.
Japan's Mao Asada, the two-time World Champion and seven-time Grand Prix gold medalist who came to Nagoya as the heavy favorite, is an eighth place after an error ridden program that scored only 47.95. On her first jump of the program, a triple Axel, she bailed early, not completing the full 3.5 rotations, and she followed that mistake by singling her triple flip. Asada's first jump in the triple loop-double loop combination was also downgraded.
"Tonight was not perfect," Asada said. "I've been feeling only 50 percent with this routine at practice Sometimes it's good, sometimes it's bad."
Despite a knee injury that sidelined  her in the summer and earlier this fall, Kostner performed the best program of the night, landing a triple toe-double toe combination, a triple loop and a double Axel. Reigning World Junior Champion Murakami charmed the crowd with a jazzy "Jumpin' Jack" program that included a triple toe-triple toe, the only triple-triple of the event.
Flatt's debut of her sassy short program to "Summertime" by George Gershwin and "Happy Feet Blues" by Wynston Marsali was solid, although she doubled the loop in her planned triple Lutz-triple loop combination. She also performed a triple flip, double Axel and a level-four flying camel spin.
"I'm very excited with how I skated tonight," said Flatt, who deferred enrollment at Stanford University to focus solely on skating in the 2010-11 season. "I'm a little disappointed that I didn't get my triple Lutz-triple loop in. I've been working on it in training a lot."
Wagner, who was the sole U.S. lady to make it to the Grand Prix Final last season, following a silver medal at 2009 Rostelecom Cup and a bronze medal at NHK Trophy, is still in contention for a medal. In her performance to the "Once Upon a Time in America" soundtrack, she landed a triple flip-double toe, triple lutz and a double Axel.
Caroline Zhang finished sixth in the short program, her first international appearance since switching to coach Tammy Gambill. She landed a triple flip-double toe, triple loop and a double Axel, all with improved technique.
__________
Photo courtesy of Leah Adams
Figure Skaters Online strives to be an accurate source of information related to the sport of figure skating. To report an error, please e-mail the news editor. Include the article date and title in your e-mail.