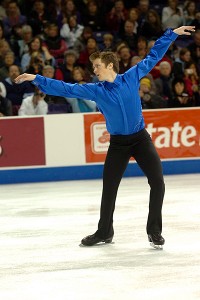 Jeremy Abbott is in second place following the NHK Trophy short program in Nagoya, Japan, with 74.62 points. Reigning World Champion Daisuke Takahashi  (78.04), the Olympic silver medalist from Japan, took the lead with Canada's Shawn Sawyer (70.15) finishing third.
American Ross Miner, the 2009 U.S. Junior Men's Champion, placed seventh with 64.85, marking his Grand Prix debut. Miner received a negative grade of execution on both his opening triple Axel and his triple flip but performed a clean triple Lutz-triple toe combination in a program that was also highlighted by a Level 4 and a Level 3 spin.
Skating an expressive Tango routine to "Viejos Aires," Abbott nailed a triple flip-triple toe, a solid triple Axel and a triple Lutz but his jumps were not enough to help him overcome a problematic spin. His change foot sit spin received no points as it did not fulfill the short program requirements.
"I'm a little upset with my change sit spin that I got no value, so zero points for a whole effort for a spin," the two-time U.S. Champion said. "But I love the program and I thought I performed it very well, especially for the first time doing it in competition anywhere."
How costly was the mistake for Abbott?
Takahashi received almost 3.5 points for his Level 4 change foot sit spin.
With help from two Level 4 spins and Level 3 footwork, Takahashi put out an entertaining performance to Latin music that featured a triple flip-triple toe combination, a triple Lutz and an unusual flying layback spin, which received a Level 2. His lone mistake came when he put his hand down on the landing of his triple Axel.
"I'm not very satisfied with my program today," he said. "I touched down on the triple Axel and my spins didn't get the levels that I was aiming for. As for my steps, it was only half of what I can do, so I think there is a lot that I still can improve."
Sawyer opened his "Assassin's Tango" with a triple Axel but stepped out of the landing. He recovered to produce a triple flip-triple toe combination and a triple Lutz.
__________
Photo courtesy of Leah Adams
Figure Skaters Online strives to be an accurate source of information related to the sport of figure skating. To report an error, please e-mail the news editor. Include the article date and title in your e-mail.