By Michelle Kennedy, special to Figure Skaters Online
Russians Evgenia Tarasova and Vladimir Morozov took home their very first Skate America gold medal after delivering a strong free skate. Tarasova and Morozov opened with a beautiful triple twist and continued to skate beautifully with only a few errors.
Their new free skate is a great fit for this team as it highlighted their strengths. They easily won the event with a total score of 204.85. It was not their best performance, but it was a great start for this team who will only continue to build from here.
"Today we skated a little bit better than yesterday, and than the last competition in Finlandia," Morozov said. "Today's program was good and we are happy with that."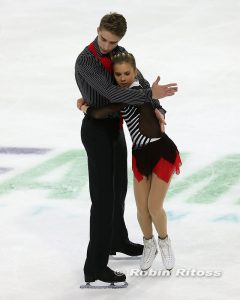 Alisa Efimova and Alexander Korovin will go home with their first Grand Prix medal securing the silver. This is still somewhat of a young team, so there is still room for growth.
"Many of the elements were good, but we had two big mistakes," Efimova said. "This is our first competition on another continent, so we were a bit nervous."
Capturing the bronze was American team, Ashley Cain and Timothy DeLuc, who showed resilience as they moved up from fourth to the podium. They fought hard for each element and were thrilled to receive their first Grand Prix medal as well.
"We felt like it was a bit of a missed opportunity to create a moment," LeDuc said referring to their short program performance. "But it awakened the fighting spirit within us. We definitely fought for everything today, albeit we had a couple of mistakes and some scary moments on some elements."
Scimeca-Knierim and Knierim finished in fourth and made a shocking announcement following their free skate. Scimeca-Knierim and Knierim have decided to leave Germany and will be returning to Chicago in search of a new coach. At this point, they are still planning on competing at the NHK Trophy in two weeks, but they are unclear on their next step.
"We are very strong people so we are ready for whatever is next," Scimeca-Knierim said.