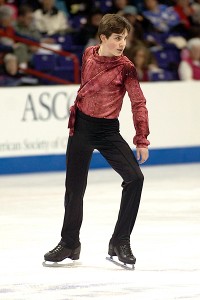 Richard Dornbush finished first in the short program and free skate to win the men's event at the Junior Grand Prix Final in Beijing, China, taking the gold medal over China's Han Yan (186.05 points) and Canada's Andrei Rogozin (181.78). Dornbush received personal best marks in the short (70.75) and free (148.81) for 219.59 points overall.
American's Max  Aaron (181.78), Keegan Messing (175.42) and Joshua Farris (173.97) finished fourth, fifth and sixth of the eight competitors. Messing, who qualified for the event by winning JGP Romania and finishing fourth in Austria, was second in the short but dropped with a last place free skate that included two downgraded jumps and two falls.
Performing to "Sherlock Holmes", Dornbush nailed eight triple jumps including a triple Axel-triple toe combination, a triple Lutz-double toe-double loop combo and a double Axel-double Axel sequence. But the highlight of his program were his spins, two of which received a Level 4.
"I was thinking about my program when I went out there, but I never dreamed that it would turn out that well," Dornbush said. "Being able to do a clean program in practice is totally different than doing it in a competition. That is definitely the best I skated. This gives me a lot of confidence going into nationals knowing that I'm the top junior man, competing in seniors, that will give me a boost."
Joining Dornbush in the senior men's competition at the 2011 U.S. Championships, Jan. 22-30, in Greensboro, N.C., are Messing and Farris. Aaron will compete in the junior event.
Behind a performance that included landing eight triple jumps, Aaron also set a personal best in the free program in Beijing, scoring 117.50 for his program. He started with a shaky triple Axel, which received a negative grade of execution, he recovered with a triple Lutz-triple toe combination. His performance was also marred by an edge call on his solo triple flip as well as a single toe in the triple Salchow-single toe-double loop, pushing him just out of medal contention.
Rogozine's routine to "The Rock" included eight triples and he moved up from seventh to clinch the bronze medal, just past Aaron, with 181.76 points. Yan landed four clean triples in his routine to "Zigeunerweisen" to score 118.76 points, good enough to give him the silver medal although he was third in both portions of the event.
Farris was shaky in his outing to "Porgy and Bess", landing only four triple jumps while under rotating three others — the opening triple Axel, the triple toe in the single Axel-triple toe combination and the triple flip in the triple flip-double toe-double loop combo. He landed a triple loop, a triple Lutz in combination with a double toe, a triple Lutz and a triple Salchow.
In the pairs competition, Narumi Takahashi and Mervin Tran of Japan took the gold medal. Russia's Ksenia Stolbova and Fedor Klimov (150.54) earned the silver and Xiaoyu Yu and Yang Jin (140.58) of China moved up from sixth place to take the bronze medal.
Takahashi and Tran's program to "The Day You'll Love Me" by Raul di Blasio featured a level-four double twist, a double Axel-double loop sequence and a throw triple Salchow, but Takahashi fell on the side by side triple Salchow. The current World Junior Championship silver medalists, who have also competed on the senior Grand Prix circuit this season, scored 105.58 points for the free skate. They earned 159.52 points overall.
Ashley Cain and Joshua Reagan, the lone American pair in the competition, finished fifth with 131.96 points, just off the personal best 134.14 they scored at JGP Czech Republic, where they won the silver medal. In their free program to Romeo and Juliet, which scored a personal best 88.04, they performed side-by-side triple Salchows, a double Axel-double Axel sequence and a throw triple Salchow but she fell on the throw triple flip.
Cain and Reagan, who are in their first season together, will compete next in the junior pairs event at the U.S. Championship. She will also compete in junior ladies.
__________
Photos courtesy of Leah Adams
Figure Skaters Online strives to be an accurate source of information related to the sport of figure skating. To report an error, please e-mail the news editor. Include the article date and title in your e-mail.