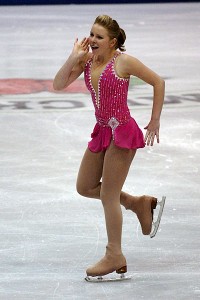 Former U.S. Champion Alissa Czisny is won the short program at the Grand Prix Final in Beijing, China, on Friday with Italian Carolina Kostner (62.13 points) and Japan's Kanako Murakami (61.47) finishing second and third. All three competitors got a new seasons best score, led by Czisny's personal best score of 63.76.
Competing with an injured right foot, reigning U.S. Champion Rachael Flatt, who won two silver medals on the 2010 Grand Prix circuit, is currently in last place with 45.19. In her program, she failed to complete a clean triple jump, under rotating the triple Lutz in her opening triple Lutz-double toe combination and having her messy triple flip downgraded. Flatt recovered from the opening mistakes with a Level 4 and two Level 3 spins but her footwork was only Level 1.
"I'm disappointed with how I skated because that is now how I've been practicing. I was hoping for a better performance," Flatt said. "But I'm very happy just to be here in Beijing competing in my first ever Grand Prix Final. It's such an amazing experience that I will learn a lot from."
Czisny's program to Violin Concerto in D, Opus 35 by Erich Wolfgang Korngold featured a triple Lutz-double toe combination, worth 8.10 points, a triple flip and two Level 4 spins. Both her straight line step sequence as well as her program ending layback spin were awarded a Level 3 rating.
"The program was good, but I have done better in practice," said Czisny, who started the season with a win at Skate Canada and claimed bronze at Trophee Eric Bompard. "I was so nervous out there, I was shaking. I think the performance was overall a bit tight my jumps were not the best I could do and the spins were not the fastest I could spin."
Kostner hit a triple toe-triple toe combination, a double Axel and a triple loop in her Flamenco program to score 62.13 points. Murakami produced a triple toe-triple toe, triple flip and double Axel in her dynamic program to "Jumping Jack".
Akiko Suzuki of Japan is currently in fourth place with a score of 58.26. Former World Champion Miki Ando (50.45) is fifth after landing only one clean triple, the triple Lutz in her opening triple Lutz-triple loop combination. Ando had the triple loop and her solo triple flip downgraded.
In the men's competition, Nobunari Oda of Japan outskated Canada's Patrick Chan (85.59) and Japan's Daisuke Takahashi (82.57) to win the short program with a score of 86.59. No American men qualified for the 2010 Grand Prix Final, although Jeremy Abbott and Evan Lysacek are the last two Grand Prix Final Champions.
Skating to "Storm" by the Yoshida Brothers, Oda nailed a quad-triple toeloop combination, a triple Axel and Lutz. Chan also went for the quad in his program but it was under rotated. The two-time World silver medalist landed a triple Axel and a triple flip-triple toe combo.
"After Skate America, I decided to put a quad toe-triple toe combination jump into the short program after consulting with my coach, because my quads were pretty good at that time," Oda said. "Today´s quad toe was one of my best throughout the season which increases my confidence because I did an excellent quad at such a big competition."
Reigning World Champion Takahashi landed a triple flip-triple toe combination, a triple Axel and triple Lutz, but he tripped in the footwork in his Latin program.
In the ice dancing event, reigning Grand Prix Final Champions Meryl Davis and Charlie White (68.64) grabbed the lead in the short dance ahead of France's Nathalie Pechalat and Fabian Bourzat (65.66). Nora Hoffmann and Maxim Zavozin of Hungary came in a distant third, scoring 55.98, putting them just ahead of Canada's Kaitlyn Weaver and Andrew Poje, who scored 55.51.
Davis and White, the two-time U.S. Champions who won silver medals at both the 2010 Olympic Winter Games and the World Championship, put out a strong performance of their Waltz set to "La Boheme" and "La Traviata" They earned a Level 4 for the twizzles, the lift and both sequences of the Golden Waltz to score 68.64 points.
Germany's Aliona Savchenko and Robin Szolkowy were the top competitiors in the pairs short program, earning 74.40 points for their performance. China's Qing Pang and Jian Tong (68.63) came second and while Russians Vera Bazarova and Yuri Larionov are currently sitting in third place with 63.86.
Savchenko and Szolkowy's program to "Korobushko" featured a big throw triple flip, a triple twist, side by side triple toeloop as well as three Level 4 elements. It was a seasons best but just off the personal best 75.96 they set in February at the Olympics.
"It was our best skate this season so far," Szolkowy said. "This is our third competition and we improved our program from competition to competition. When you skate clean, you skate better and you are more confident and relaxed towards the end."
Reigning World Champions Pang and Tong landed a triple toe, throw triple loop and high triple twist in their seasons best routine to "The Pearl Fishers" by Georges Bizet. Performing to "Adagio" by Secret Garden, Bazarova and Larionov produced a triple twist and a throw triple flip, but his triple toe was wobbly.
No American pairs qualified for the Grand Prix Final.
__________
Photos courtesy of Leah Adams
Figure Skaters Online strives to be an accurate source of information related to the sport of figure skating. To report an error, please e-mail the news editor. Include the article date and title in your e-mail.