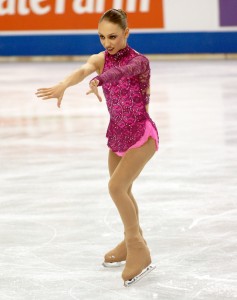 The 2011 International Skating Union (ISU) Junior Grand Prix of Figure Skating Series continues Oct. 5-9 with athletes competing in Milan, Italy, at JGP Italy. Of the 90 competitors expected to compete in the ladies, men and ice dance events, six represent the United States: Courtney Hicks and Hannah Miller in ladies; Jason Brown and Jay Yostanto in men's; and Lauren Bonacorsi and Travis Mager in ice dance.
Now in its 15th season, the JGP Series consists of seven international events in a cumulative point-scoring format. Approximately 400 athletes representing more than 35 countries are expected to participate in the series. Each athlete is eligible to score points in two of the seven scheduled events (pairs can compete in two of four designated events). The top eight point-earners in each discipline qualify for the Junior Grand Prix of Figure Skating Final, Dec. 8-11 in Quebec City, Quebec.
Ladies
The ladies competition in Milan will be one of the most competitive on the series. In Italy, JGP Australia Champion Hicks (Chino Hills, Calif.) will square off against Julia Lipnitskaia, the 13 year old Russian phenom who achieved the highest score this season (172.51 points) en route to gold in Poland. Japan's Satoko Miyahara, also 13, finds herself in the mix following a silver medal in Poland. All three can make the JGP Final with a medal.
Hicks an arsenal of triple jumps including her signature triple flip-triple toe combination as well as innovative spins. Earlier this year, Hicks won the junior ladies competition at the 2011 U.S. Championships, qualifying for the World Juniors, her first international competition. She was sixth at World Juniors, scoring 49.98 in the short and 100.94 in the free skate for 150.92 overall. She surpassed those scores in Brisbane this year, scoring 50.19 for the short, 101.72 for the short and 151.91 total, a personal best that ranks her only third best in this ladies field.
Miyahara's only previous international experience came when she placed second to Lipnitskaia, scoring 162.20 points (56.46 in the short program and 105.74 in the free skate) in Poland. To make the Final, she will likely need a golden performance in Italy, a difficult task since Lipnitskaia has a complete package, scoring well on the technical side with triple-triples and quick spins and also delivering on the component side.
Making her first appearance in the junior ranks, Miller (Williamston, Mich.) is not expected to contend for the medals in her international debut. She is the 2011 U.S. Novice Ladies Champion. Miller also won the novice events at the Eastern Great Lakes Regional Championship and Midwestern Sectionals last season.
Even if she makes mistakes while her competitors are perfect, Lipnitskaia's programs are so technically and choreographically superior she could easily claim the top spot. Podium predictions: 1) Julia Lipnitskaia, Russia. 2) Satoko Miyahara, Japan. 3) Courtney Hicks, United States.
Men
Following his gold medal win last week in Austria, where scored a season high 205.86 points, China's Han Yan is the favorite to claim the title at JGP Italy. He's been impressive throughout his three years on the series. In 2009, he won the gold medal in Turkey. He was first in Austria and the Czech Republic last year before taking silver at the Final. Additionally, he was sixth at the 2011 World Junior Championships.
Chasing Yan are American Brown (Highland Park, Ill.) and Russian Artur Dmitriev, the son of the famed two-time Olympic Pairs Champion of the same name. While Brown already has a gold medal from JGP Australia, he is not favored in this competition because he does not have a triple Axel, something that he likely needs to compete with Yan, who does that jump and the quad. Brown has a personal best 197.23 points.
Dmitriev scored his personal best 197.09 in Poland, where he was less than stellar in the short program but skated a personal best free skate worth 130.21 points. His best short program came at the 2011 World Juniors, where he was eighth, and scored 68.91. If he can perform at his best in two consecutive programs, he might not be able to catch a perfect Yan, but has a higher point potential than Brown.
Yostanto (Yorba Linda, Calif.) is making his first international appearance. In 2009, he finished fourth in the novice men's portion of the U.S. Championships but has failed to make the Pacific Coast Sectional Championships as a junior man the following year. He did not advance out of Pacific Coasts last year, finishing sixth in the junior men's event.
While Yan may be at a disadvantage with back-to-back competitions, he has triple-triples, a triple Axel and even a quadruple toe. He botched his triple-triple in the free skate in Austria and fell on the triple Lutz but still came out way ahead, giving him a confidence that other competitors may not have. Podium predictions: 1) Han Yan, China. 2) Artur Dmitriev, Russia. 3) Jason Brown, United States.
Ice Dance
Several teams in contention for the ice dance podium in Italy but the favorites are Russians Alexandra Stepanova and Ivan Bukin, who already have a gold medal from Romania. Stepanova and Bukin's score in Romania is the highest in this field by a comfortable margin, so they should not have a problem repeating their gold medal performance here.
Bonacorsi (St. Louis, Mo.) and Mager (Fulton, Md.) of the United States took home the silver medal in Australia but will need to improve upon that performance to be competitive in this more difficult field. Valeria Zenkova and Valerie Sinitsin of Russia look to overtake the lone U.S. dance team in Italy after finishing with bronze in Australia. Both are looking to secure a spot in the JGP Final.
Germans Shari Koch and Christian Nuchtern are competing for the second consecutive week. After narrowly missing the podium in Austria, they may have extra motivation to win their first JGP medal in Milan.
The gold medal should be easily won by Stepanova and Bukin but the other podium spots are up for grabs. Podium predictions: 1) Alexandra Stepanova and Ivan Bukin, Russia. 2) Lauren Bonacorsi and Travis Mager, United States. 3) Shari Koch and Christian Nuchtern, Germany.
— Amber Lewis contributed to this report
__________
Photo courtesy of Leah Adams
Figure Skaters Online strives to be an accurate source of information related to the sport of figure skating. To report an error, please e-mail the news editor. Include the article date and title in your e-mail.