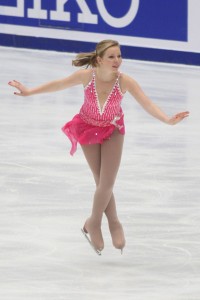 It was another record breaking night for Korea's Yu-Na Kim.
Skating her Skate America short program Saturday in Lake Placid, N.Y., in the character of a Bond girl, Kim effortless performed a triple Lutz-triple toe combination, a triple flip and a double Axel for a world record 76.28 points. The previous record was the 76.12 she received en route to winning the 2009 World Championship.
At her last four competitions, Kim has set a world record in at least one portion of the event, a slate that makes her nervous. "I was very, very nervous for my performance because my first short program [of the season at Trophee Eric Bompard] was perfect, but then my music started and I felt very good," she said.
Two-time U.S. silver medalist Rachael Flatt is in second place with a seasons best 58.80 points while Hungary's Julia Sebestyen is third with 58.54. Flatt's American teammates Alexe Gilles (46.56) and Emily Hughes (45.32), a member of the 2006 Olympic team, are currently 10th and 11th in the 12 competitor field.
Gilles had trouble on the two opening elements of her program, popping the second jump in what should have been a triple Lutz-double toe combination and the triple flip. Hughes had a similar problem, popping her triple Lutz and receiving a down grade on the triple flip.
Flatt risked a triple flip-triple toe  combination right out of the gate in her peppy performance to "Sing! Sing! Sing!" from the musical Fosse, but she fell on the second jump. Earlier this season at the Cup of China, she performed only a triple-double.
"I'm very happy about the fact that I did get credit for [the triple-triple combination]," said Flatt, who was fourth at Cup of China. "It was a little bit of a slip up. I don't remembering falling even in training. My choreographer Lori Nichol said, 'Just bounce if you have a mistake,' so this is kind of something I've been taking into account. I've been training just to forget about [a mistake] and move on, continue with a clean program. This is kind of what I did today."
She recovered to land a triple Lutz, nail a double Axel and perform two Level 4 spins.
Skating to "Song from a Secret Garden,"  Sebestyen set a seasons best mark for herself by landing a triple Lutz-double toe combination and a double Axel, although she received a deduction for the wrong edge on the take off of her triple flip. She performed a Level 4 flying camel spin and spiral sequence while her combination spin and the footwork were graded a Level 3.
The ladies competition continues at 2 p.m. local time on Sunday with some of the action being carried live on NBC. Following the ladies competition is the free dance, scheduled for 4:27 p.m.
Skate America is the fifth event of the 2009 International Skating Union (ISU) Grand Prix of Figure Skating circuit. The series, now in its 15th season, consists of six international events in a cumulative, point-scoring format. The top six scoring athletes in each discipline move onto the Grand Prix Final, Dec. 3-6, in Tokyo, Japan, which will be combined with the ISU Junior Grand Prix of Figure Skating Final for the second consecutive season.
The six Grand Prix events are Trophee Eric Bompard, Oct. 15-18, in Paris, France; Rostelecom Cup, Oct. 22-25, in Moscow Russia; Cup of China, Oct. 29-Nov. 1, in Beijing, China; NHK Trophy, Nov. 5-8, in Nagano, Japan; Skate America, Nov. 12-15, in Lake Placid, N.Y.; and Skate Canada, Nov. 19-22, in Kitchener, Canada.
The points toward the Grand Prix Final that are awarded for each place are 15 points for first; 13 points for second; 11 points for third; nine points for fourth; seven points for fifth; five points for sixth place; four points for seventh place; and three points for eighth. In pair skating, only the top six receive points.
__________
Figure Skaters Online strives to be an accurate source of information related to the sport of figure skating. To report an error, please e-mail the news editor. Include the article date and title in your e-mail.