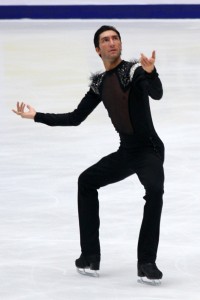 The sixth time was the charm for Evan Lysacek.
Three silver medals and a bronze after making his debut at 2004 Skate America, where he finished fifth, he finally has the elusive Skate America gold medal in his collection. He won the Grand Prix event with a commanding eight-triple jump performance to "Scheherazade" on Saturday in Lake Placid, N.Y.
"I almost never think about results but I wanted to win this competition," Lysacek said. He was 33.81 points ahead of the competition, which included the No. 1 skater in the International Skating Union's [ISU] rankings Tomas Verner of the Czech Republic.
He is the first American man to win Skate America since Michael Weiss in 2003. Five other U.S. men including 1984 Olympic Champion Scott Hamilton and 1996 World Champion Todd Eldredge have also won the title.
Finishing behind Lysacek's season best score of 237.72 points were Canada's Shawn Sawyer (203.91) in second and American Ryan Bradley (198.12) in third. Junior Grand Prix Final Champion Florent Amodio of France dropped to fourth place with 197.58 while Verner settled for fifth.
Lysacek started his program with a triple Lutz-triple toe combination then landed a triple Axel and a triple Salchow with a turn out on the landing. He later performed a triple Axel-double toe, triple loop, triple flip-double toe-double loop, triple Lutz and a double axel.
"I had a little slip of concentration on one of my jumps tonight," Lysacek said. "I was a little nervous. I've never won this title before but I have a lot of silver medals at home. I've been to Skate America five times now, so to win gold feels good."
Although he performed a Level 4 spin early in the program, two others were judged as Level 3. Both his circular footwork and the crowd pleasing straight line footwork at the end of his performance were Level 3.
Lysacek's win guarantees him a spot in the Grand Prix Final. With Skate Canada remaining, Japan's Nobunari Oda and France's Brian Joubert are also locks for the Final, which is Dec. 3-6 in Tokyo, Japan.
Bradley finished second to Lysacek in the free skate. Performing to a medley of Mozart, he performed a flawless opening quadruple toe with a positive grade of execution, which earned 10.80 points, then hit another, landing a quad toe-double toe. He bobbled on the landing of the triple flip and popped the first jump of the planned triple Salchow-triple toe but was otherwise solid.
"Today was about putting it together at the right time," Bradley said. "This was my third time out internationally this season, and the first two [Nebelhorn Trophy and Trophee Eric Bompard] were really disappointing. It wasn't perfect but I could see light at the end of the tunnel."
The other American, U.S. silver medalist Brandon Mroz, slipped from third after the short to eighth, finishing with 174.00 total points. He fell on the opening quadruple toe and was unable to comeback. His other problems included popping the first jump of the planned triple Axel-double toe combination and receiving no credit on the triple Lutz-double toe, because it was his fifth double toe of the program.
He received credit for only two triples, the triple flip in the triple flip-double toe-double toe and the triple loop.
Skate America is the fifth event of the 2009 International Skating Union (ISU) Grand Prix of Figure Skating circuit. The series, now in its 15th season, consists of six international events in a cumulative, point-scoring format. The top six scoring athletes in each discipline move onto the Grand Prix Final, Dec. 3-6, in Tokyo, Japan, which will be combined with the ISU Junior Grand Prix of Figure Skating Final for the second consecutive season.
The six Grand Prix events are Trophee Eric Bompard, Oct. 15-18, in Paris, France; Rostelecom Cup, Oct. 22-25, in Moscow Russia; Cup of China, Oct. 29-Nov. 1, in Beijing, China; NHK Trophy, Nov. 5-8, in Nagano, Japan; Skate America, Nov. 12-15, in Lake Placid, N.Y.; and Skate Canada, Nov. 19-22, in Kitchener, Canada.
The points toward the Grand Prix Final that are awarded for each place are 15 points for first; 13 points for second; 11 points for third; nine points for fourth; seven points for fifth; five points for sixth place; four points for seventh place; and three points for eighth. In pair skating, only the top six receive points.
__________
Figure Skaters Online strives to be an accurate source of information related to the sport of figure skating. To report an error, please e-mail the news editor. Include the article date and title in your e-mail.