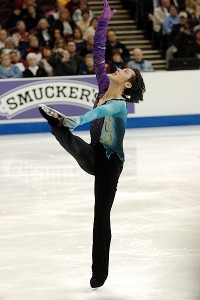 On a necklace, Johnny Weir wears multiple charms for luck and protection: a Korean ruby, two rubles, the Hamsa and the Star of David. He also has a Jewish godol from his coach Galina Zmievskaya, an Orthodox cross from his mother and a ring from Georgian Olympic skater Elena Gedevanishvili.
"I feel I need to be protected on all fronts," Weir said. But the three-time U.S. Champion may need more than his charms to get through his second Grand Prix competition of the season, the NHK Trophy, Nov. 5-8, in Nagano, Japan.
Weir contracted what his mother Patti called a "sinus infection" while on the flight from John F. Kennedy International Airport in New York to Narita International Airport in Tokyo. He then took a three hour bus ride to Nagano, which also hosted the 1998 Olympic Winter Games.
"Of course I got sick on the plane," Weir Tweeted from his hotel on Tuesday. His temperature had broken 100 degrees while in Nagano but as of around 10 p.m. local time Thursday, his temperature was around 100 even.
In December 2008 while at an ice show, Weir contracted an illness that sent him to a Korean hospital. The illness prevented Weir from fully training for the 2009 U.S. Championships, where he finished fifth and was left off the three-man 2009 World Championship team.
Weir, who has participated in practices while in Nagano, starts competing Friday with the short program, which is scheduled to start at 5:10 p.m. local time at the Big Hat arena. He is the first skater in the final group. The free skate is Saturday at 3:55 p.m.
Competing against Weir is a list of who's who in men's figure skating: 2009 Rostelecom Cup bronze medalist Artem Borodulin of Russia, 2007 World Champion and 2009 World Championship bronze medalist Brian Joubert of France, 2008 Grand Prix Final silver medalist and 2009 Rostelecom Cup silver medalist Takahiko Kozuka of Japan, 2007 World Championship and 2007 Grand Prix Final silver medalist Daisuke Takahashi of Japan.
Weir is also facing a strong American squad consisting of 2008 Grand Prix Final Champion and 2009 U.S. Champion Jeremy Abbott and Adam Rippon, the two-time reigning World Junior champion. Abbott is making his season debut while Rippon is riding a high from winning a bronze medal, his first on the Grand Prix, at Trophee Eric Bompard last month.
At his season opening event, the Rostelecom Cup in Moscow, Russia, Weir finished fourth, missing the podium in a Grand Prix event for the first time since placing seventh at 2005 Skate Canada. He is the 2008 World bronze medalist and Grand Prix Final bronze medalist.
NHK Trophy is the fourth event of the 2009 International Skating Union (ISU) Grand Prix of Figure Skating circuit. The series, now in its 15th season, consists of six international events in a cumulative, point-scoring format. The top six scoring athletes in each discipline move onto the Grand Prix Final, Dec. 3-6, in Tokyo, Japan, which will be combined with the ISU Junior Grand Prix of Figure Skating Final for the second consecutive season.
The six Grand Prix events are Trophee Eric Bompard, Oct. 15-18, in Paris, France; Rostelecom Cup, Oct. 22-25, in Moscow Russia; Cup of China, Oct. 29-Nov. 1, in Beijing, China; NHK Trophy, Nov. 5-8, in Nagano, Japan; Skate America, Nov. 12-15, in Lake Placid, N.Y.; and Skate Canada, Nov. 19-22, in Kitchener, Canada.
The points toward the Grand Prix Final that are awarded for each place are 15 points for first; 13 points for second; 11 points for third; nine points for fourth; seven points for fifth; five points for sixth place; four points for seventh place; and three points for eighth. In pair skating, only the top six receive points.
__________
Figure Skaters Online strives to be an accurate source of information related to the sport of figure skating. To report an error, please e-mail the news editor. Include the article date and title in your e-mail.