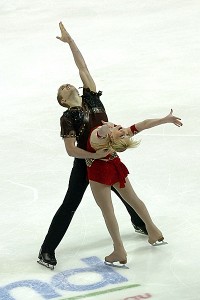 Caydee Denney and Jeremy Barrett may be new to the Grand Prix circuit but Friday at the NHK Trophy in Nagano, Japan, the team skated like they had been a part of the series for years.
The U.S. silver medalists, making their career Grand Prix debut, are currently in third place behind Russians Yuko Kavaguti and Alexander Smirnov, who are first with 68.90 points, and China's Qing Pang Jian Tong (67.30). Two-time U.S. Champions Rena Inoue and John Baldwin, currently ranked third in the country, are fourth with 52.52.
"This is our first Grand Prix ever and we felt great," Barrett said. "We just switched to this program about a month ago. We started out with a different program earlier and it wasn't quite working for us, so we switched to 'Firebird' and I think it suits us much better. It was a good start today, but there is still a lot of work to do."
Skating first out of eight pairs, Denney and Barrett were near flawless in their program, performing a triple twist, triple toeloop, throw triple Lutz and a Level 4 spin. The pair lost points on their backwards outside death spiral, which received only a Level 1.
It was a season best for Kavaguti and Smirnov. To the music of "The Swan" by Camille Saint-Saens, the reigning European Championship silver medalists and World Championship bronze medalists landed side-by-side triple toes, a throw triple loop and a triple twist. Awarded a Level 4 for their spins and lift, Kavaguti and Smirnov received a Level 3 death spiral and footwork.
NHK Trophy is the fourth event of the 2009 International Skating Union (ISU) Grand Prix of Figure Skating circuit. The series, now in its 15th season, consists of six international events in a cumulative, point-scoring format. The top six scoring athletes in each discipline move onto the Grand Prix Final, Dec. 3-6, in Tokyo, Japan, which will be combined with the ISU Junior Grand Prix of Figure Skating Final for the second consecutive season.
The six Grand Prix events are Trophee Eric Bompard, Oct. 15-18, in Paris, France; Rostelecom Cup, Oct. 22-25, in Moscow Russia; Cup of China, Oct. 29-Nov. 1, in Beijing, China; NHK Trophy, Nov. 5-8, in Nagano, Japan; Skate America, Nov. 12-15, in Lake Placid, N.Y.; and Skate Canada, Nov. 19-22, in Kitchener, Canada.
The points toward the Grand Prix Final that are awarded for each place are 15 points for first; 13 points for second; 11 points for third; nine points for fourth; seven points for fifth; five points for sixth place; four points for seventh place; and three points for eighth. In pair skating, only the top six receive points.
__________
Figure Skaters Online strives to be an accurate source of information related to the sport of figure skating. To report an error, please e-mail the news editor. Include the article date and title in your e-mail.