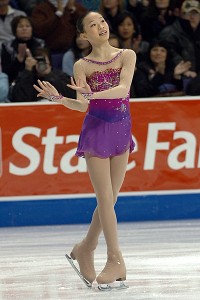 Russia's Elizaveta Tuktamisheva accomplished a historic feat at Skate Canada last week, becoming the first woman to win a gold medal in her career International Skating Union (ISU) Grand Prix of Figure Skating Series debut. Now her country mate Adelina Sotnikova, the 2011 World Junior Champion, looks to accomplish the same feat. Sotnikova, who has solid jumps including multiple triple-triple combinations in her repertoire, was the last lady to defeat Tuktamisheva, the silver medalist at World Juniors.
Sotnikova's toughest competition may be Italy's Carolina Kostner, who started the season with a silver medal at Skate America behind U.S. Champion Alissa Czisny (Bowling Green, Ohio). A three-time World Championship medalist, she was extremely successful last season, medaling in each event she entered. She placed first at Gardena Spring Trophy, NHK Trophy and the Italian Championships, second at the Grand Prix Final and European Championships, and third at Skate America and Worlds.
Both will also have to contend with Japan's Kanako Murakami, who finished eighth at Worlds last season. On the 2010 Grand Prix, she won bronze at NHK Trophy and then won gold at Skate America. She's the reigning Grand Prix Final bronze medalist.
Russian Ksenia Makarova also looks to rebound at Cup of China after placing fifth at Skate America. She finished seventh at Worlds and fourth at Europeans last year but struggled in Ontario, Calif.
Representing the United States are Christina Gao (Cincinnati, Ohio) and 2011 Nebelhorn Trophy Mirai Nagasu (Arcadia, Calif.). Cup of China is the first Grand Prix event for Gao while Nagasu makes her return to the Grand Prix circuit in China, only a week after a disappointing fifth place performance at Skate Canada. She fell on the triple Lutz in her short program, missing her combination. In the free skate, her triple Lutz was under-rotated and received an edge call while five other elements received negative grades of execution.
Gao, who does regularly attempt triple-triple combinations, finished fourth at the 2011 World Junior Championships. Last season, she also won silver medals at Junior Grand Prix Austria and Germany before taking sixth at the Final. She was fifth as a senior at the U.S. Championships.
Kostner narrowly lost Skate America, where she gained footing for her season. Podium predictions: 1) Carolina Kostner, Italy. 2) Adelina Sotnikova, Russia. 3) Kanako Murakami, Japan.
__________
Photo courtesy of Leah Adams
Figure Skaters Online strives to be an accurate source of information related to the sport of figure skating. To report an error, please e-mail the news editor. Include the article date and title in your e-mail.