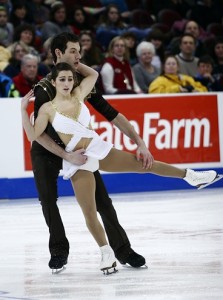 Marissa Castelli and Simon Shnapir knew the competition would be tough in their senior debut at the Trophee Eric Bompard. On Friday in Paris, the 2008 World Junior Champions gave it their all, skating a personal best short program that received 49.50 points. They are currently in seventh place.
"Our goal coming into Trophee Eric Bompard was to skate strong programs and execute more difficult side-by-side jumps than we did last year," Shnapir said. Although Castelli stepped out of the landing on the throw triple Salchow, the cleanly landed side-by-side triple Salchows.
"I had that little miss on the throw but overall I thought it was really good," Castelli said.
World Champions Aliona Savchenko and Robin Szolkowy of Germany are in first place with 72.98. In second and third, Russians Maria Mukhortova and Maxim Trankov (66.88 points) and Canadians Jessica Dube and Bryce Davison (64.54), who won the bronze at 2008 Worlds.
Two-time U.S. Champions Rena Inoue and John Baldwin (55.06) had their throw triple downgraded to a double. They are in fifth place following clean side-by-side double axesl and throw triple loop.
The pairs free skate is scheduled for 3:45 local time on Saturday.
Trophee Eric Bompard is the first event of the 2009 International Skating Union (ISU) Grand Prix of Figure Skating circuit. The series, now in its 15th season, consists of six international events in a cumulative, point-scoring format. The top six scoring athletes in each discipline move onto the Grand Prix Final, Dec. 3-6, in Tokyo, Japan, which will be combined with the ISU Junior Grand Prix of Figure Skating Final for the second consecutive season.
The six Grand Prix events are Trophee Eric Bompard, Oct. 15-18, in Paris, France; Rostelecom Cup, Oct. 22-25, in Moscow Russia; Cup of China, Oct. 29-Nov. 1, in Beijing, China; NHK Trophy, Nov. 5-8, in Nagano, Japan; Skate America, Nov. 12-15, in Lake Placid, N.Y.; and Skate Canada, Nov. 19-22, in Kitchener, Canada.
The points toward the Grand Prix Final that are awarded for each place are 15 points for first; 13 points for second; 11 points for third; nine points for fourth; seven points for fifth; five points for sixth place; four points for seventh place; and three points for eighth. In pair skating, only the top six receive points.
__________
Figure Skaters Online strives to be an accurate source of information related to the sport of figure skating. To report an error, please e-mail the news editor. Include the article date and title in your e-mail.