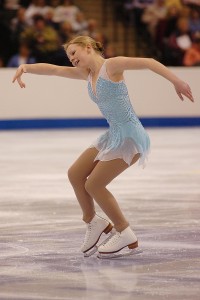 A fourth place performance at Cup of China earlier this month was not the start to the season that two-time U.S. silver medalist Rachael Flatt had hoped for. "I didn't do my best so I definitely think there are some things to work on," she said following her off the podium finish in Beijing, China.
Flatt, the 2008 World Junior Champion who finished fifth at the World Championships last season, will look to rebound with her first medal winning performance of the season at Skate America, Nov. 12-15, in Lake Placid, N.Y. Here are three reasons why Flatt could bring a medal back to Colorado Springs, Colo.
Flatt has the technical elements to earn impressive scores. In China, she lost points on elements that have proved strong in the past for Flatt, a high school senior who takes all Advanced Placement courses at school. She was dramatically lower than her personal best, scoring 157.71 points in Beijing, almost 15 points lower than the 172.41 she recorded at Worlds. But three areas where she lost points at Cup of China — the flip, the combination and the spiral sequence — should have been easy to correct before Skate America.
Flatt performed a clean triple flip-double toe combination in the short program and another triple-double in the free, when she has been performing a triple flip-triple toe in both the short program and free skate for the past couple seasons, and had planned to perform at Cup of China. In the free skate in Beijing, she received edge warnings for the flips, one of the only times she has had her flip scrutinized by the judges. Her spiral sequence also received only a Level 2 in the free program although she performed a Level 4 sequence in the short.
And even with the mistakes, Flatt's score is still the 10th highest total score of the season.
Flatt trains at around 6,000 feet above sea level at the World Arena. While most competitors may have trouble with the thin air in Lake Placid, which has an elevation of about 1,801 feet, Flatt should be able to breathe easier in Lake Placid than at home in the Springs. Other Lake Placid competitors including 2009 World Champion Evan Lysacek have spent time at high altitude training facilities to prepare for something Flatt and training mates Ryan Bradley, Alexe Gilles and Brandon Mroz do every day. Plus, Flatt trained at the 1980 Olympic rink with mentor Dorothy Hamill, 1976 Olympic Champion, over the summer, and has competed at the facility before.
"With this year's Skate America event taking place in Lake Placid, N.Y., it will even be more special as it is the 30th anniversary of Skate America, and the event is taking place back where it all began —and on the 1980 Herb Brooks Rink," Flatt said. "It just doesn't get any more exciting than that. I competed at the 2003 Junior National Championships in Lake Placid in juvenile singles and pairs. I think back to how inspirational the whole experience was for me. So, I think all of the U.S. athletes will feel the energy of the rink, and add that to fever of the fans, it's going to be a thrilling competition for everyone — fans and athletes alike."
Flatt performs better as the season progresses. While she aims to skate her best in every competition, Flatt and her team of coaches, which includes 2009 Professional Skaters Association (PSA) Coach of the Year Tom Zakrajsek, know the importance of building toward winter in spring, when Flatt needs to be at her absolute best. The U.S. Championships, which likely have the most influence on which two American women will compete at the 2010 Olympic Winter Games, are in January. The Games are in February with the Worlds in March.
To open last season, Flatt scored 155.73 points at Skate America, which put her off the podium in fourth place. She improved by more than 10 points at her second event, Cup of Russia, to secure the silver medal, her first on the Grand Prix, with a score of 166.06. At the U.S. Championships in January, she received 173.78 and then was only slightly under that mark in her first World Championship appearance in March.
Skate America is the fifth event of the 2009 International Skating Union (ISU) Grand Prix of Figure Skating circuit. The series, now in its 15th season, consists of six international events in a cumulative, point-scoring format. The top six scoring athletes in each discipline move onto the Grand Prix Final, Dec. 3-6, in Tokyo, Japan, which will be combined with the ISU Junior Grand Prix of Figure Skating Final for the second consecutive season.
The six Grand Prix events are Trophee Eric Bompard, Oct. 15-18, in Paris, France; Rostelecom Cup, Oct. 22-25, in Moscow Russia; Cup of China, Oct. 29-Nov. 1, in Beijing, China; NHK Trophy, Nov. 5-8, in Nagano, Japan; Skate America, Nov. 12-15, in Lake Placid, N.Y.; and Skate Canada, Nov. 19-22, in Kitchener, Canada.
The points toward the Grand Prix Final that are awarded for each place are 15 points for first; 13 points for second; 11 points for third; nine points for fourth; seven points for fifth; five points for sixth place; four points for seventh place; and three points for eighth. In pair skating, only the top six receive points.
__________
Figure Skaters Online strives to be an accurate source of information related to the sport of figure skating. To report an error, please e-mail the news editor. Include the article date and title in your e-mail.