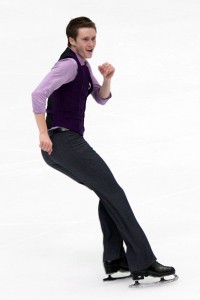 Jeremy Abbott outdid himself at the 2008 Grand Prix Final in Goyang City, Korea. After setting the highest score ever recorded by an American skater at an International Skating Union event en route to winning last season's Cup of China, he did it again at the Final, improving his overall personal best from 233.44 points to 237.72 to take the gold.
He became the first American man to win the competition.
For Abbott to defend his title at the 2009 Grand Prix Final in Tokyo, he needs to skate a commanding performance at Skate Canada, Nov. 19-22, in Kitchener, Ontario, Canada. Abbott, who currently holds seven points from his fifth place at the NHK Trophy in Nagano, Japan, would advance with a gold medal, and could advice with a silver or bronze.
Only the top six skaters in each discipline advance to the Final based on cumulative points from the two regular season events. Japan's Nobunari Oda has already secured one of the spots with 30 points, 15 points for his wins a Trophee Eric Bompard and Cup of China, while Evan Lysacek (28) and Brian Joubert (24) are also guaranteed a spot.
Abbott's challengers will be plenty at Skate Canada: 2009 NHK Trophy silver medalist Michal Brezina of the Czech Republic; 2009 World silver medalist Patrick Chan of Canada; 2009 European silver medalist Samuel Contesti of Italy; 2008 Trophee Eric Bompard and Cup of Russia bronze medalist Alban Preaubert; and 2007 World silver medalist Daisuke Takahashi.
Chan, the two-time Canadian Champion, withdrew from the Rostelecom Cup earlier this season because of a leg injury so he cannot advance to the Grand Prix Final. However, a medal could advance all but Preaubert, who was seventh at Trophee Eric Bompard, to the Final.
Former U.S. bronze medalist Stephen Carriere is also competing following a bronze medal placement at Finlandia Trophy and sixth place showing at Cup of China. The 2007 World Junior Champion has two previous medals from the Grand Prix, claiming the bronze at 2007 NHK Trophy and silver at 2008 Cup of China.
The young American Armin Mahbanoozadeh is making his second career Grand Prix appearance in Kitchener. Competing with Lysacek and Carriere at Cup of China, he finished 11th. Mahbanoozadeh is 2008 Junior Grand Prix France silver medalist, Junior Grand Prix Spain Champion and the Junior Grand Prix Final silver medalist.
Skate Canada is the sixth event of the 2009 International Skating Union (ISU) Grand Prix of Figure Skating circuit. The series, now in its 15th season, consists of six international events in a cumulative, point-scoring format. The top six scoring athletes in each discipline move onto the Grand Prix Final, Dec. 3-6, in Tokyo, Japan, which will be combined with the ISU Junior Grand Prix of Figure Skating Final for the second consecutive season.
The six Grand Prix events are Trophee Eric Bompard, Oct. 15-18, in Paris, France; Rostelecom Cup, Oct. 22-25, in Moscow Russia; Cup of China, Oct. 29-Nov. 1, in Beijing, China; NHK Trophy, Nov. 5-8, in Nagano, Japan; Skate America, Nov. 12-15, in Lake Placid, N.Y.; and Skate Canada, Nov. 19-22, in Kitchener, Canada.
The points toward the Grand Prix Final that are awarded for each place are 15 points for first; 13 points for second; 11 points for third; nine points for fourth; seven points for fifth; five points for sixth place; four points for seventh place; and three points for eighth. In pair skating, only the top six receive points.
__________
Figure Skaters Online strives to be an accurate source of information related to the sport of figure skating. To report an error, please e-mail the news editor. Include the article date and title in your e-mail.