By Scott Mammoser, Team FSO contributing writer
Photos by Giada Arioldi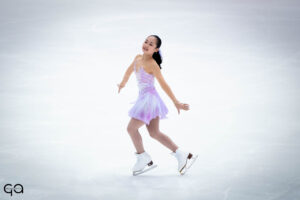 TORINO, ITALY — Mao Shimada asserted herself as a rising star during this year's Junior Grand Prix season, and on Friday, she became the latest Japanese woman to claim the Junior Grand Prix Final gold medal. The 14-year-old lost points on an opening triple Axel and quad toeloop, but rebounded with a triple Lutz-triple toeloop combo, plus five more triples, skating to "Wild Swans Suite" at the Palavela in Torino, Italy.
"In terms of the ranking, I am happy and satisfied, but in terms of the performance, that's where I think I can make some improvements," Shimada said. "I have been training my Axels for competition, knowing I will need to execute these to win. I need to know I have this confidence in me."
Shimada, who trains at Kinoshita Academy in Kyoto, was a winner at both the Junior Grand Prix Czech Skate in Ostrava and the Solidarity Cup in Gdansk, Poland, earlier this fall.
Korean Jia Shin was five points behind Shimada and won the silver medal. The 14-year-old world junior silver medalist and Riga Cup winner scored highly on a triple Lutz-triple toeloop combo.
"Coming into the competition, I wanted to bring a clean program," Shin said. "For this reason, I did not compose difficult jumps, but I would like to try them sometimes."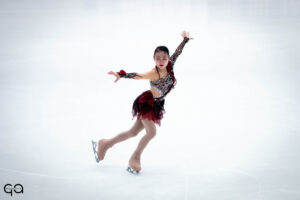 Chaeyeon Kim was the bronze medalist, opening with a triple Lutz-triple toeloop. The 16-year-old Korean, who was second in the Finlandia Trophy senior event, said she was grateful to be on the podium and is practicing a triple Axel in training.
With the victory, Shimada became the fifth Japanese woman to win the Junior Grand Prix Final. She joins Miki Ando (who did it twice in 2001 and 2003), Yukina Ota in 2002, Kanako Murakami in 2009, and her namesake Mao Asada in 2004. Shimada is drawing many comparisons to the three-time world champion Asada.
"Mao Asada has always been my idol, my inspiration and what I am aiming to be," Shimada said. "She always brings a big smile to people's faces and had great results. I want to be just like her."
In addition, the Korean medalists were the first in the event since Yu-na Kim won in 2005. The 2010 Olympic champion was also the 2004 silver medalist.
"To me, Yu-na Kim was the very first reason I started skating," Shin added. "She had textbook techniques, and I wanted to follow the path."
Chaeyeon Kim reiterated that she also began skating because of Yu-na Kim, expressing that she wanted to learn her jumping techniques.
Shimada and Jia Shin will need to wait to graduate to seniors, with the international age-limit increased to 16 for next season. Shimada said it was not too much of an issue, while Shin is using her time wisely.
"I am taking it as a signal to strengthen my fundamentals and fill in the blanks during my extended junior period," said Shin, who was already fourth in the Korean senior national championships last year.
Baltic Cup champion Ami Nakai of Japan was fourth in the competition, 13-year-old Korean Minsol Kwon was fifth, and two-time Junior Grand Prix event champion Hana Yoshida of Japan placed sixth.