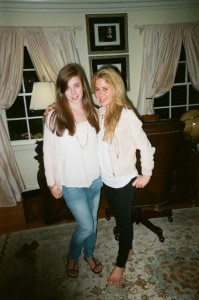 After another day of practice at her rink in Wilmington, Del., sometimes all 2010 U.S. Olympic team hopeful Ashley Wagner needs is someone to talk to. On the other end of the phone is often her mentor 1998 Olympic Champion Tara Lipinski.
"I try to tell her that everything she is experiencing right now is normal," said Lipinski, who now lives in Los Angeles. "It's nice to be able to relate to Ashley—to tell her that what she is feeling is exactly how everyone else is feeling."
Lipinski knows the pressure that comes with chasing an Olympic dream. After becoming the youngest woman to win the U.S. Championship and World Championship in 1997 when she was 14 years old, she was thrust into the spotlight in the lead up to the Nagano Olympics.
"Everything that Ashley is experiencing right now with the Olympics coming up, I have been there and done that," Lipinski said. Prior to earning a spot at the 1998 Olympic Winter Games, Lipinski was featured in several advertising campaigns, including Campbell's Soup and Mattel, and on the cover of magazines including People and Sports Illustrated for Kids, all while competing.
"When I was preparing for the Olympics, so many things were going through my mind. I was so nervous about everything," she said. "It would have been so relieving if I could have picked up the phone and talked to Scott Hamilton, Brian Boitano or Kristi Yamaguchi and been able to ask them, 'Is this how you felt?' or 'How did you handle this?' Instead, I think I just kind of drove myself crazy. It would have been nice to talk to somebody. I'm happy I can be that somebody for Ashley."
Wagner does not talk to Lipinski every day but touches base when she needs guidance.
"It is helpful to have someone to talk to," said Wagner, who was the only American woman to qualify for the 2009 Grand Prix Final, where she finished fourth earlier this month. "Obviously Tara really understands a lot of the ups and downs that come along with not only skating in general, but the Olympic season. I think it has been really helpful."
The two have not yet had the chance to skate together although they are trying to coordinate schedules.
"We've been trying to make [skating together] happen," said Lipinski, who will be on hand at the 2010 U.S. Championships, the qualifying competition for the Winter Olympic Games, to do commentary for Ice Network's online broadcasts. "I was hoping to make that happen before the Olympic season started so that it would not affect her normal training schedule. But it didn't work out with everything being so busy so for now, it's just phone calls and texting."
At the 2009 World Championships in Los Angeles, Wagner's coach Priscilla Hill approached Lipinski about the mentorship. "Priscilla asked me to consider working with Ashley because she said we were so similar in work ethic and thought we would be a good match," said Lipinski, who knew Hill from when she trained at University of Delaware.
Knowing the value of having support from someone who has been through the process, Lipinski agreed, and the two have been working together since March. Other skaters who have mentors include Jeremy Abbott, who works with Olympic silver medalist Paul Wylie, Rachael Flatt, who works with Olympic Champion Dorothy Hamill, and Keauna McLaughlin and Rockne Brubaker, who work with World Champion Tai Babilonia.
"It has been amazing working with Tara," said Wagner, 18. "I always looked up to her as I was growing up, and I have so much respect for her. She was so young when she won, and that took a lot of composure. Working with her has been not only a great experience for me, but it has been really enlightening. I've really enjoyed it."
Wagner, who was fourth at the 2009 U.S. Championships despite winning the free skate, believes the relationship has helped her skating. Earlier this season, she finished second at the Rostelecom Cup in Moscow, Russia, becoming the first American lady to medal on the Grand Prix this season, and won a bronze at the NHK Trophy in Nagano, Japan.
"Tara told me to focus on myself this season," she said. "It is easy to get sucked in to all of this Olympic hype and who is saying what about who, but Tara just told me to basically put my blinders on and keep going."
Two ladies will be named to the 2010 U.S. Olympic team following nationals, Jan. 14-24, in Spokane, Wash.
__________
Figure Skaters Online strives to be an accurate source of information related to the sport of figure skating. To report an error, please e-mail the news editor. Include the article date and title in your e-mail.