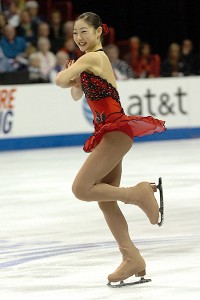 Mirai Nagasu is the 2010 U.S. Championship silver medalist. Although she won the 2008 U.S. Championship only a season after taking the junior title, Nagasu struggled in 2009, dropping to fifth place. Here is what you need to know about Nagasu heading into the 2010 Olympic Winter Games in Vancouver, Canada:
Name Mirai Nagasu
Age 16
Birthday April 16, 1993
Birth place Montebello, Calif.
Hometown Arcadia, Calif.
Training Town El Segundo, Calif.
Coaches Frank Carroll
Choreographer Lori Nichol
Getting her start Nagasu began skating on a rainy day when she was 5-years-old. She could not go outside to play golf so her parents took her to the ice rink. Soon after, Nagasu asked them to sign her up for lessons.
International personal bests All of Nagasu's highest scores were set at the 2007 World Junior Championship, where she finished second with 163.84 total points. She scored 65.07 in the short and  106.62 in the free skate.
Key results 2010 U.S. Championships, 2nd; 2009 Skate Canada, 4th; 2009 Cup of China, 5th; 2009 U.S. Championships, 5th; 2008 NHK Trophy, 8th; 2008 Skate America, 5th; 2008 World Junior Championships, 3rd; 2008 U.S. Championships, 1st; 2007 Junior Grand Prix Final, 1st; 2007 Junior Grand Prix Croatia, 1st; 2007 Junior Grand Prix United States, 1st; 2007 World Junior Championships, 2nd; 2007 State Farm U.S. Championships (junior), 1st
What to watch for Nagasu won over the crowd at the 2010 U.S. Championships with a feisty free skate. But she failed to win her second national title because three of triple jumps were under rotated, meaning she squeaked out more than a quarter of the last rotation after she had already landed. She under rotated five jumps in her free skate at Cup of China earlier in the season. If she does not get full credit for her triple jumps in Vancouver, she will be low in the standings.
The ol' switcheroo In May 2009, following a season of disappointing results, Nagasu ended her three-year relationship with coach Charlene Wong and began training with Frank Carroll. "Charlene and I have been through a lot together," Nagasu said. "She's always been there for me, and has been a huge part of my journey to this point."
Working with the World Champ Nagasu trains with 2009 World Champion Evan Lysacek. "Training with Evan motivates me to accomplish my goals. Sometimes I am very lazy but then I watch him in practice, and I want to train harder," Nagasu said.
She's got it "I think that she has something special that few people have. She has that 'it' factor," Lysacek said about Nagasu. "Since she's came to train with Frank, I have seen tremendous improvements in her skating, and she has the potential to do so much more. I think she really could be a great champion. She has everything she needs."
Alter ego Nagasu told reporters in 2009 that she had a dark side — and it was a least partially responsible for her poor performances. "I was thinking more about Star Wars and Darth Vadar was a good person but he turned over to the evil side," Nagasu told the Orange County Register.
Growing pains "Last year [2009] was really hard for me because I was injured," Nagasu said. After winning the 2008 U.S. Championship, she grew about four inches, which affected her jumping ability. She also had an injured right ankle, which caused her to withdraw from the 2009 World Junior Championships.
No crying Carroll now enforces a "no crying" rule at the Toyota Sports Center, where she trains, and at her competitions, following Nagasu's breakdowns at the rink . "I told her, one more tear, and she could pack up her skates, take her CDs and walk out that door," he said.
Konnichiwa Nagasu's parents, who immigrated to the United States from Japan, own a small Japanese restaurant  in Arcadia, Calif., that has 28 seats and a sushi bar. Because her parents could not afford a babysitter, Nagasu often slept on a cot in the backroom until it was time to close for the night.
Dual-citizen Nagasu has dual Japan-United States citizenship. Before her 22nd birthday, Nagasu, who has never competed for any country other than the U.S., will have to choose which citizenship she wants to keep, because Japan does not allow dual citizenship if you are 22 or older.
Olympic wish Nagasu hopes to have the complete experience in Vancouver. She wants to live in the Athletes Village. She wants to march in the Opening Ceremony. And oh, one other thing. She wants her share of swag. "I'm really excited about all the free stuff we'll get," Nagasu said. "I hope a medal will come too."
Remember when? Nagasu the second skater to win both the junior national title and the senior national title in consecutive years. Joan Tozzer did in 1937 and 1938.
Tomorrow, tomorrow Mirai translates to "future" in Japanese.
• For more information on Nagasu, visit www.mirainagasu.com
• Follow Nagasu on Twitter at www.twitter.com/mirai_nagasu/
__________
Figure Skaters Online strives to be an accurate source of information related to the sport of figure skating. To report an error, please e-mail the news editor. Include the article date and title in your e-mail.