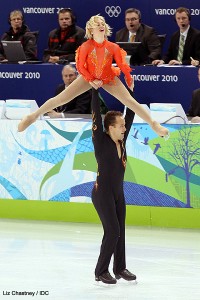 Xue Shen and Hongbo Zhao of China set a new short program world record Sunday at the 2010 Olympic Winter Games in Vancouver, Canada. Less than a year out of retirement, the two-time Olympic bronze medalists proved their time for Olympic glory could be now, winning the first portion of the event with 76.66 points.
"We participated in a total of four Olympics, including this one, and we have only two bronze" medals, said Zhao, who has been skating with his now wife Shen for about 18 years. "We really want the gold. I feel this is a good opportunity."
Two-time and reigning World Champions Aliona Savchenko and Robin Szolkowy from Germany provided a challenge, scoring 75.96. Russians Yuko Kavaguti and Alexander Smirnov, who recently dethroned the Germans at the European Championships, are third with 74.16.
Two Chinese pairs are within striking distance of the podium including 2006 World Champions Qing Pang and Jian Tong (71.50) who are in fourth place. Fifth place belongs to 2006 Olympic silver medalists Dan Zhang and Hao Zhang with 71.28.
Amanda Evora and Mark Ladwig scored 57.86 points, easily surpassing their personal best 51.48 from 2008 Cup of China, to place 10th, the highest among American pairs. "All week, I've really felt like Mark and I really deserve to be here," Evora said after the performance.
The judges felt the same way. All eight required elements in their performance to the "Portuguese Love Theme" received a positive grade of execution, helping them to an element score of 33.10 and program components mark of 24.76.
Evora and Ladwig started their program with a triple twist then landed side-by-side triple toes and the throw triple loop, the highest scoring element of their performance. They were nearly flawless in their Level 3 change foot combination spin, their Level 2 circular step sequence and their group 4 lift, which also rated Level 4. Their program concluded with a death spiral and a combination spin.
U.S. Champions Caydee Denney and Jeremy Barrett are in 14th place with a score of 53.26.
"These Olympics aren't about placement but to show that the U.S. has a good future in pairs, and I think we showed that tonight," Barrett said. "We're going to work on our mistakes. Our jumps are one of our best elements, and we'll show some good ones tomorrow."
While the pair started strong with a triple twist, Denney made a rare mistake on the side-by-side triple toes, doubling hers. The pair scored only .7 for that element because they also received a negative grade of execution. Denney and Barrett recovered for a nice throw triple lutz.
"It was more a timing issue than anything else," Denney said. "Tomorrow's a different day. We're very confident in our long."
In a night of near perfection from so many skaters, Russia's second best couple Maria Mukhortova and Maxim Trankov stood out for their glaring mistake. He fell on the side-by-side triple toes, sliding into the boards. Canada's Jessica Dube had the same problem, falling on the triple Salchow in her program with Bryce Davison.
Both couples scored relatively well for such flawed performances though, confusing many onlookers. Dube and Davison placed sixth with 65.36, putting them ahead of teammates Anabelle Langlois and Cody Hay (64.20), who are seventh. Mukhortova and Trankov are eighth with 63.44.
The pairs free skate is Monday starting at 5 p.m. local time with Shen and Zhao closing the show.
Denney and Barrett skate eighth with Evora and Ladwig following in ninth.
• One frequently asked question to Evora and Barrett, a couple off-ice for years, is how they can compete against each other  on Valentine's Day. "It's something we do every day," she said. We've been friends for eight years and dating for five, so it's a common thing. We've never skated together; we've always competed against together. We're always supportive of each other."
• Barrett was asked if skating with the five rings gave him an idea for a sixth ring — an engagement ring for Evora. "It gives me idea for tattoo I want to get, that's about it," Barrett said. He bought Evora a coffee maker before Valentine's Day but Evora said the two will have dinner tomorrow night.
__________
Figure Skaters Online strives to be an accurate source of information related to the sport of figure skating. To report an error, please e-mail the news editor. Include the article date and title in your e-mail.