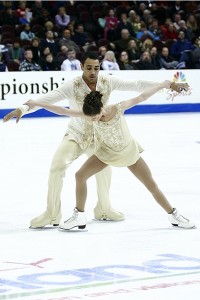 Britney Simpson and Nathan Miller are in fourth place at the 2010 World Junior Championships in The Hague, Netherlands. The 2010 U.S. Championship silver medalists in junior pairs turned in a clean short program, complete with a throw triple Salchow and side-by-side double Axels, to finish with 52.20 points.
Wenjing Sui and Cong Han of China grabbed the lead in the competition ahead of Japan's Narumi Takahashi and Mervin Tran, scoring 60.94 and 59.54 respectively. Russia's Ksenia Stolbov and Fedor Klimov are in a distant third place with 54.26.
U.S. Junior Pairs Champions Felicia Zhang and Taylor Toth are sixth with 48.50 while the third American team, Brynn Carman and AJ Reiss, are 13th with 44.48. While both teams were relatively clean in their programs, Zhang and Toth received negative grades of execution on a lift and spin, while Carman and Reiss bobbled on the throw double Salchow.
Performing to the upbeat Russian folk music "Barynia," Sui and Han hit a solid side by side double Axel, a high double twist and earned a level four for the death spiral and the pair combination spin. Although Sui touched down with her hand on the throw triple Salchow, the Junior Grand Prix Final Champions posted a seasons best score.
"Overall we're quite satisfied with our performance although in some places it wasn't our best," Han said.
Takahashi and Tran's expressive Flamenco program featured a double Axel, double twist, one -armed lift and throw triple Salchow. Both spins were graded a level four, helping the reigning JGP Final silver medalists to a seasons best.
"Today was really good," said Tran, who was 15th and seventh with Takahashi at the two previous World Junior competitions. "We had a few wobbles here and there, but we were together in the side by side spin, which is better than usual."
The pairs free skate is Wednesday.
Russia's Elena Ilinykh and Nikita Katsalapov danced to the lead in the Westminster Waltz Compulsory Dance
followed by Americans Maia Shibutani and Alex Shibutani and Russians Ekaterina Pushkash and Jonathan Guerreiro. The Shibutanis have 34.27 points while Pushkash and Guerreiro have 34.20.
Ilinykh and Katsalapov delivered a flowing, confident performance of the Waltz to score a seasons best of 37.52 points "It is a little unexpected for us to be in the lead, after all, we are not the top ranked Russian team," Ilinykh said, referring to the fact that they placed second to Ksenia Monko and Kirill Khaliavin at the JGP Final and Russian Junior Nationals.
"We've worked very hard since the Final in December, we worked especially on our technique and physical strength, we did many run-throughs of our programs," Ilinykh said. "We are pleased that we were able to improve the technical side of our skating."
The couples ranked second through fifth are separated by less than one point.
"We're very happy with our dance, and we really enjoy skating the Westminster," Maia Shibutani said. "It's very joyful. We just want to put out strong performances. We think this is a great start to the week and we're just going to focus on the skating."
"We skated really well and we just had a lot of fun out there. We were relaxed," Alex Shibutani said. "The placement is the placement. We still have our goals how we want to skate and we're going to stick to that."
Pushkash and Guerreiro skated last out of the 34 couples and produced a strong Waltz as well, showing off their elegant lines.
"We showed everything as we can do it in practice, and so we are happy and our coach was pleased as well. We like the Waltz. The flow of the Waltz suits us probably better than sharp movements in other dances," Pushkash said. "We skated last and we were a bit nervous, but we actually like to skate last. We won't relax now, as the difference in points between the couples is very small."
"We are in our first season and we are still gelling as a team, but the Waltz works well for us as we have matching body lines. A Quickstep probably would have been a little harder for us," Guerreiro said.
Americans Rachel Tibbetts and Colin Brubaker (31.89) are seventh while Piper Gilles and Zachary Donohue (27.83) are 11th.
Ice dancing continues Thursday with the original dance and Friday with the free dance.
__________
Photo courtesy of Leah Adams
Figure Skaters Online strives to be an accurate source of information related to the sport of figure skating. To report an error, please e-mail the news editor. Include the article date and title in your e-mail.