By Gina Capellazzi, Team FSO website administrator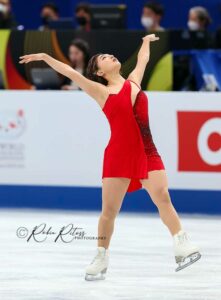 SAITAMA, JAPAN — Since 1991, when figures were no longer part of the World Championships, there have only been three women to win consecutive World titles. and now Japan's Kaori Sakamoto has added her name to this prestigious list.
The 2022 World champion Kaori Sakamoto won her second consecutive World title in front of packed crowd in the Saitama Super Arena in Saitama, Japan.
The leader after the short program, Sakamoto opened her "Elastic Heart" free skate with a double Axel, triple Lutz, triple salchow and triple flip. Then halfway through the program, the 22-year-old singled her second planned triple flip. Yet, she still managed to add the triple toe at the end for the combination. Sakamoto did pull it together for the rest of the program, completing a double Axel-triple toe-double toe combination and triple loop. Following her skate, Sakamoto cried in disappointment over her mistake and was concerned about her score and placement. But when her score of 145.37, which was second in the free skate, and her total score of 224.61 were read, Sakamoto's tears turned into happy tears, knowing she had done enough to win her second consecutive title.
"I'm full of frustration. I'm thankful for the lead I had after the short program. But when I singled the flip, I didn't panic and stuck the next jump. I want to be a tougher skater. The best ones skate well regardless of situation," Sakamoto said following her skate.
"I was disappointed because I made the same mistake as I did four years ago (at the ISU World Championships 2019 in Saitama). However, I was able to recover from that and so I think I did grow from last time," Sakamoto added.
Sakamoto joins Evgenia Medvedeva, of Russia, Michelle Kwan and Kristi Yamaguchi, of the U.S., as the only women to win two consecutive World titles.
Korea's Haein Lee earned the silver medal, her first World medal of her career. In second after the short program, the 2023 Four Continents Champion delivered one of her best free skates, which consisted of six clean triple jumps and level-four spins and steps. Her only mistake in her "Phantom of the Opera" free skate was receiving a quarter call on her triple toe. She earned a personal best free skate score of 147.32 to win the free skate. Her total score of 220.94, also a personal best score, earned her the silver medal. Lee became the first women from Korea to medal at the World Championships since Olympic champion Yuna Kim won gold a decade earlier in 2013.
"Coming into this World Championship, I really was not expecting to get a medal," Lee said. "After the short program, I was really happy to achieve a small (silver) medal. But I was able to bring the clean program today so this was a huge happiness for me. Achieving a World Championship medal 10 years after Yuna Kim is such a huge honor to me and I should take this as a sign to work harder after the season."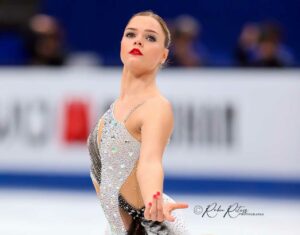 In fifth after the short program, Belgium's Loena Hendrickx, who won the silver medal at the World Championships last season, knew she had ground to make up if she want to win her second consecutive World medal. In her "Poeta" and "Fallen Angel" free skate, Hendrickx produced five triples, including a triple Lutz-triple toe. Her only mistake was that she fell on her solo triple Lutz. She earned a free skate score of 138.48 points, which was fourth in the free skate. She moved up to third overall and claimed the bronze medal with 210.42 points.
"Despite the fall on the (triple) Lutz, I think I had a real strong program and I'm satisfied with it. And to earn a second World medal for Belgium and myself is just an amazing feeling," Hendrickx said.
In fourth after the short program, U.S. Champion and ISU Grand Prix Final silver medalist Isabeau Levito fell on the triple Lutz of her opening triple Lutz-triple loop combination, but recovered to complete five triple jumps in her "My Sweet and Tender Beast" free skate. She finished fifth in the free skate with a score of 134.62. She finished fourth overall with a score of 207.65.
"I am severely disappointed because I've been nailing my Lutz-loop for a really long time and this is the first time I've messed it up in a while and of course it had to be when it actually counted," Levito said. "But I'm pretty happy with myself for just trying to move past it and focusing on making the most out of the rest of the program."
ISU Grand Prix Final Champion Mai Mihara, who was in third after the short program, dropped to fifth overall (205.70 points).
"I wasn't able to change my mind much after I made a mistake in the jump," she said. "I was relieved that I was able to skate to the end. She (coach Nakano) said "be strong". However, I couldn't make it in the second half."
Korea's Chaeyeon Kim rose from 12th after the short program to finish sixth overall (203.51 points). She had the third-best free skate of the women's event.
Team USA's Amber Glenn and Bradie Tennell had some mistakes in their free skate. They finished 12th and 15th respectively.
"Not my best skate I'm kind of disappointed with that. I've been training a lot better than that. So it's kind of unfortunate that it happened here of all places. I'm really proud of the fight that I had," Tennell said following her skate."