By Gina Capellazzi, Team FSO website administrator
Photos by Robin Ritoss
STOCKHOLM, SWEDEN — They say history repeats itself. That statement proved to be true for the Team USA ladies at the 2021 World Championships.
Rewind to the 2017 World Championships — 2016 World silver medalist Ashley Wagner suffered a lackluster free program that had her finishing in 10th in the free skate and seventh overall. Mariah Bell finished out of the top 10. Karen Chen, who was in fifth place after the short program, needed to have her best free skate to help Team USA hold onto that third spot for the 2018 Winter Olympic Games. The 2017 U.S. Champion did just that, finishing in fourth place in her Worlds debut. Her placement, along with Wagner's, added up to 11, less than the International Skating Union's rule of 13. That meant Team USA would be able to send three ladies to the PyeongChang, South Korea.
Now fast forward to the 2021 World Championships, Chen and two-time U.S. Champion Bradie Tennell  were hoping to regain the third spot for the 2022 Olympic Games in Beijing, China. That goal seemed obtainable as Chen and Tennell found themselves in fourth and seventh place respectively heading into the free skate.
In her "Sarajevo" by Max Richter and "Dawn of Faith" by Eternal Eclipse free skate, judges called three of Tennell's jumping passes under-rotated. The 23-year-old from Carpentersville, Illinois did earn level fours on both of her combination spins. She earned a free skate score of 127.94 and a total score of 197.81 to finish in ninth-place.
"I'm very disappointed with my skates (here in Sweden)," Tennell admitted. "It is not what I have been training at all. I have been training clean programs every day. So to come out here and put out these performances is very disappointing, especially at such an important competition." 
She informed the media after her free skate that she was skating in Stockholm with a skate that was broken in the support area along the ankle. The broken boot was on her landing foot. Tennell said it happened after her first day or two in Stockholm.
"Sometimes these things happen and there is nothing you can do about it," Tennell explained. "You just step on the ice and give it your all and I feel like that is what I did today."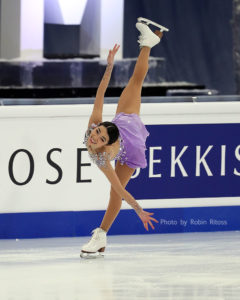 Skating in the last group, Chen said before she got on the ice for her warm-up,  she was aware of how Tennell skated and what the placements looked like, but tried not to think about it. Despite some calls on a few of her jumping passes in her "Butterfly Lover Concerto", the 21-year-old from Fremont, Calif. still put up a strong free skate that earned her a personal best free skate score of 134.23 and a personal best total score of 208.63 to finish in fourth place.
"I'm proud of myself for delivering a solid short program and a solid free program," Chen said. "I can't say that my free skate was perfect, but I really went for it and I did everything I could possible do and fought through it. Because of that, I'm really proud of myself."
With Chen's fourth place finish and Tennell's ninth place finish for a combined placement of 13, the United States has earned the possibility of sending three ladies to the Olympic Winter Games in Beijing. Because of a ISU rule change since the 2018 Olympics, Team USA will have to secure that third spot at Nebelhorn Trophy, set for Oberstdorf, Germany, Sept. 22-25, 2021. The rule also states that the two skaters, who earned the combined world placement, are not eligible to go to Oberstdorf. That means Chen and Tennell will not be able to compete at that competition and U.S. Figure Skating will have to decide who to send to Oberstdorf to confirm that third spot for the 2022 Olympics.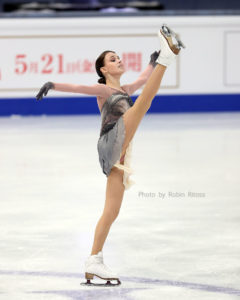 In her Worlds debut, Anna Shcherbakova led the Figure Skating Federation of Russia to a podium sweep, winning the gold medal just days before her 17th birthday. In her "Home of the Dark Butterflies and "Beethoven's Five Secrets" free skate, Shcherbakova fell on her opening quadruple flip attempt, but went on to complete seven triple jumps. The 2020 European silver medalist ranked second in the free skate with a score of 152.17, but remained in first place with a total score of 233.17.
"Honestly, I don't know what to say after my performance. I really tried to do my best and fight for every element. I am not satisfied at all with my performance, but I'm so happy I'm first. It was my goal," Shcherbakova said.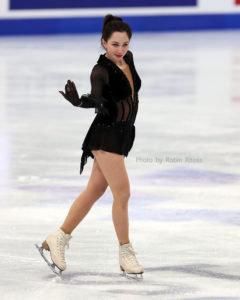 In her first trip to the World Championships after winning her world title in 2015, Elizaveta Tuktamysheva claimed the silver medal. Tuktamysheva opened her "Chronicles of a Mischievous Bird" with two triple Axels — one in combination with a double-toeloop. She executed four more clean triples, but she fell on an under-rotated triple flip. Tuktaymsheva earned 141.60 points for the free skating and finished with a total score of 220.46 points to return to the World podium in Stockholm – the city where she won her European title in 2015.
"The feeling is amazing. I didn't want to think about the placement nor podium when I was going here, but deep down I was hoping that perhaps after all I'll medal and when it happened the emotions are incredible. I am so happy and am so in peace with myself now –  I did all I could and am second," Tuktamysheva shared. "The next goal is just to make it to the (Olympic) team just like I did to Worlds."
After a disastrous short program that had her in 12th place, with nothing to lose, Alexandra Trusova went for five quadruple jumps in her "Romeo and Juliet" free skate. The two-time World Junior Champion landed a quad flip and a quad lutz-triple toe combination, however, she fell on the quad salchow and on her second quad lutz attempt. Her quadruple toe was called not clean by the technical panel and was downgraded. With the high technical content, Trusova won the free skate with a score of 152.38 and finished with 217.20 points to move up from 12th place to win the bronze in her World Championship debut.
"I am happy that I was able to move up from 12th place after the short program to the podium, but of course am not satisfied with my performance. I wanted to do five (clean) quads, again I was unable to today. I will try to do better next time," Trusova noted.
Trusova wasn't the only skater to move up in placement from the short program. Loena Hendrickx, of Belgium, moved up from tenth to fifth for her highest placement at the World Championships.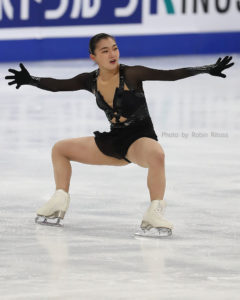 Japan's Kaori Sakamoto slipped from fifth to sixth and Rika Kihira, also of Japan, dropped from second to seventh.