By Gina Capellazzi, Team FSO website administrator
Photos by Robin Ritoss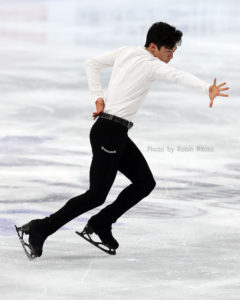 STOCKHOLM, SWEDEN — Never count Nathan Chen out. After the men's short program at the 2021 World Championships in Stockholm, Sweden March 25,  Chen saw himself sitting in an unfamiliar spot. An uncharacteristic fall on his opening quad lutz had him sitting in third place, more than eight points behind two-time Olympic champion Yuzuru Hanyu, of Japan.
"Disappointing, I made a big mistake right off the bat," Chen said following his short program. "It is something that doesn't normally happen to me so I had to regroup after that. That is not an ideal way to start the program, but mistakes happen and I'm glad I have this opportunity to learn from."
In his selections from Philip Glass free skate March 27, Chen executed five quadruple jumps — quad lutz, quad flip (in combination with a triple toe), quad salchow and two quad toes in combination (quad toe-euler-triple flip combination and quad toe-triple toe combination). He earned positive grades of execution on all his jumping passes and earned level four for his spins and footwork.
He earned a free skate score of 222.03, just three points shy of his ISU personal best free skate score of 224.92. He finished the competition with an overall score of 320.88 to claim his three straight world title.
"I'm incredibly happy," the 21-year-old from Salt Lake City, Utah, said. "This free skate was one of my better free skates. The short [program] obviously did not go great, so to be able to respond with the program that I skated today makes me satisfied. I tried to learn from the other day, and I'm just thrilled with the results. I'm also really thankful that we were even able to have this competition with everything that has happened over the past year."
Chen becomes the first American since Scott Hamilton to win three consecutive world men's titles.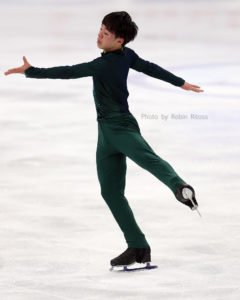 Just one year after winning the silver medal at junior worlds, Yuma Kagiyama, of Japan, captured the silver medal on the senior level. The 17-year-old opened his program with a quadruple salchow, followed by a quadruple toe-triple toe combination and a quadruple toe. In the second half of the program, Kagiyama stepped out of his triple lutz-triple loop combination and his triple axel. He finished second in the free skate behind Chen with a score of 190.81 and maintained his second place standing from the short program with an overall score of 291.77.
"Today, I had a little bit of mistakes. I wasn't coordinated well with my jumps, so I need to train on my adjustment and should be skating more like a senior," Kagiyama said of his performance. "To be honest, I was really surprised how well I did after my performance. So, of course, as for the outcome, I'm very happy.  Being here, I wanted to make sure I landed on the podium. That's what I've trained for. And I guess my work has paid off. "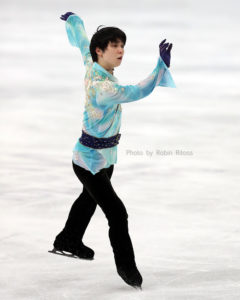 After Chen's vigorous technical performance and with only an eight point margin separating the two of them after the short program,  Yuzuru had to be nearly perfect in his "Heaven and Earth" free skate to win his third world title. However, the two-time Olympic champion struggled with several jumps – putting his hand down on his opening quad loop and then stepping out of his quad salchow. The second half of the program proved to be better for the 26-year-old as he would land his quadruple toe-triple toe combination and his quadruple toe-euler-triple salchow three-jump combination. He earned a free skate score of 182.20, which was fourth in the free skate and would slip from first to third place overall with a score of 289.18 to win the bronze medal. This marks Hanyu's seventh world medal.
"It was very exhausting and it was like I was losing my balance one by one, but I tried to make sure that I don't fall, so I did work hard to make sure I kept it together," Hanyu said after his free skate.
Upon the conclusion of the men's free skate, Hanyu told the media that now that the competition is over, he wants to go back to practice to train his quadruple Axel.
"I want to continue to work to land it so that I can use it in a real competition," he shared.
Japan's third competitor in the men's event, Shoma Uno, had a third place finish in the free skate, but just finished off the podium. The 2018 Olympic silver medalist opened his "Dancing On My Own" free skate with a quadruple salchow attempt, which he landed on two feet, but then successfully completed his next jumping pass — a quadruple flip. He stepped out of his first quadruple toe attempt, but was able to land it in combination with a double toe combination. He scored a 184.82 in the free skate and moved up from sixth in the short program to finish fourth overall with a score of 277.44.
"Just to reflect on what I did today, it's not particularly about this program, but overall, when I came to Sweden, I wasn't able to train well and my jumps were not working well," the 23-year-old told the media. "But given the circumstances I was able to maximize my training here and that's what contributed to a better program. So given all the negative aspects and the condition I was in, I was able to improve my performance. When I was in Switzerland, I was jumping better, but the challenge here was all about adjusting to make sure I can perform well."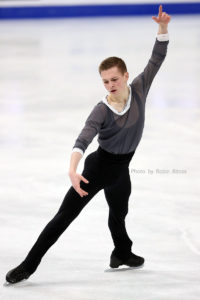 Mikhail Kolyada, representing he Figure Skating Federation of Russia, finished the free skate (178.52) and the event (272.04) in fifth place. The 2018 World bronze medalist hit two quadruple toes, one which was in combination with a triple toe, in his "Nureyev" free skate, but received an edge call on his triple flip.
"The goal was to do a good job, as strange as it may sound, and there's nothing else to add. There were many errors and we'll get home and analyze everything in detail," the 26-year-old said.
Canada's lone men's competitor Keegan Messing, finished in sixth place with a free skate score of 176.75 and a total score of 270.26.  The 29-year-old landed two quadruple toes, one in combination with a double toe. His only mistakes were that he turned out on his second triple Axel and doubled a triple flip.
Messing's placement set up Team Canada for a possible second spot for the 2022 Olympic Games. Canada will need to send a competitor, other than Messing, to the Nebelhorn Trophy in Oberstdorf, Germany, Sep. 22-25, 2021, to earn that second spot.
"I feel absolutely incredible to be able to go out there and to put that kind of program out," Messing stated. "I was really trying not to think about the nerves. I had the pressure to bring those two spots for Canada and it was quite a heavy burden. I said it before coming here that Nam (Nguyen) and I are going to do it together going out there and together we did it. He was there with me backstage, on the ice and gave me the strength that I needed to push this program. I couldn't have done it without him. So thankful to have such a good buddy to have there with me."
Team USA's Jason Brown finished in seventh place, earning 170.92 points in the free skate and a total score of 262.17.  As a skater known for his immense artistry and skating skills, the highlight of the 2020 Four Continents silver medalist's program was his quadruple salchow, though it was deemed under-rotated by the technical panel. He landed six clean triple jumps.
"I was very proud of today's skate," Brown said. "I fought for every second out on the ice. It's so great to be back performing. I just tried to stay calm, take it step-by-step and I think that helped me accomplish my goals."
"I've been working so hard on my quad jumps in training, so to be able to put one into my program today, even though it was a bit under[rotated] really makes me happy and motivates me to keep working. This was a goal of mine this season, " the 26-year-old added.
Team USA's third competitor, 2019 World bronze medalist Vincent Zhou, failed to make the free skate after rough short program Thursday. With the new ISU rule regarding Olympic placements, Team USA will need to confirm their third spot at Nebelhorn Trophy. Neither Chen nor Brown can compete at that event.
See photos of the men's event here.