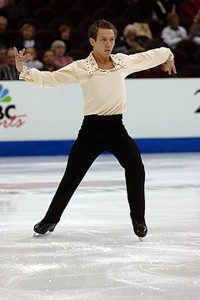 Grant Hochstein won the men's short program at the 2010 World Junior Championships in The Hague, Netherlands, coming in ahead of teammate Keegan Messing and Japan's Yuzuru Hanyu. Armin Mahbanoozadeh is in eighth place.
Performing to "Sleeping Beauty," Hochstein delivered a flawless program that included a double Axel, a triple Lutz-triple toeloop, a triple flip and three level- four spins. The American posted a new personal best of 71.35 points, including a 41.40 for technical elements and 29.95 for program components, to take the lead.
"I didn't have expectations for where I wanted to place," said Hochstein, who finished seventh at the 2010 U.S. Championships. "My big goal for this event was just to focus on myself and on my love of skating. That's what I went out and did, and I'm surely very happy with the result."
"Competing at the Junior Grand Prix series has built my confidence a lot," he said. "I wanted to skate with my heart, and I skated with my heart, and I think you always skate better when you love to skate."
Messing, who like Hochstein, is competing in his first Junior World Championships, nailed a triple Axel, a triple Lutz-triple toeloop combination, a triple flip and earned a level four for his combination spin. The 18-year-old picked up 68.90, a new personal best for his routine set to "The Soloist" soundtrack.
"I felt pretty good about how I skated," Messing said. "I went out there, expecting to have some fun, and I had a blast out there. I was coming into this competition as first alternate. When I got the call, I felt sorry for [Ross Miner] that he couldn't compete, but I couldn't help to be excited for myself to actually be here, competing at Junior Worlds and to place second in the short program is pretty awesome."
Hanyu opened his dynamic program to "Mission Impossible 2″with a triple Axel, followed by a triple Lutz-double toeloop combination and a triple flip. The JGP Final Champion got a level three for two spins and the circular steps to score 68.75 points.
"Today's performance was not very good, but I am satisfied to be in third place," Hanyu said. "I missed my triple Lutz-triple toeloop combination, but I am especially disappointed with my spins and footwork. I lost a few levels there."
Mahbanoozadeh (62.30) started his performance with a strong triple Axel but faltered on his two other jumping passes. His triple lutz-triple toe combination received a negative grade of execution of 1.60. He popped his next element, a planned triple flip, into a single, giving him negative 3s across the board for execution.
The men's free skate is Thursday.
__________
Photo courtesy of Leah Adams
Figure Skaters Online strives to be an accurate source of information related to the sport of figure skating. To report an error, please e-mail the news editor. Include the article date and title in your e-mail.