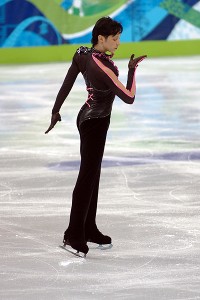 With the debut of ABC's Skating with the Stars just days away, three-time U.S. Champion Johnny Weir, a judge on the new reality skating show, launched JohnnyGWeir.com, his website with new features, including an expanded news page and fan zone. Weir has had an official site, in cooperation with Figure Skaters Online, since 1999.
Weir claimed his first senior national championship in 2004, and successfully defended his title in 2005. In 2006, Weir captured his third consecutive national championship, earning a spot on the U.S. Olympic team. At his very first Olympic Games in Torino, Italy, Weir placed an impressive second in the short program, and finished fifth overall.
Weir went on to win the bronze medal at the 2008 World Championships—the only medal won by a member of Team USA at that competition—as well as U.S. Figure Skating's 2008 Readers' Choice Award for Skater of the Year (Michelle Kwan Trophy), an award he would again claim in 2010, making Weir the only skater other than Michelle Kwan to win this trophy more than once.
Also in 2010, Weir made the U.S. Olympic team for the second time and represented his country in the Olympic Games in Vancouver, once again capturing the hearts of millions. Post-Olympics, Weir has put his fame to good use, balancing performances in skating shows around the world with appearances at various benefits and charity events across the US.
He is the star of his own reality series, Be Good Johnny Weir, on the Sundance Channel, for which he won the 2010 NewNowNext Award for Most Addictive Reality Star. Most recently, he was honored by the Human Rights Campaign-Seattle with the HRC Visibility Award.
Fans can also access his website at http://www.figureskatersonline.com/johnnygweir/.
Check out Weir performing at All That Skate LA
[nggallery id=4]
__________
Figure Skaters Online strives to be an accurate source of information related to the sport of figure skating. To report an error, please e-mail the news editor. Include the article date and title in your e-mail.