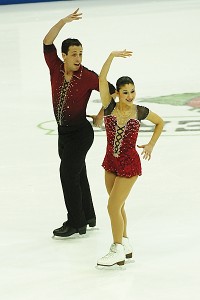 Chloe Katz and Joseph Lynch, the 2005 U.S. Championship bronze medalists in junior pairs, announced today that they have ended their partnership after 13 years. Both plan to resume their studies at New York University, where both have attended classes throughout their skating career.
"Obviously, we are sad that it is over but are optimistic about what opportunities may be ahead," Lynch said in a statement. "Chloe and I would like to thank our families for being so supportive. Without their love and support, we would never have been able to achieve half the success we did. We would also like to thank all of our coaches. We would also like to thank our fans, coaches, and U.S. Figure Skating for all the support we received."
Katz and Lynch most recently finished ninth at the 2011 U.S. Championships in Greensboro, N.C. While they missed the 2010 nationals due to Lynch's broken ankle, the team finished in the top 10 of each of the U.S. Championships they competed in, highlighted by a sixth place showing in 2009. The team competed in three international events, taking silver at the 2009 Ice Challenge and 2008 Coupe de Nice.
During the 2000-01 season, Katz and Lynch officially formed a partnership after their coach Adam Leib put them together to improve their singles skills. The team recently split their time between Leib in Bellmore, N.Y., and Canton, Mich., where they were under the direction of Johnny Johns and Marina Zoueva.
__________
Photo courtesy of Leah Adams
Figure Skaters Online strives to be an accurate source of information related to the sport of figure skating. To report an error, please e-mail the news editor. Include the article date and title in your e-mail.