By Gina Capellazzi, Team FSO website administrator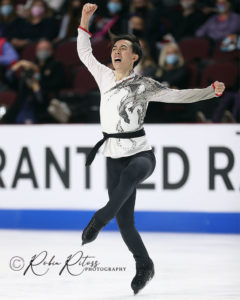 LAS VEGAS, NV — Following the men's short program at the 2021 Guaranteed Rate Skate America in Las Vegas, Nevada Oct. 22, Team USA's Vincent Zhou told the media during the press conference that he wasn't expecting to be sitting in first place, heading into the free skate. Yet, that was the position he would hold onto to win his first-ever Skate America gold medal, claiming the title from four-time Skate America champion Nathan Chen, of the United States.
Zhou skated two exceptional programs inside the Orleans Arena. On Friday, in his "Vincent" short program, reprised from the 2020-2021 season, Zhou opened the program with a quadruple lutz-triple toe combination to earn a short program score of 97.43  On Saturday, Zhou executed five quadruple jumps, including the quadruple lutz in his "Crouching Tiger Hidden Dragon" free skate, a program he brought back from the 2019-2020 season. He earned a free skate score of 198.13, just shy of his personal best of 198.50. He finished with a total score of 295.56.
"I didn't really expect this result, but what I did expect of myself was to be as well-prepared and well-trained as I possibly could, and I think just focusing on that every single day at home led to making the seemingly impossible become possible," Zhou said.
This is the 21-year-old from Palo Alto, Calif.'s third gold medal already this season. After failing to make the free skate at the 2021 World Championships in March, Zhou won the gold medal in the inaugural Cranberry Cup in Norwood, Mass. in August. As a result of his performances, U.S. Figure Skating sent Zhou to the ISU Challenger Series event, Nebelhorn Trophy, the final qualifying event for the 2022 Olympics, to obtain the third spot for Team USA men. Zhou won the event by more than 40 points over France's Adam Siao Him Fa to win gold and secure the third spot for Team USA men.
Zhou will now compete at NHK Trophy in late November, hoping to qualify for his first Grand Prix Final.
After a disappointing "Eternity" short program where Chen fell on his opening quad lutz and managed only a single toe at the end of his quad flip combination, the three-time world champion alluded that nerves got the best of him.
"I'm human, I get nervous before events," Chen told the media following his fourth place short program.
Attempting to put that skate behind him and with a 15-point margin between him and Zhou, Chen attempted six quads in his Mozart free skate, but only was able to execute four in the program. He doubled a planned quadruple salchow and quadruple lutz. Despite the mistakes, the 22-year-old from Salt Lake City finished second in the free skate with a score of 186.48. He finished in third place overall with a total score of 269.37, well off his personal best total score of 335.30. The bronze medal ends Chen's undefeated winning streak, which dates back to the 2018 World Championships.
"If anyone was to break my streak, I'm glad it is him [Vincent Zhou]," Chen said. "All that being said, it's just something that happened. I'm proud of what I've accomplished in the past, but at this point in time, the only thing I can do is move forward."
Chen does not have long to dwell on his performances in Vegas. He will compete in his second Grand Prix event, Skate Canada International in Vancouver, British Columbia, Canada Oct. 29-30.
Finishing in the middle of the two Americans was 2018 Olympic silver medalist Shoma Uno of Japan, who secured the silver medal with a free skate score of 181.61 and a total score of 270.68. Uno's "Bolero" free skate contained a quadruple loop and two quadruple toe-double toe combinations.
"It is not about what I did well in my performance or what I couldn't do in both the short or free program, it is more about revisiting the mistakes that I made in this competition, the things that I lacked and I think I just work hard and train toward my next Grand Prix, which is the NHK Trophy in Japan," the 23-year-old from Nagoya said following his free skate.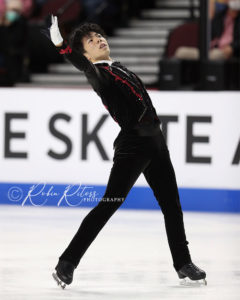 Uno's countrymate Shun Sato finished just off the podium in fourth place with a total score of 247.05. This is officially Sato's first senior Grand Prix season. Last season, he competed at NHK Trophy, which was held as a domestic event in 2020 due to the COVID-19 pandemic.
Team USA's Jimmy Ma, who was assigned Oct. 11 to compete at Skate America after the withdrawal of 2021 U.S. pewter medalist Yaroslav Paniot, found himself in third place after the short program.
"I was definitely not expecting to be up here [in third place] tonight," the 26-year-old from Great Neck, N.Y., told the media at the short program press conference. "My only goal was to put my heart out there tonight. I'm excited to learn from this experience. It's unreal."
Ma's 143.60-point free skate opened with a beautiful quad toe loop-triple toe loop combination, but mistakes later in the program, including popping his triple axel, would have him finishing the competition overall in fifth place with a total score of 228.12, a new personal best score.
Rounding out the top six was Michal Brezina, of the Czech Republic, who had previously won the event in 2011. Two-time Canadian Champion Nam Nguyen finished in eighth place.
For more from 2021 Skate America, check out our event page and photo galleries!