By Gina Capellazzi, Team FSO website administrator
LAS VEGAS, NV — For decades, Team USA pairs have endured the dominance controlled by the Russian pairs teams. At the Guaranteed Rate Skate America competition in Las Vegas Oct. 22-23, it was no different as reigning Skate America champions Alexa Knierim and Brandon Frazier, of the United States, and their training-mates and teammates Jessica Calalang and Brian Johnson faced the three-time World medalist Evgenia Tarasova and Vladimir Morozov and reigning World bronze medalists Aleksandra Boikova and Dmitrii Kozlovskii, of Russia.
Knierim and Frazier found themselves in fifth-place after the short program as Frazier fell on the side-by-side triple toe. Despite it, they earned a personal best score of 66.37 for their "House of The Rising Sun" short program. In their "Fix You" free skate, Knierim and Frazier opened with a level three triple twist and earned level fours on five elements to score a personal best of 136.60 to finish the free skate in second place. They finished just off the podium in fourth-place with a score of 202.97, which was also a personal best score.
"That program was just the beginning of what we're capable of," Knierim said following the free skate. "That program was like scratching the surface compared to what we do without any adrenaline and nerves at home. At home, we actually skate stronger, faster, cleaner. But it was great to get the job done today and check off each element."
After the short program, Calalang and Johnson held the highest position for Team USA, sitting in fourth place. They opened their "Come Together" short program with clean side-by-side triple salchows and learned level fours on three elements. They earned a personal best short program score of 68.87.
"We felt like we really performed the heck out of it, which is what we were trying to do," Johnson said. "All the elements were done really well, which we're really happy with."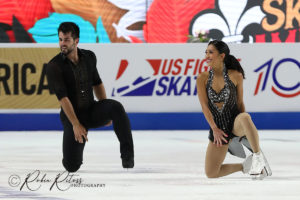 Following their short program, Calalang and Johnson added that they were completely satisfied with how they skated, especially given the fact that they weren't sure if they would ever get to compete again. In January, Calalang was suspended after testing positive for a banned substance at the U.S. Championships. It turned out that Calalang's violation was because of makeup that she used. It wasn't until September that Calalang was cleared by the World Anti-Doping Agency and the U.S. Anti-Doping Agency in September.
"It feels like a huge weight has been lifted off our shoulders," Johnson said about the suspension and re-instatement.
In the "Who Wants to Live Forever" free skate, Calalang and Johnson struggled with their side-by-side jumps to finish in fifth overall with a personal best free skate score of 128.55 and a personal best total score of 197.42 points.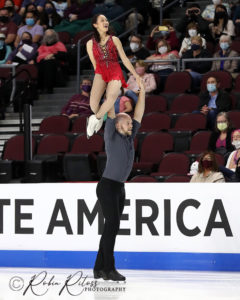 Chelsea Liu and Danny O'Shea, who training alongside Knierim and Frazier and Calalang and Johnson with coaches Jenni Meno and Todd Sand in Irvine, Calif., finished in seventh place in their Grand Prix debut. This is Liu and O'Shea's first season together.
Tarasova and Morozov captured their second Skate America gold medal, with a total score of 222.50.  Since adding Eteri Tutberidze to their coaching team following the 2020-2021 season, Tarasova and Morozov have medaled at all three events they have competed at this season. They won gold at the inaugural Cranberry Cup and silver at the ISU Challenger Series event, Finlandia Trophy.
After their surprise victory at Autumn Classic in September, Japan's Riku Miura and Ryuichi Kihara earned their first Grand Prix medal, a silver, with a total score of 208.20. They became the first Japanese team to win a medal on the Grand Prix circuit in 10 years.
Russia's Aleksandra Boikova and Dmitrii Kozlovskii earned the bronze medal with 205.53 total points.