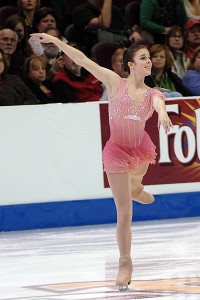 With a silver medal finish at the Rostelecom Cup in Moscow, U.S. pewter medalist Ashley Wagner made it official: She is a contender for the 2010 U.S. Olympic team.
The American teenager finished behind Japan's former World Champion Miki Ando, who placed third at the 2009 World Championships, 171.93 points to 163.97. World Junior Champion Alena Leonova of Russia claimed the bronze medal with 160.06.
"I'm very happy about my result but not so happy with my skating," said Ando, who moved up from third after the short program. "I missed a jump (the triple toe in the double axel-triple toe combination) and I didn't have enough speed again in my long program. But I see what I have to work on for my next competition."
Skating to "Polovetsian Dances," Wagner landed a triple flip-double toe combination, a triple loop, a double axel, a triple Salchow, a double axel-double toe, a triple flip-double axel sequence and a triple lutz. Her second triple flip was downgraded while her triple lutz received an edge deduction.
"For this competition, my coach (Priscilla Hill) and I planned to come in skating strong and we would see what happened from there," said Wagner, who was fourth at the 2009 U.S. Championships. "The short program I wanted to skate clean and get all my levels. I skated clean, but I didn't get all my levels. I have some work for NHK. I have a jump that I need to clean up. The quality could be a little bit better and also some levels. Other than that I'm very pleased with my program."
Fresh off her win at the Nebelhorn Trophy, U.S. Champion Alissa Czisny finished fourth in Moscow with 158.30. She was second in the short program but dropped out of medal contention because of three downgraded triple jumps – triple flip, which she fell on, and both triple loops – in her fourth ranked free skate.
Czisny started her Doctor Zhivago program with a solid triple lutz-double toe-double toe combination (8.60 points) and later performed a double axel-double axel sequence. Other highlights were her Level 4 change foot combination spin and her Level 4 layback.
Former World Champion Mao Asada (150.28) moved from sixth after the short program to fifth overall, although she once again faltered on the triple axel, a jump that also failed her at last week's Trophee Eric Bompard. She fell on her first triple axel, which received a downgrade, and popped the second triple axel into a single.
All three of the ladies Rostelecom Cup medalists have a week away from competition before heading to the NHK Trophy in Nagano, Japan, the same city where Wagner's mentor Tara Lipinski won the 1998 Olympic Games. Czisny returns to competition Nov. 19-22 at Skate Canada in Kitchener, Ontario.
In the ice dance event, U.S. Champions Meryl Davis and Charlie White celebrated his 22nd birthday with a personal best free dance (101.02) that helped them to 201.10 overall points, another personal best for the team.
"I think in general we were just a little bit more confident with our program at this point," Davis said. "Obviously it's still early in the season and we still have a long way to go."
Anna Cappellini and Luca Lanotte more than 32 points behind the Americans. The silver medalists from Italy earned 168.57 points in the competition while bronze medalists Ekaterina Rubleva and Ivan Shefer of Russia had 163.32.
Rostelecom Cup is the second event of the 2009 International Skating Union (ISU) Grand Prix of Figure Skating circuit. The series, now in its 15th season, consists of six international events in a cumulative, point-scoring format. The top six scoring athletes in each discipline move onto the Grand Prix Final, Dec. 3-6, in Tokyo, Japan, which will be combined with the ISU Junior Grand Prix of Figure Skating Final for the second consecutive season.
The six Grand Prix events are Trophee Eric Bompard, Oct. 15-18, in Paris, France; Rostelecom Cup, Oct. 22-25, in Moscow Russia; Cup of China, Oct. 29-Nov. 1, in Beijing, China; NHK Trophy, Nov. 5-8, in Nagano, Japan; Skate America, Nov. 12-15, in Lake Placid, N.Y.; and Skate Canada, Nov. 19-22, in Kitchener, Canada.
The points toward the Grand Prix Final that are awarded for each place are 15 points for first; 13 points for second; 11 points for third; nine points for fourth; seven points for fifth; five points for sixth place; four points for seventh place; and three points for eighth. In pair skating, only the top six receive points.