By Maura Sullivan Hill, Team FSO staff writer
Photos by Robin Ritoss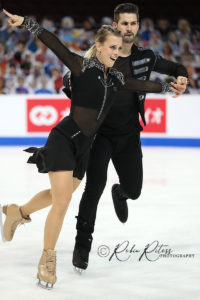 LAS VEGAS, NEVADA — Madison Hubbell and Zachary Donohue won their fourth straight, and final, Skate America title on Sunday, Oct. 24 at Orleans Arena in Las Vegas.
"It's a feeling of overwhelming gratitude, being our last Skate America and four consecutive wins for us, it means quite a lot, especially to be able to have a live audience," Donohue said in the post-event press conference. "All the energy being here surrounded by our fellow teammates and our coaches and a big team around us that we get to see and share all of our experiences with in the everyday, I'll settle with gratitude."
Their American teammates Madison Chock and Evan Bates were not far behind, finishing second by 1.31 points. It's rare for these two teams to go head-to-head this early in the season; they often don't meet until the Grand Prix Final or U.S. Nationals. Both teams spoke about how competing against each other and training together every day pushes them to be better skaters.
"I feel like the word rivalry is used with a negative connotation too often. I think that, especially in this case, the rivalry has been great for both teams," Bates said. "Certainly for us, we're so grateful for you guys [to Hubbell and Donohue]. Especially since we moved to Montreal, they've shaped a lot of how we work and how driven we are. And I don't think we would be the team we are without years and years of competitions and in rivalry, but a good rivalry. Both teams want to win, but it will never come at the expense of the respect between the two of us or the friendship. And I think that's great and that is going to help us reach our full potential."
Both teams had competed once already this season, with Hubbell and Donohue winning the 2021 U.S. International Classic (their fifth title at that event) and Chock and Bates taking silver at the 2021 Finlandia Trophy.
Hubbell and Donohue, who will compete again in two weeks at Cup of China, took advantage of a new rule allowing overhead lifts in dance, with slightly bent arms by the lifting partner. In their free dance, their straight line lift features Hubbell over Donohue's head with both of her arms and legs extended as he holds her by the waist while skating backwards. They add to the degree of difficulty with a somersault entry by Hubbell.
Their free dance is performed to the song "Drowning" by Anna Sila, and their rhythm dance is a medley of Janet Jackson songs. The required theme for the rhythm dance this season is "street dance rhythms."
Chock and Bates skated to a medley of Billie Eilish songs for their rhythm dance, and in the free, they performed their "Contact" program set to Daft Punk songs, with a unique astronaut-meets-alien theme.
"Of course, if you asked us two years ago, would you guys be doing doing a galactic alien, astronaut program for the Olympic Games? We'd probably say, 'No, what are you talking about?'" Chock said. "However, in the last few years that we've been at the Ice Academy of Montreal, the coaches have helped us realize that more is possible than we ever thought before. We are capable of doing so much more than we could have ever dreamed of four years ago and they have really allowed us to embrace that creative freedom and embrace who we want to be as artists and athletes on the ice. So from that, came this wonderful, intergalactic, star-crossed program that we are so passionate about, because not only is it a unique piece of music and a unique story that we're telling, but we also have a much deeper message between the two of us and one that we hope to convey to everyone as we perform, and that's one of love and acceptance and I think that can resonate with everyone in any country across the board."
They'll compete next at NHK Trophy in Japan, but noted how special it was to perform for an audience once again, after no crowds were allowed at most competitions last year.
"It feels special and rare now, because it's been such a long time since we've been able to perform for our families and the live audience," Chock said. "So we're very grateful for that and grateful for the opportunity that we had here at Skate America to show our programs."
While the American teams topped their closest competition by almost 20 points, there was a tight race for the bronze medal. Canada's Laurence Fournier Beaudry and Nikolaj Sorensen earned the bronze, beating Spain's Olivia Smart and Adrian Diaz by less than a point: 0.44.
"For me, it's something very emotional to be here, and especially being on the ice with the people I admired for a long time, and that I still admire every day," Fournier Beaudry said. "And I'm feeling so blessed to be now part of something so much bigger and feel like I am achieving some dreams."
The Canadians had a lead of 1.27 after the rhythm dance and the Spanish team nearly closed the gap with their Zorro free dance, which earned a standing ovation from the crowd.
"The reaction of the crowd made it all worthwhile and so memorable. It was crazy to see people standing up at the end of the free dance and I want to feel that more throughout the season," Smart told reporters in the mixed zone. The pair said their main goal for the season is earning the sole ice dance spot for Spain at the Olympics, and they'll compete again at Skate Canada International next week.
For more from 2021 Skate America, check out our event page and photo galleries!