By Maura Sullivan Hill, Team FSO staff writer
On Friday night, the word was that Alexandra "Sasha" Trusova wouldn't be able to compete at 2021 Skate America, due to a nagging foot injury in her landing foot. By Sunday night, she was wearing the gold medal, her third career Grand Prix gold.
"I'm pleased with my performances here in this competition, but obviously I would like to have a higher degree of difficulty in my programs," Trusova told the media, through a translator, in the post-event press conference.
She included only one quadruple jump in her free skate, a quad lutz that she landed forward and with a bent free leg, the impact of her landing likely affecting her injured foot. While a quad lutz might be a feat for other skaters in both the women's and the men's event, it was a watered-down program for Trusova, who is the first female skater to land the quad lutz, flip, and toe loop in competition.
"When I came here to this competition, we wanted to skate with three quads, but it didn't really work because of my injury, and I did not," she said. "I lost a lot of practice time. So I skated this program with one quad for the very first time today."
The 2021 World Bronze Medalist said she would take a few days to recover and then get back to training. She competes next at the NHK Trophy in Japan in three weeks.
Fellow Russian Daria Usacheva, competing in her first senior international event, took the silver medal. She was behind Trusova by less than a point after a stellar short program to the song "Never Enough" from "The Greatest Showman" movie, but she finished fourth in the free skate after stepping out of a triple flip in a planned triple-triple combination. Her triple lutz-euler-triple salchow combination was a highlight of the second half of the program.
"I'm a little bit upset about my free skate because not everything worked out, but I am happy with my results," Usacheva said, through a translator.
The third Russian competitor, Kseniia Sinitsyna, was in third place after the short and it looked like there might be a Russian sweep, but four-time South Korean National Champion Young You vaulted up from fifth place after the short for the bronze medal.
You took a hard fall on her triple axel in the short, sliding into the boards, but she landed it in her free skate. It was called with a q, meaning it was a quarter rotation short and received full base value, but negative grades of execution from the judges.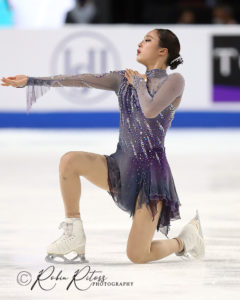 "Today, I think the triple Axel was a little 'q' and my other triples were little 'q' but I'm still happy that I didn't do a big mistake in my free program, so I'm happy with that," You told reporters in English during the press conference. "But I think I need to work more on my nervous system when I get nervous and I do mistakes, so that's my next goal for the next competition.
Amber Glenn of Team USA practiced her triple axel at this event but did not include it in competition. She finished in sixth place, but earned new international personal best scores in both the free skate and total score. It was the first time Glenn exceeded 130 points in a free skate and 200 points overall in international competition.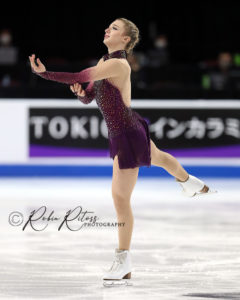 She earned well over that number on home ice at the 2021 U.S. Nationals (scores are often elevated at domestic events in all countries), held on the same ice surface where she delivered her solid free skate here at Skate America, the Orleans Arena in Las Vegas.
"I went out there, I got the job done. I did, not even as much as I do in practice, but pretty close to it. And knowing that I've done this more than one time in this arena brings me more confidence into the rest of the season," Glenn said. "And then off course, breaking that point target internationally for the first time, it really makes me feel like I'm up there and it's not just, 'Oh she got second at Nationals, she did this in her own country.' I know I can hold my own internationally and this is just a taste of that. That's not even all I have to offer."
Glenn added that she is "hugely focused on consistency" in light of the body-of-work qualification requirements for the U.S. Olympic Team. She'll compete against Trusova again at the NHK Trophy.
Starr Andrews of Team USA finished in 10th place; she found out that she'd be replacing an injured Bradie Tennell at this event on Sunday, Oct. 19, just five days before the short program.
"I'd been given a head's up, but it wasn't sure. I got the official call Sunday, so it was a very quick turnaround for me, but I'd been training really hard already so it wasn't hard to adjust," Andrews said.
In the short, she performs to her own cover of "At Last," and her free skate is set to "Bigger" and "I Was Here" performed by Beyonce.
"Sometimes I forget I'm skating to my singing because I've been training that program for awhile now, so it's normal for me to hear it a couple times a day," Andrews said after the short program in the mixed zone. After the free skate, where she earned a new international personal best, FSO asked to hear more about her music choices for the season.
"I've always wanted to sing my short and this year was the perfect year to do that. My coach played 'At Last' and instantly, I was like, this is definitely my choice for my short this year because it is just perfect. And the music didn't have to be cut at all, all of the lyrics are still in the song and I thought that was also very, very cool," Andrews said. "My long program, I wanted to skate to 'Bigger' since last season, since COVID year, but I already had a program so I was like, OK, we can save this program for next year…the song wasn't long enough to be a whole long, so I knew that I had to mix it with something…and then my coach brought up the song 'I Was Here' and this meshes perfect and it really worked out. This year my music choices were not hard to pick because we both had stuff in mind already."
For more from 2021 Skate America, check out our event page and photo galleries!