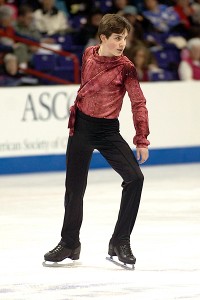 The 2011 International Skating Union (ISU) Junior Grand Prix of Figure Skating Series continues Sept. 14-18 with athletes competing in Gdansk, Poland, at JGP Poland. Of the 111 competitors expected to compete in the ladies, men, pairs and ice dance events, 14 represent the United States: Samantha Cesario and Lauren Dinh in ladies; Joshua Farris and David Wang in men's; Madeline Aaron and Max Settlage, Jessica Noelle Calalang and Zack Sidhu and Britney Simpson and Matthew Blackmer in pairs; and Jessica Mancini and Tyler Brooks and Rachel Parsons and Michael Parsons in ice dance.
Now in its 15th season, the JGP Series consists of seven international events in a cumulative point-scoring format. Approximately 400 athletes representing more than 35 countries are expected to participate in the series. Each athlete is eligible to score points in two of the seven scheduled events (pairs can compete in two of four designated events). The top eight point-earners in each discipline qualify for the Junior Grand Prix of Figure Skating Final, Dec. 8-11 in Quebec City, Quebec.

Ladies
The ladies competition includes a handful of skaters who are looking for a breakthrough performance including Americans Cesario (Oceanside, N.Y.), returning to competition for the first time since an injury forced her out of the 2011 U.S. Championships, and JGP newcomer Dinh (Colorado Springs, Colo.). Of the 25 ladies in Poland, none medaled on the JGP circuit.
Cesario made her first appearance on the international scene in 2010, winning the junior event at the Garden Spring Trophy after a 14th place senior debut at the U.S. Championships in Spokane, Wash. Prior to sustaining a season ending back injury, she competed at two events in the 2010-11 season, placing fourth in her JGP debut in Romania and winning the North Atlantic Regional Championship.
Dinh, the 2011 U.S. junior silver medalist and the 2011 Gardena Spring Trophy junior champion, makes her first appearance on the JGP circuit in Gdansk. With triple-triple combinations a part of her arsenal last season, she spent the summer trying to strengthen her choreography and transitions, hoping to boost her component scores.
The American ladies face two strong competitors from Europe, Julia Lipnitskaia of Russia, who is just 13, and Monika Siminckova of Slovakia, who is 16. Lipnitskaia is inexperienced, never having competed internationally, but she has triple-triple combinations as well as amazing flexibility, allowing her to achieve amazing positions in spins and choreography. Simancikova has competed at four JGP events, placing fifth in Austria and sixth in Czech Republic last season.
Unlike last week's event in Brisbane, there is no front runner for the gold medal as most of the competitors in Poland are relatively unproven both nationally and internationally. Podium predictions: 1. Samantha Cesario, United States. 2. Monika Siminckova, Slovakia. 3. Lauren Dinh, United States.
Men
Three men will be duking it out for spots on the podium in Poland with Farris (Colorado Springs, Colo.) the favorite for the gold medal. Farris, who won the silver medal at JGP Romania, gold at JGP Great Britain and placed sixth at the JGP Final last season, is looking to rebound from a 21st place performance at the 2011 U.S. Championships. In the free skate in Greensboro, N.C., Farris broke his ankle but preserved to complete his free skate.
Artur Dmitriev of Russia and Ryuichi Kihara of Japan each won a medal on last year's series but neither has been as consistent as Farris, who is relatively reliable when skating healthy. Dmitriev was fourth at JGP Germany, second at JGP Czech Republic and eighth at the World Junior Championships last season. Kihara was 10th at World Juniors. He was also 10th at JGP Austria but won the bronze in Germany.
American Wang (Lake Arrowhead,  Calif.), who placed seventh as a junior at the 2011 U.S. Championships, is not expected to contend for a medal his JGP debut in Gdansk. He has competed once internationally before, placing second in the novice event at the 2008 AEGON Challenge Cup.
Farris has a personal best of 187.74 points, putting him almost 10 points ahead of the field. Podium predictions: 1. Joshua Farris, United States. 2. Ryuichi Kihara, Japan. 3. Artur Dmitriev, Russia.
Pairs
Unlike the opening event in Latvia, the pairs competition in Poland is void of China's top pairs, giving Russians Tatiana Tudvaseva and Sergei Lisiev the opportunity to make the podium after finishing fifth two weeks ago. Their biggest competition will be from Aaron (Scottsdale, Ariz.) and Settlage (Flagstaff, Ariz.) of the United States and Katherine Bobak and Ian Beharryof Canada. Both teams are making their international debut.
Aaron and Settlage are 2011 U.S. Novice Pairs Champions. Over the summer, they competed well against junior teams including the new team of Bobak and Beharry, who won the free skate at the Indy Challenge. Aaron and Settlage won the short program at Indy.
American Simpson (Golden, Colo.) is one of the more experienced skaters in the field, competing on the Grand Prix series last year with former partner Nathan Miller, but is looking to regain her international standing new partner Blackmer (Detroit, Mich.). Joining them on Team USA are Calalang (Glenview, Ill.) and Sidhu (Las Vegas, Nev.), who made their competitive debut with a 10th place showing at 2010 JGP Czech Republic. They were second at the Pacific Coast Sectional Championships and eighth in juniors at nationals.
No team has established themselves as a team to beat but Bobak and Beharry are hoping to capitalize on their momentum from a strong showing at the Indy Challenge. Podium predictions: Katherine Bobak and Ian Beharry, Canada. 2. Madeline Aaron and Max Settlage, United States. 3. Tatiana Tudvaseva and Sergei Lisiev, Russia.
Ice Dance
Russian teams dominated the dance event in the junior ranks last season, taking six out of eight spots in the JGP Final. Despite winning silver at both their assignments and the Final, Victoria Sinitsina and Ruslan Zhiganshin were not named to the 2011 World Junior Championship squad after missing Russian nationals. The team performed poorly at 2010 Russian nationals, keeping them off that World Junior roster as well. They'll be looking for redemption in Poland, hoping to position themselves as the top team in the junior ranks.
Ukrainians Anastasia Galyeta and Alexei Shumski were one of two teams not representing Russia at the Final. In Poland, the team hopes to gain on their Russian competitors, and look to capture their first JGP gold medal. They were second in Romania and third in the Czech Republic last season. Galyeta and Shumski were 13th at World Juniors.
Gabriella Papadakis and Guillaume Cizeron of France are another strong team in this field, winning a medal at one of their events last season, bronze in Austria, and just missing the podium in the other, taking fourth in France. They are looking to win two medals in 2011, hoping that will be enough for a spot in the Final. They were 22nd at the 2010 World Juniors and improved to 12th in 2011.
Two young teams to watch are and Mancini (Castle Rock, Colo.) and Brooks (Orlando, Fla.), 2011 U.S. novice silver medalists, and novice champions Parsons (Rockville, Md.) and Parsons (Rockville, Md.). Both teams are making their international debut.
With inexperienced teams competing for Canada and the United States, the current strong holds on the senior dance scene, European teams should dominate the ice dance competition in Poland. 1. Victoria Sinitsina and Ruslan Zhiganshin, Russia. 2. Anastasia Galyeta and Alexei Shumski, Ukraine. 3. Gabriella Papadakis and Guillaume Cizeron, France.
— Amber Lewis contributed to this report
__________
Photo courtesy of Leah Adams
Figure Skaters Online strives to be an accurate source of information related to the sport of figure skating. To report an error, please e-mail the news editor. Include the article date and title in your e-mail.