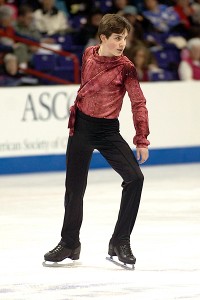 The 2011 International Skating Union (ISU) Junior Grand Prix of Figure Skating Series continues Oct. 12-16 with athletes competing in Tallinn, Estonia, at JGP Estonia. Of the 120 competitors expected to compete in the ladies, men, pairs and ice dance events, 10 represent the United States: Samantha Cesario and Gracie Gold in ladies, Joshua Farris and Shotaro Omori in men's; Jessica Calalang and Zach Sidhu and Britney Simpson and Matthew Blackmer in pairs; and Kaitlin Hawayek and Michael Bramante in dance.
Now in its 15th season, the JGP Series consists of seven international events in a cumulative point-scoring format. Approximately 400 athletes representing more than 35 countries are expected to participate in the series. Each athlete is eligible to score points in two of the seven scheduled events (pairs can compete in two of four designated events). The top eight point-earners in each discipline qualify for the Junior Grand Prix of Figure Skating Final, Dec. 8-11 in Quebec City, Quebec.

Ladies
Last week in Milan, Italy, Russian Anna Shershak was making her international debut. Now the JGP Italy silver medalist, Shershak has a shot at making the JGP Final with a solid performance in what is her second international competition. To capture the title in Tallinn, she will have to contend with Japan's Risa Shoji, who won silver at JGP Australia, and American Cesario (Oceanside, N.Y.), bronze medalist at JGP Poland, both who are also looking toward a spot in the Finale.
Julia Lipnitskaia of Russia, Polina Shelepen of Russia, Vanessa Lam of the United States and Zijun Li of China have already secured spots in the Final. With spots remaining and several top contenders competing in Estonia, there are many qualification scenario. Estonia's Gerli Liinamae, fourth at JGP Latvia, and Cesario must win gold to automatically qualify, regardless of how other skaters place at the event. Shershak and Shoji must win gold or silver and for Cesario, Shershak and Shoji, medals of another color could qualify them if other circumstances are fulfilled. Click here for a breakdown.
Gold (Springfield, Ill.) is making her international debut in Tallinn and will not accumulate enough points qualify for the Final regardless of her placement. But with the momentum of her strong summer season, she could medal, especially if she came close to the 160.31 points she scored at Chicagoland. Gold did not qualify for the 2011 U.S. Championships but was sixth in the novice ladies event in Spokane, Wash., in 2010.
Shershak's personal best is 150.21 points, which puts her at a disadvantage as Shoji has scored as high as 155.23 internationally and Cesario has a personal best of 153.84. She may also be at a disadvantage from back-to-back competitions, leaving her no time to fix areas where she may have unexpectedly lost points. Podium predictions: 1) Risa Shoji, Japan. 2) Samantha Cesario, United States. 3) Gracie Gold, United States.
Men
Without a doubt, Farris (Colorado Springs, Colo.) is the favorite in the field of 20 men competing in Estonia. He opened his season with a 202.45 point performance in Poland, despite a shaky free skate, making him and China's Han Yan the only men who have crossed the 200 point threshold on the JGP this season. Of the competitors in Estonia, no man has come within 20 points of Farris' gold medal score.
Farris only needs to finish fourth or better to qualify for the Final, the same scenario for Russian Maxim Kovtun, who also has a gold medal under his belt this season.  With Artur Dmitriev knocking himself out of contention for the Final, Kovtun is looking to be Russia's sole entry in the men's event. He would have to make a big improvement here to catch Farris for the gold, but the podium is well within his grasp.
Ryuichi Kihara of Japan has a bronze medal from Poland. If he is to make it to the Final, he will need to win the gold medal in Tallinn or win the silver medal with a score of 193.04 or higher, which exceeds his personal best 177.92. If he does not take the title or secure silver with that lofty score, his teammate Keiji Tanaka will take the last spot in the Final in December.
Omori (La Mirada, Calif.) made an impressive JGP debut earlier this season, finishing fourth in Romania, and could find himself on the podium in Estonia. He was ninth in the junior men's competition at the 2011 U.S. Championships.
With little pressure, Farris should be able to flourish in Estonia. Podium predictions: 1) Joshua Farris, United States. 2) Maxim Kovtun, Russia. 3) Ryuichi Kihara, Japan.
Pairs
Simpson (Golden, Colo.) and Blackmer (Detroit, Mich.) won the gold medal in Poland, becoming the first American pair to take a JGP event since Keauna McLaughlin and Rockne Brubaker in 2007. With the fourth highest score of the season (141.42 points), they are the favorite to win in Estonia, and will qualify for the JGP Final with a Top 6 placement.
Katherine Bobak and Ian Beharry of Canada took home the silver medal in Poland with an impressive free skate. If they can start with a strong short program, which was a mess in their opening event, they should be in the mix for the gold. Otherwise, with a mediocre short and a solid free, they should easily land on the podium here.  They need to place within the Top 5  to qualify for the Final.
Calalang (Glenview, Ill.) and Sidhu (Las Vegas, Nev.) are another North American team with eyes on the podium. Although they competed last season on the JGP, their best performance came with a fourth place showing in Poland, putting the Final within reach for them.
Russians Lina Fedorova and Maxim Miroshkin are looking to assert a European presence on the podium. In Austria, they placed fifth among a very competitive field. They need a gold or silver to qualify for the Final.
The Americans should take the title. Podium predictions: 1) Britney Simpson and Matthew Blackmer, United States. 2) Lina Fedorova and Maxim Miroshkin, Russia. 3) Katherine Bobak and Ian Beharry, Canada.
Ice Dance
The dance field in Estonia features several evenly matched teams who have similar personal bests. A little bobble could make the difference between taking home the gold medal, which none of the teams have accomplished yet this season, and finishing in the middle of the pack.
Russians Evgenia Kosigina and Nikolai Moroshkin won the silver medal in the opening event of the season, JGP Latvia. Anna Yanovskaia and Sergei Mozgov of Russian won the bronze in Poland. Canada's Mackenzie Bent and Garrett MacKeen won bronze in Romania. France's Gabriella Papadakis and Guillaume Cizeron were fourth in Poland.
In Estonia, a number of scenarios can play out and result in different competitors advancing to the Final. Papadakis and Cizeron, Kosigina and Moroshkin, Yankovskaia and Mozgov and Bent and MacKeen can all qualify with a gold medal. Kosigina/Moroshkin can also qualify with a silver.  Any other color medal requires a set of circumstances to be met. For a breakdown, click here.
Reigning U.S novice bronze medalists Hawayek (East Aurura, N.Y.) and Bramante (Dover, Mass.) are the lone ice dancing team to represent Team USA in Estonia, just as they were in Romania. The duo made their international debut in Romania, taking fourth.
No matter who wins the event, it should be a close contest. Podium predictions: 1) Anna Yanovskaia and Sergei Mozgov, Russia. 2) Gabriella Papadakis and Guillaume Cizeron, France. 3) Evgenia Kosigina and Nikolai Moroshkin, Russia.
— Amber Lewis contributed to this report
__________
Photo courtesy of Leah Adams
Figure Skaters Online strives to be an accurate source of information related to the sport of figure skating. To report an error, please e-mail the news editor. Include the article date and title in your e-mail.