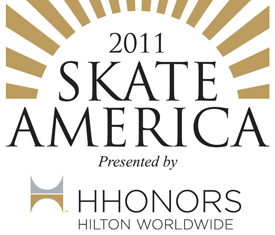 The 2011 International Skating Union (ISU) Grand Prix of Figure Skating Series opens Oct. 21-23 with skaters heading to Ontario, Calif., for Skate America. The men's short program and short dance are Oct. 21, the men's free skate, free dance, pairs short and ladies short are Oct. 22 and the pairs free, ladies free and Skating Spectacular (top four finishers in each discipline perform) are Oct. 23.
Of the 52 competitors expected across the ladies, men's, pairs and ice dance fields, 36 represent the United States: Alissa Czisny, Joelle Forte and Caroline Zhang in ladies; Richard Dornbush, Armin Mahbanoozadeh and Douglas Razzano in men's; Caydee Denney and John Coughlin, Mary Beth Marley and Rockne Brubaker and Tiffany Vise and Don Baldwin in pairs; and Isabella Cannuscio and Ian Lorello, Meryl Davis and Charlie White and Madison Hubbell and Zachary Donohue in ice dance. Czisny as well as Davis and White are the reigning Grand Prix Final Champions while Davis and White are also 2011 World Champions, becoming the first American dance team to ever win the title.
International competitors include: three-time World Championship medalist and reigning World bronze medalist Carolina Kostner of Italy in ladies; reigning World silver medalist Takahiko Kozuka of Japan in men's; three-time and reigning World Champions and 2010 Olympic Winter Games bronze medalists Aliona Savchenko and Robin Szolkowy of Germany and four-time World medalists and 2006 Olympic silver medalists Dan Zhang and Hao Zhang in pairs; and reigning European Champions Nathalie Pechalat and Fabian Bourzat of France in ice dance.
Skate America is the first event of the 2011 circuit. The series, now in its 17th season, consists of six international events in a cumulative, point-scoring format. The top six scoring athletes in each discipline move onto the Grand Prix Final, Dec. 8-11, 2011, in Quebec City, Quebec, Canada, which will be combined with the ISU Junior Grand Prix of Figure Skating Final for the fourth consecutive season.
The points toward the Grand Prix Final that are awarded for each place are 15 points for first; 13 points for second; 11 points for third; nine points for fourth; seven points for fifth; five points for sixth place; four points for seventh place; and three points for eighth. In pair skating, only the top six receive points.
The six Grand Prix events are Skate America, Oct. 21-23, in Ontario, Calif.; Skate Canada, Oct. 28-30, in Mississauga, Ontario, Canada; Cup of China, Nov. 4-6, in Shanghai, China; NHK Trophy, Nov. 11-13, in Sapporo, Japan; Trophee Eric Bompard, Nov. 18-20, in Paris, France; and Rostelecom Cup, Nov. 25-27, in Moscow, Russia.
__________
Figure Skaters Online strives to be an accurate source of information related to the sport of figure skating. To report an error, please e-mail the news editor. Include the article date and title in your e-mail.