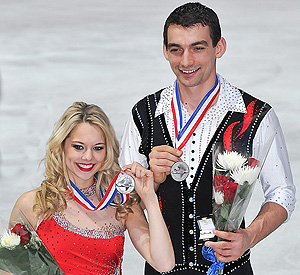 Alexa Scimeca and Christopher Knierim are proud to open their official website at
www.figureskatersonline.com/scimeca-knierim/
in cooperation with Figure Skaters Online.
Scimeca and Knierim, who teamed up in April 2012, won the silver medal in the senior pairs event at the 2013 U.S. Championships in Omaha, Neb., and went on to place ninth in their debut at the World Championships in London, Ont., Canada.
Only six months after their tryout, the team won their first international competition, Cup of Nice in France, which led to an invitation to compete in their first ISU Senior Grand Prix event, NHK Trophy in Japan, where they placed fourth.
"It is such a great honor to be working with Figure Skaters Online," Scimeca and Knierim said with enthusiasm on the eve of their site launch. "They create only the greatest websites for figure skaters. FSO is such a well respected site and we are thankful for the exposure it will give us to our fans. We hope our fans will check out our new site which will have frequent updates from our season as we prepare to hopefully make the Olympic team!"
Scimeca (DuPage FSC) and Knierim (Broadmoor SC) train at the World Arena in Colorado Springs, Colo., under the direction of coaches Dalilah Sappenfield, Larry Ibarra, Eddie Shipstad, and Drew Meekins. Their choreographers are Catarina Lindgren (short program) and Igor Shpilband (free skate).
They will begin their international season at the Ondrej Nepela Trophy in Bratislava, Slovakia (Oct. 2-5, 2013), followed by ISU Grand Prix events at the Cup of China in Beijing (Nov. 1-3) and Rostelecom Cup in Moscow, Russia (Nov. 22-24).