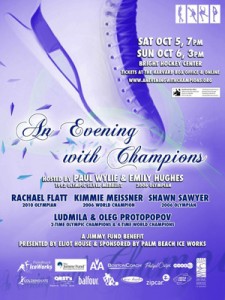 CAMBRIDGE, Mass. – Tickets are now on sale for the 43rd annual An Evening with Champions, Harvard's premier figure skating exhibition. This year's shows will take place on Saturday, Oct. 5 at 7 p.m. and Sunday, Oct. 6 at 3 p.m. at Harvard's Bright Hockey Center. All event proceeds will benefit the Jimmy Fund, which supports adult and pediatric cancer care and research at Dana-Farber Cancer Institute.
An Evening with Champions will feature skating stars such as: 2006 World Champion Kimmie Meissner, 2010 U.S. National Champion Rachel Flatt, 2007 U.S. silver medalist Emily Hughes, 2006 Olympian Shawn Sawyer; and crowd favorites, two-time Olympic champions (1964, 1968) Ludmila & Oleg Protopopov. An Evening with Champions is also pleased to welcome 2009 U.S. junior bronze medalist Alexander Johnson, 2011 U.S. junior bronze medalists Anastasia Cannuscio and Colin McManus, 2-time U.S. novice gold medalist Nathan Chen, 2013 Nebelhorn Trophy pewter medalist Stephen Carriere, 2007 USFS/PSA Choreographer of the Year Braden Overett, 2012 U.S. junior pewter medalist Harrison Choate, 2012 U.S. junior 5th place competitor Bennett Gottlieb, U.S. national competitor Blake Rosenthal, and 2010 Olympian Emily Samuelson as part of this year's cast.  The show will also feature The Haydenettes, Team Excel Collegiate, and The Next Ice Age.
Ticket prices are $10 for all students and children, $12 for senior citizens, and $25 for the general public. Discounted group tickets are also available for purchase. For more information, including updates on performers and ticket sales, visit www.jimmyfund.org/skating or the Harvard Box Office at www.boxoffice.harvard.edu. An Evening with Champions may also be reached through e-mail at info@aneveningwithchampions.org or by phone at (617) 942-1392.
The Jimmy Fund (www.jimmyfund.org) solely supports Boston's Dana-Farber Cancer Institute, raising funds for adult and pediatric cancer care and research to improve the chances of survival for cancer patients around the world.  This year celebrates the 60th anniversary of the Jimmy Fund and Boston Red Sox relationship, and represents one of the most remarkable partnerships between a team and a charity in the history of professional sports. The Jimmy Fund is also the official charity of the Massachusetts Chiefs of Police Association, the Pan-Mass Challenge, and the Variety Children's Charity of New England. Since 1948, the generosity of millions of people has helped the Jimmy Fund save countless lives and reduce the burden of cancer for patients and families worldwide. Follow the Jimmy Fund on Facebook: www.facebook.com/thejimmyfund and on Twitter: @TheJimmyFund.