By Johanna Bear, staff writer
Header image by Darial Sneed
Skating, in the words of Ice Theatre of New York Founder and Artistic Director Moira North, "kind of satisfies the Peter Pan in you, wanting to fly." While skaters and fans can frequently get caught up in numbers or the technicalities of the sport during the competitive season, the Ice Theatre of New York (ITNY) is a place where the focus is more on the art of skating and how that art can be combined with the work of some of the top choreographers in the country.
To close out their 2016-2017 season, ITNY will be hosting their Spring Unplugged performance at 7pm on Thursday, June 8, 2017. The event, which will feature guest skater Adam Rippon, will take place at the Sky Rink at Chelsea Piers in New York City.
Tickets are available at
icetheatre.org/tickets
or by phone at 212-929-5811. A general admission cost of $35 ($25 for university students with valid ID) not only gives attendees access to the show, but also to an on-ice skating party after the show where they can skate with both Rippon and the company. For $250, attendees can also partake in a VIP cocktail hour on the Sunset Terrace following the skating party with dinner and assorted desserts. In addition, there are special discounted tickets at $100 for the skating party and cocktail hour for anyone under 21 years of age who would wish to meet Rippon after the show.
ITNY will also be presenting Rippon with the Will Sears Award in memory of the Novice Pairs National Champion who tragically passed away in 2002. The award honors a skater who demonstrates exceptional daring and persistence in pursuit of their passion, an apt description of Rippon, whose artistry and love for the sport have been well documented throughout his illustrious career.
Founded by North in 1984, ITNY exists to bridge the gap between dance and figure skating, expanding the definitions and established parameters of both while also merging the two together.
"She was inspired by [Olympic Champion] John Curry and his company," said Executive Director Jirina Ribbens. "He started a dance company on ice and there obviously has been wonderful dancing on ice being done in some of the older ice shows, but by the time the 1980's came around, a lot of the ice shows were more about, you know, Disney on Ice and things like that, less about beautiful content and more about straight entertainment. Here we are all these years, 32 years later and we're still alive!"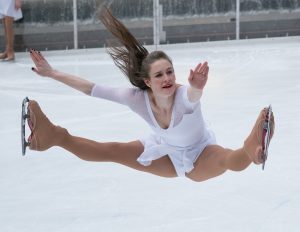 Instead of resembling most variety shows where skaters will come on to perform their solo programs and then depart the ice to make room for the next skater, ITNY features a repertory core company of skaters who learn all of the material, some of which was created by choreographers with limited knowledge of figure skating, thereby challenging the performers to find new ways to merge dance with skating.
"Because we have both ice and non-ice skating choreographers working with us, some of the pieces are very different because they see it differently, because it expands everybody's minds," Ribbens explained. "They learn to work with glides and with endless spinning which for dancers they're like "Wow you can do that?" and for our skaters it's like "Wow you think about these steps this way?" because they see movement very differently, so it's challenging on both sides and it's very interesting. Usually we have a gala and a fall home season and then we do concerts and lots of free performances all through the year and then we end the year with this spring show. This is the third one we're doing, but this is the second one where it's the format where we present some of our pieces and then we also invite some of the young apprentices that work with us through the year. We have these performances for public school children, we do free concerts, and we bring in children because it's inspiring for them to see someone [their] own age do something."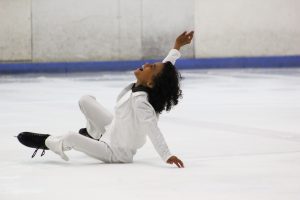 To encourage potential ITNY skaters of the future, the show will include the niece of 2002 Olympic Champion Sarah Hughes and a young skater who was inspired after meeting Canada's Elladj Baldé.
The Unplugged performance will also feature two new duets, one featuring two male skaters and the other choreographed by ballet dancers. According to Ribbens, the name for the event comes from the fact that it will be performed without the swirling spotlights that are hallmarks of current shows. Instead it will make use of the natural lighting, which streams in through the windows that overlook the Hudson River at the Sky Rink.
"We've also worked with Twyla Tharp for a big name in modern dance, Peter Martins who is in classical, and the new duet by people totally from the classical world, so the challenge for the skaters who come to us is to learn to work in an ensemble because you have to start relating to each other," Ribbens said. "It's not just what you can do, it's what you can do and how it can mesh as a group, how all the arms line up when they have to, spacing, and that's why we do free edge classes for ice artists. In these classes we try to teach people, we do it in diamond shapes or five skaters at a time and you need to do the spacing, otherwise you run into each other, so you need to match your curve and that's what you learn in what we call the ballet barre of ice dancing, which is the edge class. Really, what we look for is a skater who is willing to become an artist and transform [themself] beyond the skills they already have in skating. Obviously you need those great skating skills but what else do you bring to it? There's more expression and there's more thought behind it than in a normal skating program. Many of our performers have ballet backgrounds or dance backgrounds, they have gone to get an MFA, or sometimes they move here, they want to be in New York and go to Barnard or NYU to get a dance degree. So they work on both the dance and the skating at the same time. It's very rewarding to grow your art in that way."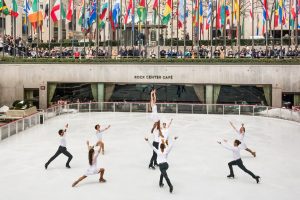 When asked what she hopes attendees will take away from Unplugged, Ribbens responded instantly.
"The joy," she said without hesitation. "Our tagline is 'celebrating the joy of dancing on ice' and I really think that that doesn't always get communicated in competition, and just the joy of doing a pure edge or simple steps or flying across the ice on one long, sustained edge, or beautiful spirals or just to see four or five or twelve people moving as one down the ice or the swoosh of their skates. We have some people who get to sit on the ice and they'll feel the wind. What I want them to take with them is this feeling of flight. They can see it, they can feel it and we hope to inspire everybody to want to get out there and glide on the ice themselves!"
For more information about Ice Theatre of New York and their
Unplugged
spring show on June 8, please visit
icetheatre.org