By Gina Capellazzi, website administrator
Header photo by Deborah Owens for Stars On Ice
After a 2017-18 breakthrough season that included winning a Grand Prix medal in her first senior Grand Prix, winning the U.S. title and earning a team bronze medal at the 2018 PyeongChang Olympics, this past season was full of highs and lows for Bradie Tennell. After an early win in the ISU Challenger Autumn Classic International, Bradie finished just off the podium at Skate America and won a bronze medal at Internationaux de France. At the U.S. Championships in Detroit in January, the defending U.S. Champion finished in second behind 13-year-old Alysa Liu, and was named to both the Four Continents Championships and World Championships.
In Anaheim at the Four Continents Championships, Tennell won the short program and her first ISU gold small medal. However, mistakes in the free skate were costly and she finished in fifth overall.
At the World Championships, Tennell had a frustrating short program, but managed to end the season with a personal-best free skate score of 143.96 to move up from 10th after the short program and finish in 7th place overall. She capped off the season with a Team USA gold medal  at the World Team Trophy in April.
Now Tennell is appearing in her second Stars on Ice tour. Figure Skaters Online caught up with her before the Albany, N.Y. show, the third show of the Stars on Ice tour presented by Musselman's.
Figure Skaters Online (FSO): If you could sum up your 2018-2019 season in one word, what would it be and why?
Bradie Tennell: Unexpected. I think it (the season) didn't turn out the way I wanted it to. A lot of competitions, they did not go the way that I planned or hoped, but I think I learned something from each competition and each let down that happened and I think that as an athlete we need to go through those. I just saw a quote from somebody on Instagram, it said, 'Rock bottom will teach you lessons that the top never will.' And I really like that. This is a really challenging sport and it is growing so fast and I think going through the challenges makes you a stronger athlete and a stronger person.
FSO: What was the most memorable highlight of the season? And if you had the chance, what was something that you wish you could go back and re-do?
Bradie: My free skate at Worlds sticks out in my mind because it was the last competition of the season. I had a rough short program and I wanted to go out there and skate my free skate for me and just show that I worked so hard all season and I could do it, not for anybody else, but for myself, to prove to myself that I could do it. And I did and I'm still really proud of that.
If I could go back and change one thing, I think it would be my free skate at Four Continents because I was pretty nervous for that and I think I put a lot more pressure on myself than I needed to and I think it kind of showed in the way that I skated. I was very timid and I didn't attack things and the end result showed that.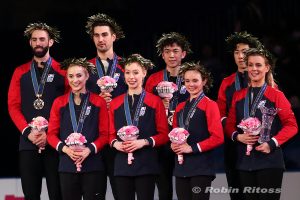 FSO: You experienced the team event at the 2018 Olympics, but what was it like to compete and win gold with Team USA at World Team Trophy in April in Japan? 
Bradie: It was so much fun. Even to be in a team event in figure skating is great because it is such an individual sport, so to be able to experience that atmosphere and see all the athletes cheering for their country, and not even just their country, a lot of athletes were cheering for everybody, so it really created a great and supportive environment. To skate in Japan is, obviously, like the best. So feeding off the athletes' energy and the crowd's energy, it just kind of lifted the performance up and it was so much fun.
FSO: Do you know who made the giant cutouts of Team USA skaters' heads?
Bradie: I think it was a friend of the Cain's (Ashley Cain) in Texas.
FSO: Now that the season is over, have you given any thoughts to next season yet? Have you had a chance to pick your music?
Bradie: I'm in the middle of searching for music right now which is always so much fun (laughing). I just love it to death (laughing). I have only been home for three days in the past month(April) so it has been a little hard to really get into things, but yeah, I'm searching for music and I think once I get that figured out and nailed down, I think things will start to move forward a little bit faster.
FSO: What are your goals for training this off-season? You warmed up some triple lutz-triple loop combinations during rehearsal time for the show, and I know you attempted to put the combination in competition this past season, but struggled with it. 
Bradie: Yes, I'm planning to have it (the combination) in my programs next year. I think with the skates that I had at the end of the season this year, I think it is a real confidence booster for me and I'm excited to tackle new challenges. I obviously know that I can land the lutz-loop, but I think it is just a mind over matter issue and putting it out there, I just have to get over it.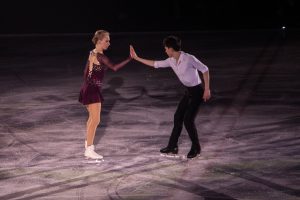 FSO: This is your second Stars on Ice tour. Tell me about your programs. What are you skating to and who choreographed them? 
Bradie: Benoit Richaud did both of my Stars on Ice programs. Actually, one of my programs is a short version of my free skate ("Romeo & Juliet" by various artists) because I wasn't ready to say goodbye to it just yet, and the other one is "Stay" and "Diamonds" by Rihanna.
FSO: What is it like to work on the group numbers? Do you have a favorite?
Bradie: The 90's number is my favorite. It is so much fun. It is almost 10 minutes long, but I mean we aren't actively skating the whole entire time, but still towards of the end of it we are like 'ooh, okay, I'm a little tired now.' (laughs). It is a blast, I love it. It is probably one of my most favorite numbers ever, that I have ever done. It is so much fun.  Working with everybody on any of the group numbers, last year, it was a lot more challenging for me because I had never really skated in a family skate formation, so I was pushing so hard. I would do a program and I'd be like, 'Oh, there is no more ice' or 'Oh, there's Charlie, Charlie, why are you in front of me?' (laughs) It is like a whole different dynamic when you are out there skating with someone else so that was like challenging for me. But having experienced that from last year, it was easier for me to pick up kind of where I left off and that learning curve. I actually missed one day of rehearsals because I was coming from Japan from World Team Trophy so I was on choreography overload for like a couple days. It has been a lot of fun and a good challenge.
FSO: The cast learns the choreography just a few days before the opening show. Are you someone who can pick up choreography quickly, or does it take you a while to remember it?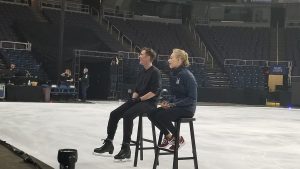 Bradie: I'm one of those people where it takes me like a million and two repetitions of doing it the exact same way for me to fully grasp it, and like Madi Hubbell is so good at picking up choreography and I'm looking at her and she had so more to learn than I did and she's got it all down pat right away and I'm just like 'how? Why isn't that me?' (laughs)
FSO: Are you looking forward to your hometown show in Chicago next weekend (May 5)?
Bradie: I'm so excited. I have been telling everybody, 'hey, I'm in Stars on Ice, come see the show.'  (laughs)
FSO:  After the Stars on Ice tour concludes on May 18, what are your plans? Will you take a vacation or some time off, or will you go right back into training? 
Bradie: I didn't take any time off last year, so I think this year I'm probably going to try and take a couple days off just because I feel like I need to do that and kind of let my body rest and recover from this huge, long season. I think that would probably be a good idea, but nothing is set in stone yet.