By Cristina Valencia
Every time a figure skater steps on the ice, they run the risk of some kind of injury. This is the nature of the sport and perhaps one of athletes' biggest fears.
Sean Rabbitt is no stranger to this. Even though there is never a good time for a sports injury, his timing couldn't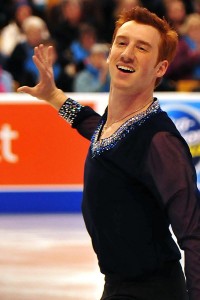 have been worse when he dislocated his shoulder not long before the 2014 U.S. Figure Skating Championships in Boston, Massachusetts. With such a big competition looming, Sean found himself in pain and unable to move his arm. He was told he had a week to get it moving, and through hard work and dedication, he was able to pull it off. In fact, he managed it so well, both mentally and physically, that he went on the ice in Boston with an easy smile and gave two strong performances, placing 14th overall.
Sean has been pain-free for the last couple of months, thanks to physical therapy, which means he can postpone surgery until retirement, whenever that day comes. However, Sean has no plans to retire yet and confirms that he will compete in the 2014-15 season.
Sean shares with Figure Skaters Online that he will be debuting his short program to "Danse Bacchanale" from Saint-Saens' " Samson and Delilah", choreographed by Justin Dillon, at the Los Angeles Open club competition, July 10-13, 2014, in Burbank, CA.
"I've always had a strong liking for this piece of music, but have always found the majority of people skating to this piece were women, dance, or pairs, rarely ever a male," he said. "Although the music starts off soft, it builds to be very strong and so I figured, why not be one of the few guys to skate to it."
As for his long program, Sean has decided to keep the one from last season which was choreographed by Cindy Stuart to "Sing Sing Sing, Part 2" from "Fosse".
Earlier this spring, Sean took some time off to travel, visiting both Japan and Korea. He is fluent in Japanese and has visited the country four times now. However, this time he wanted to be more adventurous and have a new experience altogether, stepping away from his comfort zone. He described the details of his trip with enthusiasm and mentioned that he got to visit the DMZ, (Korean Demilitarized Zone) that stands in the border between North and South Korea.
He also likes to try new foods when he travels abroad since cooking is one of his favorite hobbies. A self-proclaimed foodie, Sean prepares a lot of meals for his family and some of his recipes can be found on his food blog http://seanishungry.blogspot.com.  When he is not cooking, he can often be found eating sushi, Korean barbecue or the CA favorite, In N Out.
"Food is definitely a big part of my life," he proclaimed. "When I am not training, or get a post-competition indulgence, I like to go all out.  Specifically after a competition, I like to get a nice big cheeseburger, fries, and a big slice of chocolate cake or cheesecake."
Sean is coached by Tammy Gambill and trains in Riverside, California alongside Richard Dornbush, Shotaro Omori, Philip Warren, and Australia's Brendan Kerry. When asked what it was like to train with so many quality senior men, his prompt reply was "we are all like brothers." Then he went on to talk about this brotherhood of skaters and how they always cheer for one another and support each other.
"For the few minutes we're on the ice, we're competitors. The rest of the time, we're friends," he pointed out.
Sean and his male training mates break the stereotype of most rinks, which is something he enjoys. During their practice sessions, girls are actually the minority on the ice. This environment has cultivated a high degree of camaraderie among them.  Sean confessed that they even come up with skating-related bets to push each other to be the best they can be (whoever loses may have to buy coffee for the others).
Figure Skaters Online wanted to know what it was like for him in the beginning. He told us that as a little boy he was a showoff.  We laughed at this and he said, "It's true, I was a total showoff."  Nowadays, he loves performing and bringing joy to others through his skating. But when we asked him what he likes the most, he answered in true charmer fashion, "the pretty ladies in the audience," followed by, "I can say that right?" which made us laugh even more.  Sean's wit and outgoing personality were evident throughout our conversation.
Sean has been coaching kids of all different levels for about six years now.  He especially likes teaching the higher levels due to the intricacies of the elements.  He said he's always been the kind of skater who asks lots of questions.  "Things don't just click for me," he said.  Usually he has to try something ten different ways before he gets it and he believes this is the reason why he is a natural teacher.
One of the other things he loves about skating is choreography, which he has been doing for three years. At first, he found choreographing to be harder than coaching, but now he has taken a liking to it. He further elaborated on this topic: "The thing I like the most about choreography is there is no requirement. Yes, there are requirements to what you need to include in the program, but the actual act of choreography has no limitations. I also think it is fun to see people I choreograph for, bring their programs to life, and over time, see the change in their own skating style. It's very fun and rewarding in my opinion."
Sean Rabbitt's positive attitude, along with his determination and work ethic, are some of his strongest traits. Whether it's skating through a serious injury or tackling the aspects of skating that don't come innately to him, he is willing to overcome any obstacles that stand in his way.