By Leah Adams
Photos by Leah Adams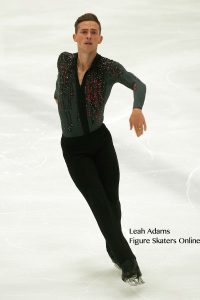 On September 14-17, 2016, the U.S. International Figure Skating Classic was held in Salt Lake City, Utah. In the men's event, Adam Rippon set a new ISU personal best score in the short program and won the bronze medal. Figure Skaters Online's Leah Adams met up with Rippon at the competition and asked him a few questions.
Figure Skaters Online (FSO): What was behind your decision for your "O" Coldplay exhibition program "Up Close and Personal" concept and choreography by Benji Schwimmer, filmed this past summer at the Broadmoor World Arena in Colorado Springs? (Click here to watch Adam's video.)
Adam Rippon (AR): My whole idea of doing that program was to transition and link last season to this season. Since an exhibition is usually skated over a summer, I thought it would be a great way to blend last year's story into this year's story. I told Benji I wanted to do something like that. He sent me pieces of music and as I was driving out to his Redlands, CA studio to see him, I said 'this is definitely the one.' He said, 'I'm thinking the same thing.' We were going to wait until we saw each other to feel the reaction.
The story of the program is that I'm a bird and I used to be the head of the flock. My wing gets hurt and so I am telling the story of that bird. Then the music ends. I told Benji I am going to do a program in the future that continues on with that story. I love that program and I had the opportunity to film and it gave a little different impression, a more intimate approach.
FSO: There are a few positions you make with your hand behind your back.
AR: When Benji and I were in the studio and he was just moving, I would stop the music and say, 'okay Benji, I have to catch my breath.' I wasn't even moving, but honestly, a few things he would do would leave me breathless. I wanted to introduce it as he was doing it. I said, 'Benji I have always been meant to be a bird.' I wanted to have a blurry ending so I could continue the story through.
FSO: Do you have plans for other such projects?
AR: This program, the "O" meant a lot to me and it was something special. Benji and I had a great rapport putting it together and we've been friends for a really long time. I would love to do another project like that if the program feels right. (Note: Adam announced in his media teleconference call before Skate America that he has collaborated with Benji Schwimmer on a new free skate that incorporates "O" by Coldplay.)
FSO: You participated in Mao Asada's "The Ice" tour again this past summer (click here to watch Adam's backstage video of the final show in Osaka). What was it like this time?
AR: There were a lot of Americans on the tour and Mirai Nagasu and I are good friends. I love Mirai.
FSO: Didn't you do some choreography for her?
AR: I did in the past, but not this year. We got to work together with Jeff Buttle and share some time (in Toronto) and then a week and a half later we were in Japan together. We were both getting ready for the season and we pushed each other every day. They asked what program we wanted to do in the show and we'd look at each other. I'd say, 'the long tonight' and she'd say, 'ugh, I'll do the long too.'
It really got me ready for the season because I did both my competitive programs in the show and you get all of the cobwebs out of the way. I can tell you without being ashamed that I have gotten to my first competition of the year after skating my program every day in practice, you get out there and think, I forgot the entire step sequence or I've forgotten the last 30 seconds because there's pressure and emotions when you're out there by yourself and people are watching a competition. To have that all out of the way before the season starts is huge.
FSO: Some of the sights in Japan? Anything that resonates…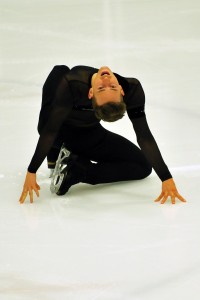 AR: Since we were there such a long time they flew us out to Kyoto for a tour of the city, which I had never seen before. Often it is so funny because I can tell you about the airport, hotel and the arena. Getting out and seeing the city was absolutely incredible! If you ever have the opportunity to go, I would.
FSO: What did you see?
AR: The castles, the shrines and the temples, there's just so much history. Kyoto is the first capital in Japan. To see how the early people of Japan lived and what their customs were was really fascinating. It was something I'll never ever forget!
FSO: Last question. How is it being here with your mom at this event?
AR: It is so nice. I always love it when my mom can make it to the event. It worked out really well so she could be here on a quick little trip. It is always fun and she gets to see my programs first hand right as the season is starting.