By Michelle Kennedy, special to Figure Skaters Online
Header photo by Robin Ritoss
EVERETT, WA–Skate America kicked off with the pairs short program Oct. 19. Each team fought to stay on their feet and even the leaders were not without error. It is early in the season and it will be exciting to watch each of these teams grow and develop throughout the year.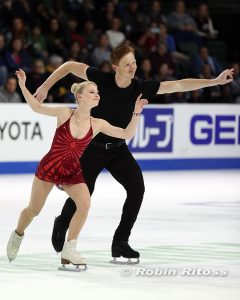 World silver medalists Evgenia Tarasova and Vladimir Morozov, of Russia, are currently in the lead with a score of 71.24 points. Tarasova turned out of their side-by-side jumps and was barely able to hold onto the landing of a big throw triple loop. They skated to "I Got You (I Feel Good)" by James Brown with a lot of energy and charisma and they did not allow the mistakes to slow them down.
"Tonight we skated the short with many small mistakes, but we feel good," Morozov said. "We like our long program. We just need to keep working hard on our short program and skate clean."
Fellow Russian teammates Alisa Efimova and Alexander Korovin just came off of a win at Nebelhorn a few weeks ago. They also made some errors, but their performance was enough to put them in second place.
German team Minerva Fabienne-Hase and Nolan Seegert delivered a seasons best performance, putting them into third place. "We had a good skate, we are happy overall," Seegert said. "It was a great
atmosphere here, the audience was great." 
The American teams had a rough outing. Ashley Cain and Timothy LeDuc are currently in fourth, followed by Alexa Scimeca-Knierim and Chris Knierim in fifth and Nica Digerness and Danny Neudecker in seventh.
Scimeca-Knierim had trouble with the side-by-side triple salchows and she stumbled during the footwork sequence. Despite the mistakes, their new program was innovative and captivating. It is not entirely surprising to see them struggle with some learning curves after moving to Germany over the summer to train with Aljona Savchenko, who was surprisingly absent in Everett (which the pair did not want to address).
"It's just taking longer to get together than we'd like, but with all the changes we made this season, it's not going to come together right away," Knierim said. "We see the big picture rather than just the short success. We are just going to keep working and keep striving for more at every competition basically."